LOUISE LIMB
WELL KNOWN for her motorcycle illustration work, Louise has been collecting some of her favourite works to display in her popular calendars for the last seven years.
Her 2017 Motorcycle Art calendar features a selection of classic images from her illustration archive – and maybe even the odd surprise new piece – and is guaranteed to brighten even the darkest February day.
The calendar retails for £16.50 including UK delivery; the first 100 are signed and numbered by the artist. Also available: Christmas cards, greetings cards and, made especially to order, signed archival quality prints in various sizes.
See louiselimb.com
IAN CATER
"I'D ALWAYS BEEN fascinated by the style and rugged simplicity of 1950s and 60s British bikes," says Ian. "A chance visit to the Ace Cafe Brighton burn-up re-ignited my interest.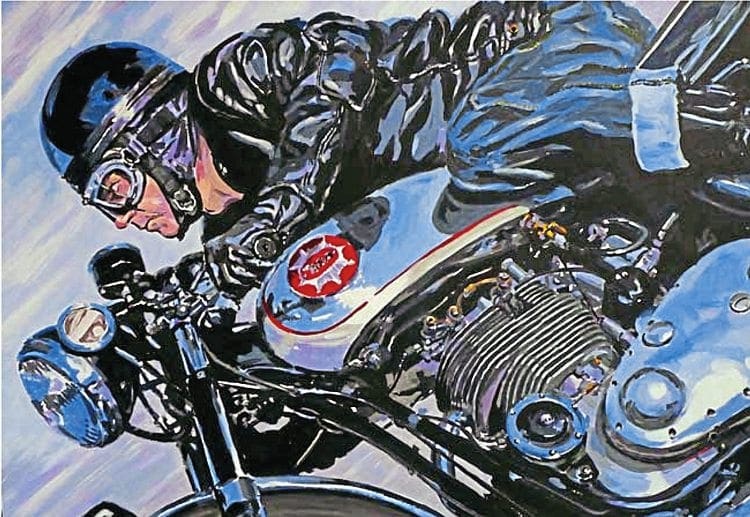 As well as rows of beautifully preserved Triumphs, BSAs, Nortons and café racers, I discovered many people not just still riding these machines, but dressing the same way and listening to the same music they had 50 years before. Much of my work is a celebration of those superb machines and the people who ride them. Men and machines of character."
High quality, giclée art prints cost £40 at A3, £70 for A2.
See motorcycleartuk.com
TALANA GAMAH
IN RUST AND REFLECTIONS,
Talana recreates reality rather than
air-brushing defects out of existence.
"I'm as interested in capturing the intricate reflections in chromework as I am in recording the decay of encroaching rust, or the honest patina of a well-used, much loved machine," he says. "Each piece aims to evoke the feeling of a singular moment in time in the life of a vehicle. The rapid drying time of acrylics allows me to build depth, layer by layer, capturing the subtleties, textures and finishes of a machine, from fantastically blued pipes to cast alloy.
"My style tends towards realism and technical accuracy, but, I hope, also evokes the spirit of a machine."
Calendars, cards, prints and original artworks all from talanagamahartwork.com
MIKE HARBAR
THIS YEAR'S charity calendar from Andy Tiernan has been drawn by Mike Harbar and features vintage and veteran British V-twins. Trained as an industrial designer, Mike understands the basic engineering principals to the artistic flowing lines. This becomes apparent when you see the accuracy and attention to detail he achieves using just pencils and watercolours. His subjects also include later iconic British bikes as well as racing heroes from Hailwood and Sheene to Stoner and Bayliss.
The calendar costs £10 including UK delivery, with proceeds to the East Anglian Air Ambulance.
Send payment and delivery details via PayPal to [email protected]
BRETT BRECKON
BROWSING THROUGH Brett's portfolio can be a dizzying experience, one which unites crisp line art with technicolour extravagance and an unrepentant brash attitude. "With oils or gouache, I joust with knights, fly with dragons and race with angels on motorbikes," says Brett. "Sometimes colour takes a pillion seat and I branch out in stark black and white, the change is enthralling, a darker side emerges."
His signed fine art prints are available on high quality watercolour paper using lightfast archival inks. Typical costs are £30 for an A3 print, up to £90 at A1.
See brettbreckon.com