People have been modifying motorcycles pretty much since the dawn of the motorised two-wheeler.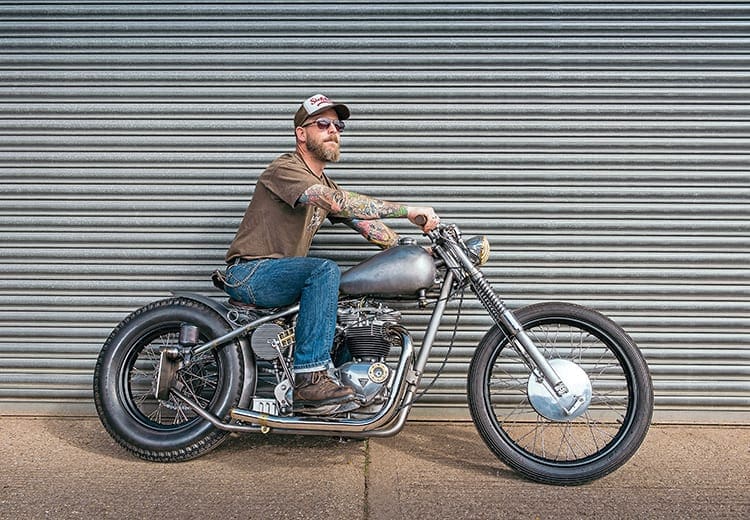 However, it's arguably only since the late 1940s that the practice has moved from being one of necessity to a personalised statement. Since those small bands of disenfranchised GIs 'did their own thang' the motorcycle has become an art form in its own right. Today we have all manner of sub-categories: chopper, brat, bay, bobber… there's numerous types. What distinguishes one from another is very much a moving target but what's not up for debate is the simple and immutable fact that a properly executed custom bike is a thing of beauty. Which is exactly what we have here with Iain Cameron's bobber. And, speak it in hushed tones, this is also a custom machine built for riding!
For more content, why don't you like our Facebook page here, or follow us on Instagram for a snippet of our striking pictures!
Everywhere you look this bike has a level of detailing that seems to elude many who embark on the self-customising route. Most who fettle away in workshops, sheds and garages will inevitably buy in certain key components but there's a limit to how many commercially sourced components you can simply bolt on. Follow that route and the end product can be very much a dog's breakfast. Fortunately owner/builder Iain is a skilled sheet metal worker who knows his stuff and supplies those specifics that can make or break a project such as this.
This bike is based around a Fenland Choppers frame with the obligatory hard tail but to take the sting out of the ride Iain crafted the sprung seat pan which adds a level of comfort lacking on many of similar ilk. The motor is a bog standard, unit construction Triumph Bonneville from 1965 and before anyone raises their hands in apoplectic horror at such apparent sacrilege Iain still has the rest of the original bike. Therefore a period and iconic classic has not been sacrificed unnecessarily in the name of customising. The motor itself has been scrupulously rebuilt to stock with no additional tuning. After all, the period 1960s Bonnies were allegedly the kings of speed and would you genuinely need any additional velocity on a bobber – no, of course not!
The induction side runs a pair of Wassell carbs which took a lot longer than expected to set up. This was nothing to do with their build quality but rather simply getting to understand the units' jetting requirement. The reason for choosing these over the original units is as much about common sense and practicality as anything else. The 1965 Amals were long past their 'best before' date and the Wassell units are a very cost-effective option. Even better still, these replacements carbs come as standard with a fully adjustable float. And to top it all the alloy on show is passivated, thereby minimising any fuel staining when the ticklers are used.
Keeping that retro look going, the rocker oil feeds are linked via an 'Eddie Dow type' alloy link. The Bonneville motor is obviously a dry sump unit that requires an oil tank. Knowing there was no point in trying to reinvent the wheel, Iain sourced one from Fenland Choppers but then totally reconfigured it to suit his bike. Swapping over various fittings delivered the unit we see here but there's a subtle twist that takes the tank beyond what would normally be described as a 'modified stock custom part'. Every engine benefits from having its life's blood cooled a little so the tank runs that groovy (sic) finned heat sink on the right-hand side. Its origins are subject to certain levels of confidentiality so let's just say a well-known car racing team unknowingly donated a small section of high end aluminium heat sink!
Keeping the Meriden motor working at its best, the oil tank also incorporates a spin-off oil filter. Perhaps predictably Uncle Joe Lucas' finest products don't feature on the bike with ignition being more than capably taken care of by a Pazon unit whose residency can be confirmed by the clear window over the end of the cam drive. The exhaust is, as you might hope, minimalist and not exactly restrained yet neither is it overtly loud. Best described as characterful, the twin Piper Custom units were one of the very few eBay purchases of the project.
So far all very much Best-of-British and the theme continues where the bike makes contact with the road courtesy of Avon's best. Both are the legendary Speed Master hoops but the rear thankfully is curved in cross section not square shouldered as most rear SMs were/are. Apparently and fortuitously the 16 x 5.00 rear only comes in that round profile and is a big hit on the custom scene. The front is a ribbed 21-inch and really looks the part laced to the original fitment single leading shoe front brake. Both tyres reside on satin black rims originally destined for HD use and normally come pre-drilled.
Iain spoke to the supplier (Hagon) and those ever helpful guys sourced an undrilled rim especially for the project and drilled it to suit the application, lacing it up to the Bonnie's QD rear hub. Up front the long-suffering Bonnie has also donated its forks which only adds to the period-cool look. Our owner made the subtle fork brace which keeps both legs working in harmony. It was fitted following a handful of initial exploratory runs which saw the front end radically misbehaving; linking the sliders restored both order and rider confidence. The lack of a front mudguard doesn't seem to unduly worry the authorities and the only issue its absence causes is dirt being flung over bike and rider in the wet. Yes, you did read that correctly, the machine does get used in the rain!
For more content, why don't you like our Facebook page here, or follow us on Instagram for a snippet of our striking pictures!

Enjoy more Classic Bike Guide reading in the monthly magazine.
Click here
to subscribe.