Words by Matt Photography by Drew Irvine, Maria Knights, Amy Shore and Tim Cochrane
Neville, Maria and I spend so much time in sheds fixing and building things, or covering shows and photographing other people's bikes, that it's occasionally time to have a go ourselves.
And the Bike Shed Festival seemed the perfect blend of on track for me, and off-road for Maria and Nev. But what to take?
Luck intervened when the van hire company could only lend us a Luton, so we could have taken everything! Sensibly, we opted for Maria's 1978 Benelli 125 Enduro, Neville's 'Beeza', a DB34 engined, B31 framed scrambler and his 'JAP'; an Ariel Red Hunter-framed JAP LTZ, 1096cc side-valve V-twin.
From a rotavator. With homemade mag, and, well, everything. Oh, and my B31 as a reserve. And cake.
Preparation was our usual standard (minimum!), as the BSAs are in regular use and the Benelli had just been recommissioned.
The JAP hadn't been used for a while and was heading on track, so Neville wiped a rag over it, , kicked the tyres, checked the oil and sprayed it with GT85. It stank.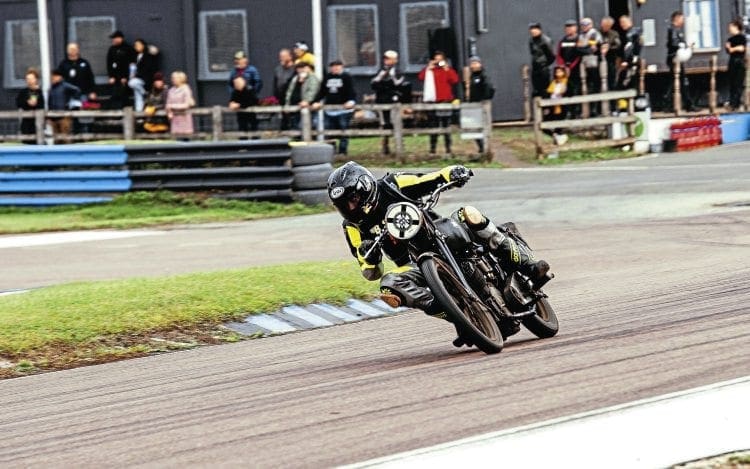 Heading down in the van from Norfolk to deepest Kent, brought some amusing conversations and anecdotes, plus guessing how the day would pan out, as I'd been to the previous incarnation of the Bike Shed Festival, the Café Racer Cup.
But who would be there and how competitive would it be? We just went with our Norfolk outlook of 'what'll be will be'.
On getting there, we had a look around and had to sort all the paperwork. NORA, who run race meetings at Lyddon Hill including Supermoto races, worked with the Bike Shed crew to make sure the licence and event paperwork was all sorted and everyone had their numbers plus, for those on track, a transponder.
This little red box is cable-tied to your bike and allows the timing system to keep tabs on your progress and laptimes. For Maria and Neville, both playing dirty with the Malle Mile off-road sections, they just had to worry about where to go and to roost everyone behind with mud…
The Benelli was running okay for around five minutes, then would cut out. But for a bike that had been languishing in a shed for a decade or more, it was still good and Maria got the hang of kicking an old, tall enduro bike over.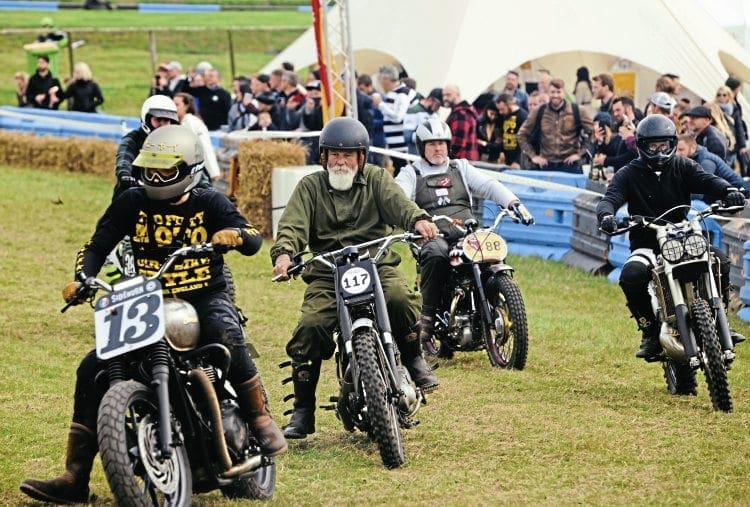 But she didn't feel happy competing on it, so took over photographic duties. Meanwhile Neville was enjoying the attention his 'not a Gold Star' was getting!
A handy dirt rider, he kept kicking the bike into second at the start instead of up for first; as the Malle rules are to have your left hand on your helmet until the flag drops.
The one time he did get it into first he flew off the line, roosting mud and sent the front wheel aiming for the moon! Part of the fun is the amusing commentators, and when Nev lined up against a rider on a Monkey-styled Honda MSX125, the duel was described as 'Father Christmas racing the Deliveroo pizza boy'.
While the other two were on the hill playing in the dirt, I was warming up the JAP for qualifying.
I'd entered the Easy Rider race and the Journalist Cup, so had two qualifying sessions.
Lining up before going out I was surrounded by totally innapropriate Harleys, baggers and choppers in the first, while for the journos race I had lots of brand-new bikes around me, including one Paul Young, ex British Supersport and Superstock racer on a tricked-up Royal Enfield Interceptor GT. Oh well!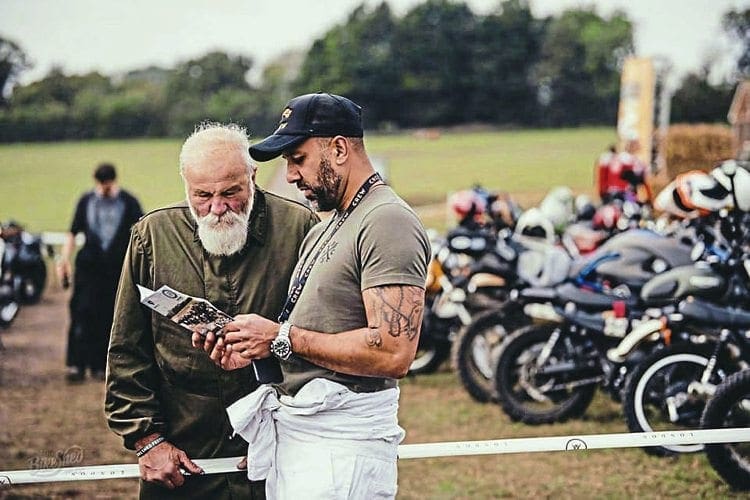 Lydden Hill circuit is easy to learn as there's really only four corners – but it takes a lot longer to get the perfect line, as turn one is long, undulating and bumpy.
Plus, I was on a bike that Neville had built with an engine from a rotavator, so I needed to feel my way round, see what, if any braking I could muster from the 5in front brake and how it would corner with a rigid rear and girder front.
I needn't have worried, as the JAP was faultless and provided I braked, changed down or shifted my body while upright, was superb.
Obviously power was an issue, my posterior-dyno would guess at around 35-40bhp as the engine was not designed to rev.
The Burman gearbox was hardly troubled as I kept in fourth everywhere but the hairpin and I had to come off full throttle as speeds rose as the carb float couldn't keep up with demand; but it kept going and I managed to keep the Norfolk flag flying with the Easy Riders, while the Journo cup was going to be slightly more challenging…
Waiting for the first race, the Journalist Cup, I popped over to see Mr Young, who had lapped me several times in qualifying at an angle Mr Marquez would be proud of.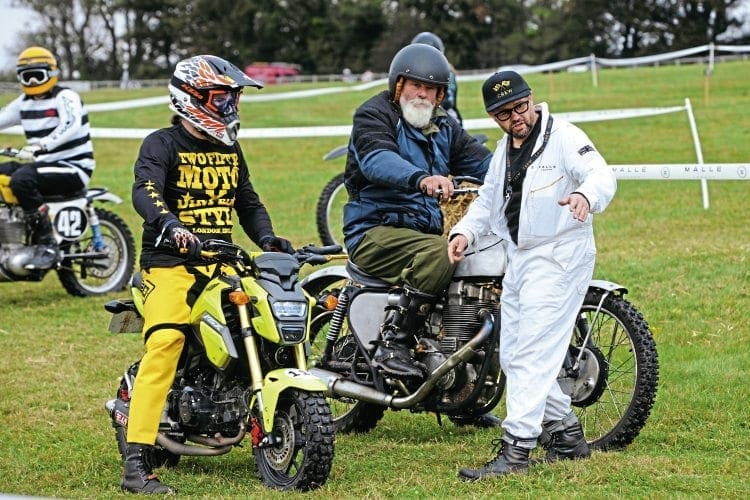 The Royal Enfield development rider smiled as I came over, and I turned around to show him the back of my leathers. "If you smell oil and see these leathers in front of you I'll just keep on my line and not move around – so just go round," I laughed. He was full of admiration for the JAP/Ariel and said he'd be kind!
It's only a fun day, so I may have deliberately jumped the start, beating a couple into the first corner. But after that, I was just riding round the attributes of the bike.
Ground clearance was fine to a point, front brake was non-existent, so the rear it had to be.
Oh, and half way around I realised the open chain case was allowing the clutch to eat my gorgeous old Daytona boots!
By the end I think we beat a 125 but otherwise came last; but the crowd and the marshalls were waving madly, so they obviously enjoyed Neville's creation amongst the other new, blagged press bikes.
As I'd come in from qualifying and the first race, the bike sounded a little rattly, so each time I let her cool down, check the oil and, well, what else is there to do? Then all too quickly the final race came.
We'd been parked right at the top of the paddock, so it was incredible as I rode down to the holding area just how much attention the bike got.
One lovely couple loved it as he had a Brough with a similar engine, while she had a Red Hunter. So this was a mash-up of his and hers! Neville likes what some call the oily rag look; but that's just a byproduct of all his bikes getting used.
It is truly unique and while many didn't have a clue what they were looking at, they knew they liked and appreciated it. It also helped that for some reason she wouldn't idle, so I had to keep her blipping, trying to get the oil warm, but not too hot.
Out for the second race and while I tried again to cheat and jump the start, the lights were out so quickly I just got a good start naturally!
Nearly all the race was spent racing with a Honda CMX500 Rebel, who I could draw alongside in the corners, but then he could pull away. It was a race-long blast, which we both laughed about at the end.
With Maria and Neville back from the dirt riding and my racing finished, we sat and had some grub.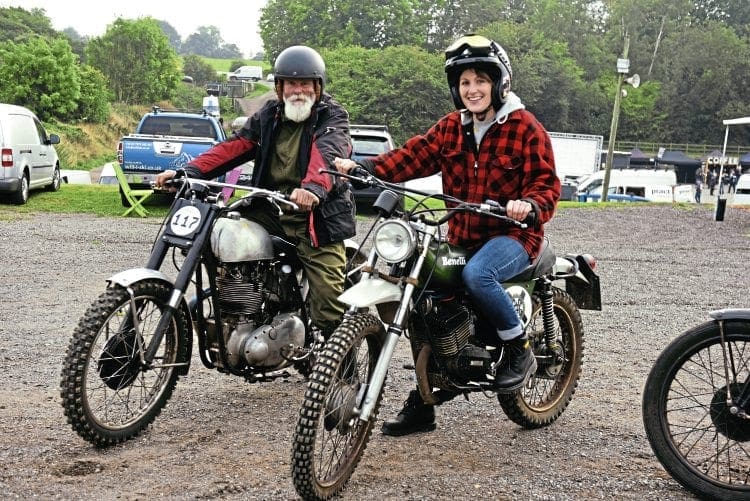 What a day. It's a shame the Benelli didn't perform, but we always thought it would be luck if the crankshaft seals hadn't dried up, which we're betting on is the problem.
But the BSA performed superbly, complete with Father Christmas in his funky boots and overalls riding, and the JAP/ Ariel was truly one of the stars of the show.
A bike, made by one of the cleverest people I know, from bits in a shed in Norfolk, raced against all manner of machines and at this event, it didn't matter where you finished.
The bike drew admirers near and far, rode beautifully, with an average speed of 56.9mph and completely followed the ethos of the weekend – to enjoy competition on non-competitive bikes while having a whole lot of jolly good fun.
Well done, Bike Shed, for creating a weekend festival that is truly unique.
See thebikeshed.cc for news of next year's event
View more images in the December 2019 issue of Classic Bike Guide – on sale now!