Words by Matt Photography BY Maria Knights, Drew Irvine and Amy Shore
It takes a lot of time, money and balls to start a new event. Last year The Bike Shed, a motorcycle club based in London, put on a one-day event at Lydden Hill circuit called the Café Racer Cup, in order to see if there was any call for an event where people could take their non-racebikes onto a circuit for the day and race them.
The emphasis was on having fun and experiencing something new, not winning – though that all depends on the people taking part!
It was a success enough for them to return again this year, for two days, with the renamed Festival.
The idea being simple; give all those bikes that couldn't race anywhere somewhere to race, just for one weekend.
The Bike Shed celebrates old bikes, new, custom, café racers and anything a little different.
So there was a race for 125cc bikes, one for chopper-style bikes, classics, off-road and retro-racers (think modern Hinkley Triumphs) and even one for commuter bikes – that had to indicate to overtake.
As well as the great circuit which is easy to learn, Lydden Hill is also brilliant for spectators to see all the action, while the Malle Mile chaps were utilising the surrounding hill to run off-road sprints and races.
This gave even more people the chance to have a go at competing on whatever they could bring. There would be Monkey bikes up against Scrambler Gold Stars and Metisse-framed Triumphs against a modern commuter – often with surprising results!
The mix of bikes was so enthralling to see and the age of riders and spectators was equally mixed; with a lot of younger people engaging – really important for biking.
The vibe was good, the racing exciting to watch and on Saturday evening the party was rocking.
Racing is expensive, you need a bespoke bike and it becomes all-consuming.

The Bike Shed Festival gave that little insight into competitive racing, without the cost, without having to build a bike and enjoy it; something that racing in a championship can lose sometimes.
Some lovely bikes, good people and plenty to see made it a top weekend and even the wet weather on Sunday didn't dampen spirits.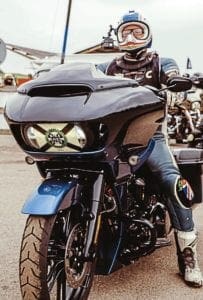 Look out for dates next year if you've ever fancied a bit of racing! See thebikeshed.cc for more.
View more images in the December 2019 issue of Classic Bike Guide – on sale now!

Enjoy more Classic Bike Guide reading in the monthly magazine.
Click here
to subscribe.