After this bike, nothing would ever be the same again.
Words and emotional jabbering by Steve Cooper photography by Gary Chapman
It's genuinely hard to believe that the bike in camera dates from early 1970 and is from the first batch of 30 CB750/4s to be sold in the UK. And amazingly it's also the next chassis number on from 'YLY', the first 750/4 sold in the UK.
As if that's not enough, what's even more amazing is that not only is it ticking away with the precision of a Swiss watch but I've been given unfettered access to it.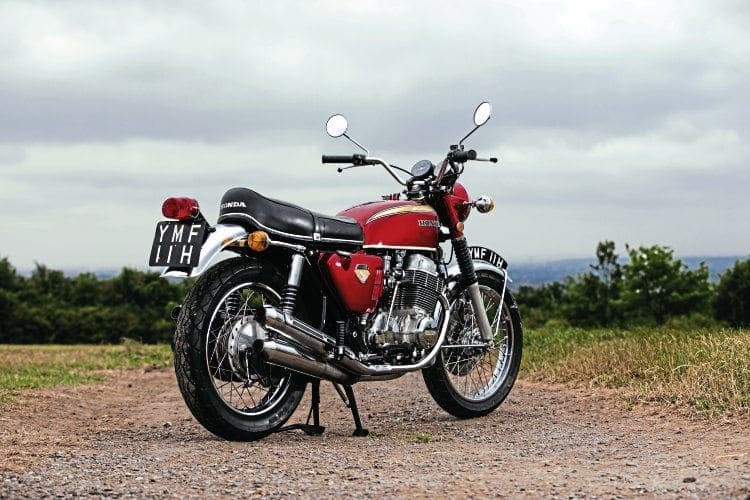 Oh, and while we're dealing in superlatives, I'm finally getting to ride a Honda 750/4. Mad as it might sound for someone who now scratches a living from old motorcycles, I've never piloted an example of what must surely be one of the most iconic machines to ever come out of Japan.
When unveiled at the 1968 Tokyo Motor Show, Honda's new baby threatened to make every single other machine obsolete overnight.
The public had only just got their heads around OHC (overhead cam) engines in small Hondas and here in metal, rubber and plastic was a full bore, 750cc, four cylinder motor. This was the very fabric of dreams and totally unknown outside the race track.
The likes of Velocette and Norton had played, but normally shied away from such over-engineering. To add to both sophistication and bragging rights, the engine also had an electric start, four carburettors and the front forks ran a disc brake for crying out loud – a disc brake!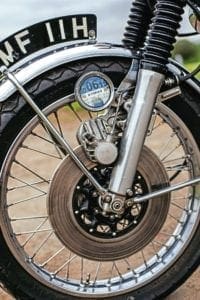 Okay, so that might sound like nothing special now, but 50 years ago Honda's CB750/4 was full-on exotica and bordering on the incredible.
Back in the UK most large capacity bikes were still 650 twins and Norton's all new (ish) 750 Commando was seen as state of the art.
Over on the other side of the pond, Harley-Davidson was still 'making large' of having overhead valves on its road and valve motors in its flat track competition bikes. No one had come up with something as technologically advanced for consumption by Joe Public.
Push rod twins had been state of the art until BSA/Triumph launched its, still push rod, 750 triples and here was an apparent oriental upstart challenging the status quo. In reality Honda had already done just that five years earlier with the DOHC CB450, a machine the powers-that-be back in Blighty had banned from competition due to a supposed 'illegal method of valve operation'.
And yet the truth and the future had been there for all to see if they'd wanted to.
Read more and view more images in the May 2019 issue of CBG – on sale now!
---
Advert

Enjoy more Classic Bike Guide reading in the monthly magazine. Click here to subscribe.
---