The article by Owen Howells was great reading and reminds me of similar rides covering long days and dashes for ferries. The old boxer just purred on no matter what. Simple to maintain and giving that feeling of confidence that you will get to your destination with as little effort as a motorcycle can demand.
I've a couple of little comments for any readers contemplating ownership of an RRS. First, the twin shock model featured didn't end in 1981, it went on to 1984 with the limited edition of 500 bikes, each having a number on the fairing (I think); so not a break from 81-86.
I've had four in total including the later mono versions which I will add are also a great bike; a bit lower seat height and although it is 10bhp less, I don't recall it being apparent when on the road.
Steve comments on the indicator switch; is he not confusing this with the later 1100-1200s? The switch is simply, left for left and right for right like any other bike!
The machine above is actually mine and has been for 29 years. I can update Steve and readers on the issue of the centrestand. I renewed the two bolts, one was bent, and bushes since then and it's a hell of a lot easier to use. Also the side stand was renewed and the toe piece isn't hiding as much as the previous one.
Some useful information related to the main stand: You can remove either wheel without support of a jack etc as thebike is balanced and will reston either remaining wheel.
You'll notice the neat TIG or MIG welding, can't recall which, that cured the oxyacetylene problem of introducing rust into the joints during manufacture. Even the seat upholstery was marine quality PVC for durability as mine is still in situ and the handlebar grips are tapered outwards to suit the shape a hand takes when holding them; so much thought went into them.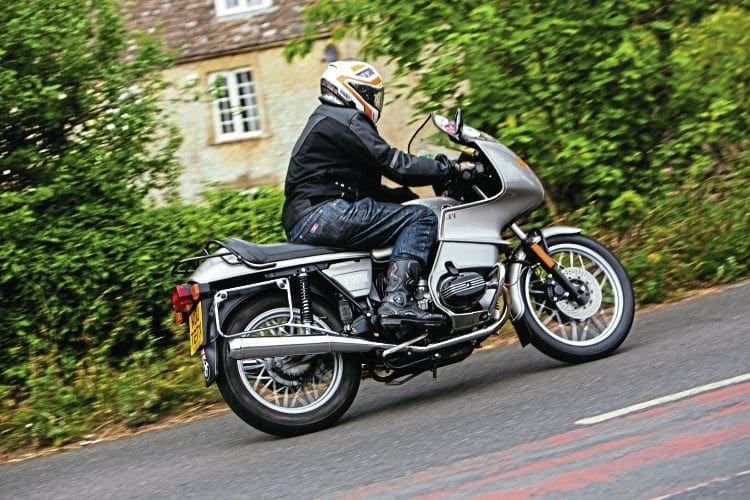 I fitted a clutch on mine at 83k miles, first time and it's wasn't difficult. I read another article in one of the mags were the writer said the engine had to come out to do a gearbox so your comments are harmless compared to that! Use quality mineral 20/50 oil and genuine 'bendy' filters at the recommended intervals, don't economise!
The rear disc brake is a begger to bleed. It has to be unbolted and held upside down whilst bleeding and then you are rewarded with a brake lacking any real functionality.
I found this with my CB500T front brake and fitted a TLS from a CL450 which has way surpassed the disc and the front now dips when braking. Some people used the early RRS rear drum brake/wheel on their bikes to get an efficient stopper. My CB750K0 is worse, useless in fact.
I can recommend an RRS to those looking for a classic bike to actually use as a bike. The longer the journey the more ones sees the benefits of the design and the whole concept of the machine.
Karl Chadwick
Read more Letters, Opinion, News and Features online at www.classicbikeguide.com and in the July 2020 issue of Classic Bike Guide – on sale now!