WORDS BY OLIVER HULME
PHOTOS BY THE MORINI RIDERS' CLUB
THE MORINI RIDERS' CLUB caters for anyone who owns, rides or simply appreciates these Italian thoroughbreds. The club was founded in 1975 when the 350cc V-twins were first imported to the UK, and the majority of members own one or more of these sporting lightweights. But that's not all – of course – they also have members with early single-cylinder bikes and a number of owners of the modern generation of Morinis are also active in the club.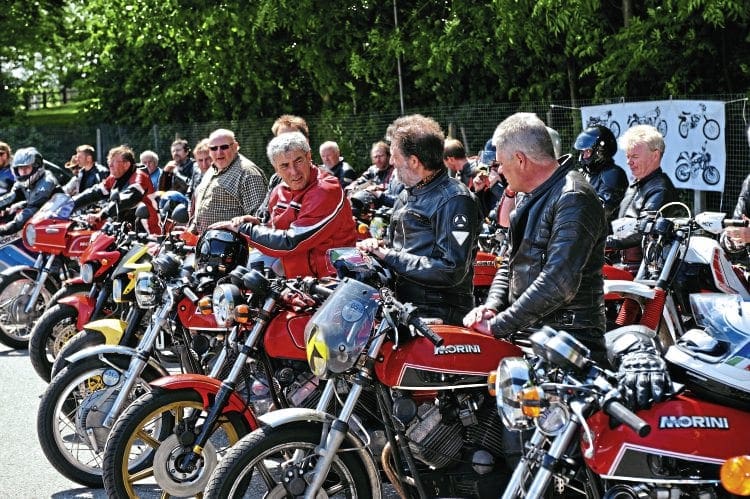 The MRC pride themselves on being a riders' club, using and enjoying their bikes, and this active approach to marque loyalties is plain to see in the kind of events they organise and attend. The highlight of the riders' club year is the MRC Trackday at Cadwell Park, which takes place on June 22 this year and is always oversubscribed. It's a welcoming and friendly event for riders of all abilities, which is open to all classic bikes, not just Morinis, and offers the chance to improve riding skills and explore a bike's handling in a safe environment.
Various regional meetings and ride-outs are held regularly around the country, letting everyone meet fellow Morinisti from their area, and the annual rally is a fun and relaxed event, held in a different location most years so that everyone has a chance to attend.
Overseas tours are a favourite. Over recent years club members have been to Morini rallies in the Netherlands, Italy and Germany, and this year they are off to France for the French Morini Club's international rally. This promises great riding, great food and plenty of entente cordiale. Two years ago the club celebrated its 40th anniversary with a trip to the Isle of Man, where the riders' club was founded at the Highlander Inn in 1975. This was probably the largest gathering of Morinis ever seen on the Island.
The club produces the informative, amusing and sometimes provocative bi-monthly magazine A Tutto Gas, and membership also provides special insurance rates, discounted parts from Morini specialists, club regalia and merchandise, access to technical information and help, bikes for sale that aren't on the open market and the opportunity to meet a wide range of Morini enthusiasts. Membership costs £26 a year. They have a club stand at most of the major classic shows where people can go along for a chat, look at a variety of Morinis and perhaps join the club. This year they were at Shepton Mallet and the Scottish Motorcycle show in Edinburgh, and will be at Stafford in April and October, as well as Peterborough in October. Members also attend a number of relevant local events and details of these are published in the club magazine.
Mark Bailey from the club told us: "Morinis are at last being recognised for the classics that they are, and the club is thriving as never before, helping to bring enthusiasts together, keeping their Morinis on the road and getting the most from their beautiful bikes."
Read more News and Features in the May issue of CBG – on sale now!