We like Triumph's Street Cup, so is its larger sibling worth the extra money?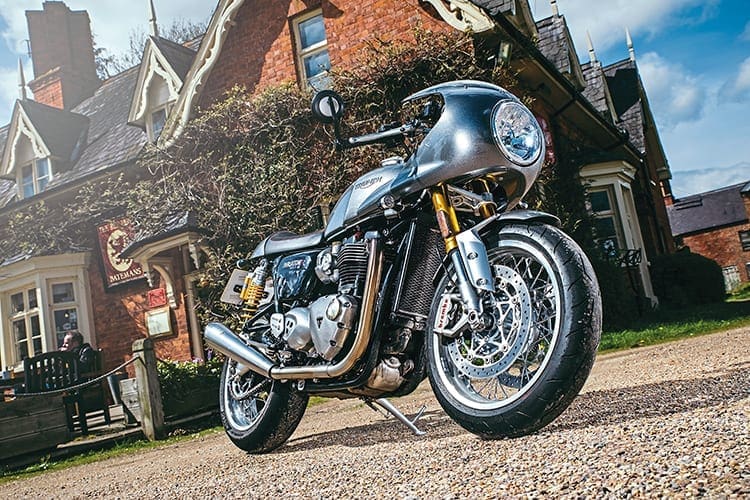 A T120 owner would have shuddered at the thought of a 1200cc bike in the Sixties. But Triumph's new Bonneville range is getting ever larger powerplants and currently uses a 1200cc parallel twin, producing just under 80bhp with buckets of torque. Yet when Hinckley decided to use the sporty Thruxton name they wanted more. Compression raised, crank lightened so it could rev higher and fuel mapping changed – more or less what the race department at Meriden would have done for the original Thruxton. The end result is 17bhp more and a 500rpm higher rev limit; a useful addition.
For more content, why don't you like our Facebook page here, or follow us on Instagram for a snippet of our striking pictures!
Where the race department was trying to win races, the Hinckley Thruxton has only to win hearts as a roadbike. But with its race-style, it needed extra go to back this up. And the chassis had to keep up too – it has sharper geometry and if you want even more, go for the R version that we tried which brings adjustable Ohlins shocks and huge Showa upside down forks with Brembo Monobloc calipers dripping from them.
Finally our bike had the optional Café Racer pack on, which gives you that gorgeous cowl, brushed stainless silencers and some other niceties like the tank strap, smaller LED indicators and shorter mudguards – for £1715.51, plus four hours to fit, or you can choose the Racer, which has it all included and saves a few quid.
So this new Thruxton R is now just over £14,000 on the road – but it will hold its value and though I couldn't afford it, there are lots of lucky individuals that can. It's also a significant saving over an original – if you could find one – let alone being a darn sight more usable. And Triumph wish to point out that you can pay for a Thruxton R monthly…
To ride it's simply a joy. Before you jump on, the quality stands out: the beautiful laced alloy wheels, polished and rounded top yoke, the tank filler and the fuel injection that looks like carbs. Even with the headlight cowl fitted, there are no wires or black boxes to spoil your forward-facing view. Although this was new, owners I've talked to say finish is good if you keep on top of it, as with all bikes. And talking to people is something you have to get used to on the Triumph. Bikers, non-bikers and ex-bikers all want to have a look – that logo will cost you a lot of time whenever you park up.
The combination of modern geometry, modern wheel sizes (the front wheel is a 17in unlike the 18in on the Bonnevilles) and the latest suspension and brakes all work together to give a modern feel. And the parallel twin is smooth, well fuelled and pulls from low down right to the redline, albeit in a slightly old-fashioned way, thanks to those huge 600cc pistons. It gets up to over 100mph really quickly, the gearing nicely spaced and obviously the gear changes are as smooth as any modern bike. But it is a weird synergy – you can't hide that the engine feels old-fashioned – in a nice way – but with the chassis of a bike that you would normally find with a sporty inline four within. But you get used to it and it becomes a rather pleasant way to travel, whether briskly or sedately.
Unlike other modern bikes you can feel what speed you're doing on the Thruxton R quite accurately. Like an older bike, you sense your pace; looking down at the speedo just to confirm. It's comfortable, for a six-footer like myself anyway. The reach to the clip ons is not as much as on the BMW R nineT Racer but if short of reach you may feel town riding less appealing. And it's not short either, with a seat height of 810mm (31.8in). Weight is just around 220kg ready to go (485lb) but it hides it well and steering lock is good for a Café Racer.
That huge engine can drink the fuel when riding – spiritedly – but when cruising 160 miles to the tank is on the cards. The traditional-looking clocks are lovely but the small digital screen hides all the info you need including a fuel gauge, trip, gear and which mode you're in. Which mode? Oh yes; the benefits of modern fly-by-wire throttles mean the ECU can translate your throttle inputs to suit the map you've chosen – Rain, Road or Sport. These merely adjust the sensitivity, dare I say it but just like we used to with our own brain… But the modern gadgets can help, with traction control and ABS included as well.
The Thruxton R is well at home on main roads, overtaking is safe and consistent and cruises at everyday speeds. But it's B roads where the extra money on the suspension and brakes really come into their own. Sit in a gear higher than you would on a modern bike and ride the torque, while enjoying the feedback and competence of the fully adjustable suspension. You really can easily keep up with modern sportsbikes easily, while looking a lot better in this writer's opinion! Even town work is a doddle with good steering lock, nice balance and good fuelling. Apart from the lack of pillion footrests (an optional extra) or anywhere to put anything, this is a true everyday bike.
Obviously I can't recommend you don't wear earplugs, but if you happen to forget them, then you'll be rewarded by the cleverly fuelled popping from those Vance and Hines slip on silencers on the over run and as you change down a gear. The Thruxton sounds fantastic, yet it isn't loud. How very politically correct. I really liked my time on the Thruxton R.
For more content, why don't you like our Facebook page here, or follow us on Instagram for a snippet of our striking pictures!