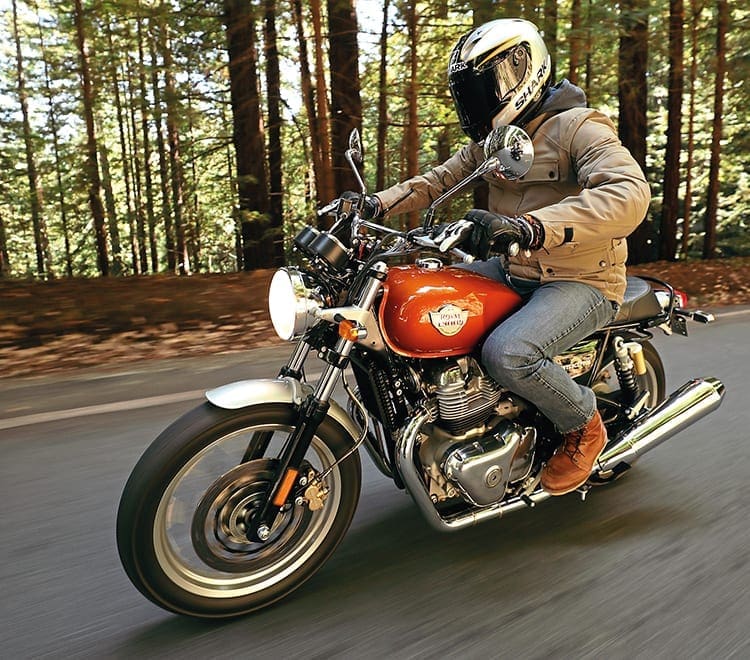 Royal Enfield occupies a unique place in British motorcycling culture. Many once-famous marques have been reborn lately, with varying degrees of success and, just as importantly, varying degrees of authenticity. Take modern-day Triumph Motorcycles Ltd, for example, as opposed to the real classics developed and manufactured by Triumph Engineering Co Ltd. Both species of motorcycle are obviously valid, but they're related only by a name and not by DNA. The machines assembled at Hinckley have nothing in common with those once built in Coventry or Solihull, however hard the current custodians try to claim lineage. The same, or less, can be said of Norton.
So it is to Royal Enfield that we look for a genuine modern classic. As the longest continuous producer of motorcycles in the world (bolting together powered two-wheelers in unbroken production, if on different continents, since 1901), it's for them to carry the classic flag, as it were, although we're not sure whether it should be Indian or British, or maybe both, considering how the new twins – the Continental GT and the Interceptor – are very much born from a collaboration of Anglo technology and Indian resources. Plus, it being a global economy, a smattering of German, Japanese and even Thai parts.
Chennai-based Royal Enfield has been a phenomenal success in its home market. Since settling a 1999 lawsuit to allow the Indian company to badge its bikes as Royal Enfields, and then the mid-2000s takeover by Indian automotive giant Eicher, the brand has grown exponentially. Through a steady slew of classic-styled new models serving the booming sub-continent's love of motorcycling, Royal Enfield now dominates Eicher's business portfolio, selling more than 750,000 bikes – yes, that's the correct number of noughts – last year. A Royal Enfield rolls off the production lines once every 52 seconds.
It's this success that has emboldened Royal Enfield's slightly eccentric CEO, Siddharta Lal, to reposition the marque from, globally, a niche producer of retro classics – new/old stock, if you like – operating well outside the mainstream, to jostling for position in the middle of it. Lal's strategy is, he claims, very much 'why not?' rather than based on extensive consumer research (that's how they do things over there). In Royal Enfield's case, it's 'why not build entry-level classic bikes for a retro-obsessed market, with an entry-level price and entry-level performance?'
You have to admit, he's got a point. No-one else is doing it. If you're a new rider, maybe on an A2 licence, and you want a classic-styled, air-cooled bike but are intimidated by the thought of owning a genuine classic, yet don't want to dive in the £8000-plus market of 900cc-upwards machines, then you're limited to a few Moto Guzzi models… and Royal Enfield's own singles. Enter the Continental GT and Interceptor twins. Both names have Royal Enfield history; the Interceptor was their last twin, built initially in 1960 as a 692cc export model to suit the burgeoning Californian desert racing scene, but also adaptable as a roadster. In 1962 it grew to 736cc and was sold in the UK in various guises up until 1970, when UK production ceased.
The Continental GT, on the other hand, is a name associated with Royal Enfield café racers; the 250 in 1965, and then the café racer-styled, Harris Performance-framed 535cc single launched in 2014 and still available today. But the Interceptor and Continental GT parked facing me outside the Dream Inn in Santa Cruz, California, are all-new. Both are powered by the same six-speed, air-cooled, 648cc parallel twin, making a claimed 46bhp at 7100rpm and 39lb/ft at 4000rpm, and both are housed in a steel tube double cradle frame with non-adjustable forks, preload-only twin shocks, 18in wire wheels and tubed Pirelli tyres stopped up front by a single disc and two-pot caliper. There are no visible concessions to modernity – no traction control, rider modes, digital clocks or LED lights.
The GT and Interceptor differ only in ergonomics – the café racer GT has raised clip-ons, narrower and rear-set pegs, a slimmer seat and a waisted tank with knee-recesses. The Interceptor's riding position is upright thanks to a conventional handlebar and forward-placed pegs. The engines and chassis for both bikes were developed at Enfield's new multi-million pound technology centre at Bruntingthorpe Proving Ground in Leicestershire, by more than a few key engineers poached from nearby Triumph (to such an extent that it's rumoured Triumph now include a clause in their employees' contracts that specifically forbids them joining Royal Enfield for a period of 10 years). They have nothing if not confidence in their engineering and in the Indian factory's build quality; the twins come with a three-year, unlimited mileage warranty.
I ride the Interceptor first and, as I ease into town traffic, my first impression is that the Interceptor is light, well-balanced, nimble and manoeuvrable. With a broad, open riding position and a centre of mass between the rider's knees, the 650 darts around cars with a natural, agile flippancy. The seat height is 804mm, but this gives the Interceptor a big-bike feel without making it intimidating. The clutch and brake levers are non-adjustable, but the clutch action is light and the front brake modulates pressure deftly enough to generate plenty of feel. A cable-operated throttle feeds the Interceptor's twin injectors with ultra-civilised fuelling, with no trace of snatch or second-guessing.
Despite the chunky-looking motor – a sturdy unit, all wide, polished engine casings and air-cooling fins (thankfully, there's no place for a semi-water-cooling jacket, as per Triumph's Bonneville motor, and no need for one either) – the Interceptor is a fairly light bike, with a claimed 202kg dry weight; few kilos more than Moto Guzzi's V7 and a few less than a 900cc T100 Bonnie. It certainly feels light once it's moving.
The new twin has a 270° crank with a single overhead cam and four-valves. It doesn't produce an excess of performance, struggling to top 100mph on either model. The motor never leaps away, it won't startle with a cascade of torque and it has none of the perk of the (admittedly much larger) Triumph T100 twin. It's a tame power plant, pulling cleanly from tickover in almost any of its six gears, but evolving speed rather than piling it on. Lower gearing would help and Royal Enfield staff suggest that a pepped-up R-spec GT version is on the cards at some point in the future, potentially with 17in wheels opening up serious suspension tuning and with something closer to 750cc and 80bhp.
Read the full story in the December issue of Classic Bike Guide