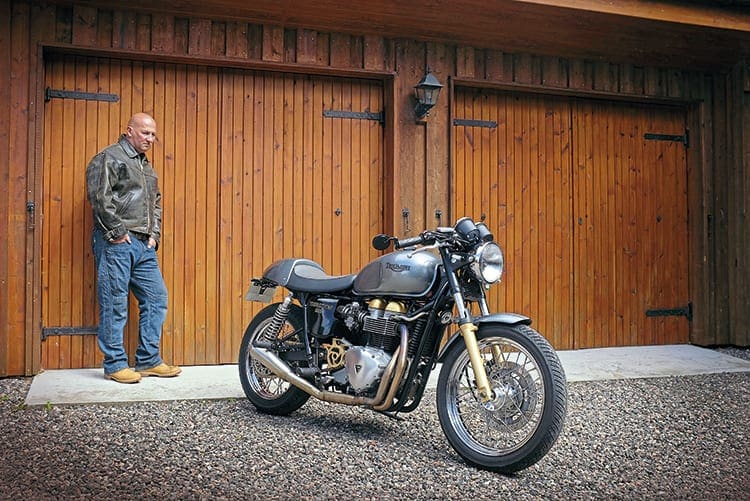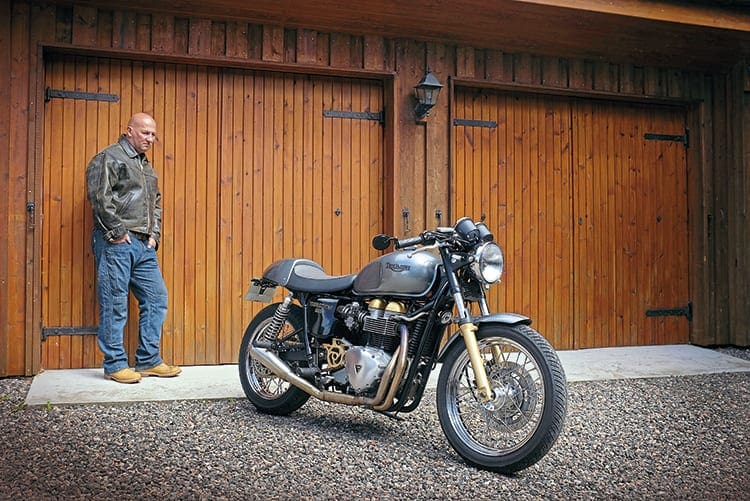 Allan Jackson wanted a new Triumph Thruxton, so took this non-running Bonneville and created his own. Friend of Allans, Stuart Urquhart, recalls the story behind the superb job this first-time builder has done and shows what can be done with a little help from your friends.
Words & photography by Stuart Urquhart
Allan Jackson is a man who rises to a challenge. A keen snowboarder and track day enthusiast, he's also a highly skilled joiner who's built his own home from the ground up; not once, but twice.
So taking on his first custom motorcycle build was not a daunting prospect when Allan decided to rescue a friend's laid-up 2003 Triumph Bonneville. By his own admission, Allan wouldn't boast too highly about his spanner skills, however, with a little encouragement he managed to get the 2003 Bonneville back on the road before he hit upon the idea of building a special.
Allan takes up the story: "I have long admired the new wave bike builders that feature in Classic Bike Guide and on specialist websites such as Bonnefication and Pipeburn.
"My friend Stuart's mildly customised Thruxton never failed to turn my 'Gixer' head and planted the seed of turning my Bonnie into a special. Discussions followed, and over several pub nights we formed a plan to create a 'faux' Thruxton – one that paid deference to Hinckley's new for 2017 Thruxton but with a few ideas of my own in the mix. In truth, I lusted after a 2017 model Thruxton but just couldn't afford the considerable asking price, so a poor man's Thruxton would be my second choice."
Allan began to scour the internet and magazines for examples of special builds that he liked. Trawling custom suppliers' websites also became an evening pursuit as he compiled a list of desirable parts to help transform his standard Bonneville.
Hinckley Bonnevilles have been around for over 15 years and are now affordable and in plentiful supply. The early 790/865cc models (2001-08) require only simple jetting upgrades to allow the fitting of aftermarket exhaust systems, while the later EFI models (2008-15) may require remapping of their engine management systems. Customising Hinckley Bonnevilles has become very popular and a whole new aftermarket industry has grown up around this trend – one being driven by the custom build scene – backed by specialist websites and custom exhibitions.
In similar fashion to the Triton cafe racer craze of the Seventies, the modern Bonneville has become the platform from which to build an urban street cruiser or cafe racer of your dreams. For as little as £3.5k you could find a low mileage example that only requires minimal upgrades that are easy to do – if you are familiar with a spanner you are already half way there. All you need is imagination, commitment and a plan. Buy one and get building is Allan's advice!
So on spare weekends we began to strip down Allan's Bonnie. I had several key Triumph parts such as an original Thruxton petrol tank and new glass fibre front mudguard, side panels and seat hump from specialist firm Mototone, parts that I had accumulated for my own Thruxton Special, but no longer required. This would allow Allan to set aside his original Bonneville parts to accommodate any future change of plan… and he had big plans.
"As my Bonnie came with garish chrome engine casings I began to hunt on eBay for used ones," explained Allan. "I was determined to remove any unsightly corrosion, but in contrast to the traditional hand-polished alloy cases on Stu's Thruxton I wanted to achieve a lightly brushed effect on mine.
"I soon found and successfully bid for a used primary casing and this was stripped of its factory lacquer before I experimented with wire brushes and different grades of emery paper. After countless trials I achieved the brushed steel effect I was after with the help of a dolly-mop and fine grade emery paper. I was chuffed with the result and more searches on eBay added a timing case and rocker box to be similarly modified. I was having fun!'
As work progressed, I began bombarding Allan with links to suppliers of quality custom parts and left him to search for items that fulfilled his brief. The stripping and subsequent rebuilding of many parts was a team effort, although Allan was solely responsible for styling his 'special' – often in consultation with experienced friends who could offer a valued opinion. Onerous tasks such as the removal of defunct mudguards, airbox, indicators and old fasteners were very much a team effort. The relocation of the battery, its electrical gadgetry and the rear brake master-cylinder and reservoir was another test for creative collaboration.
Testing of electrical components sourced on eBay caused much head scratching too, especially when Allan's Alchemy mini-bullet indicators and trick LED rear strip light refused to work. Even the addition of inline load resisters failed to spark up the lighting assembly. Not until a friend and electrical boffin identified that current was dropping via the consul's indicator warning light bulb did we finally have working lights.
"I became concerned that my inexperience was the cause of some baffling problems," recalled Allan.
"Removing parts was relatively easy but adding new custom parts was often fraught with problems. The hassle we had with LED lighting was a setback that caused much angst, to the extent that I began to worry I was throwing away money when buying custom parts. I was determined to fit whatever took my fancy but the combined indicator and rear LED strip light proved problematic and resulted in many nights' work solving problems; both with mounting the component seamlessly to the seat hump and then wiring it into the main electrical harness. However, friends always came up with solutions, and with their help I soon built up confidence with my input.
"Another problem was that my Bonneville seat turned out to be too wide for the Thruxton seat hump and this sent me on a wild goose chase for a Thruxton seat. The search became even more complicated by my choice of metallic pewter and gold paintwork for the Triumph's bodywork – influenced in part by the 2017 model Thruxton. This called for a matching colour-coded seat and I was thrilled when a two-tone grey seat eventually turned up on eBay that looked purpose made for my special.
"More discussions during the winter build resulted in a further strip-down when I decided nothing less than gold painted forks and rocker covers would satisfy my vision for the final look. Fortunately, one of my friends owns a paint and bodywork shop and all my paintwork was prepared by hand, before being offloaded for a professional paint job.
"Many ideas percolated from discussions during the rebuild stage and Stu was influential in persuading me to address the standard Bonnie's handling. Thus Norman Hyde progressive fork springs and Hagon top quality and multi-adjustable Nitro shocks joined the build. I had already decided to keep the excellent Bonneville engine as stock, but we added K&N chrome filter stacks from British Customs and a gorgeous T-Tec two-into-one stainless exhaust system. Triumph World supplied several oversize jets for us to test with the new exhaust system and kindly provided free advice. I spent many sleepless nights deliberating over the correct style of exhaust for this build and I only considered systems that enhanced the urban and aggressive look I was after, as well as ones which would provide an evocative exhaust note over the stock silencers. The T-Tec stubby silencer and crossover two-into-one pipes are great value and their quality is phenomenal. The silencer even has a removable baffle for MOT purposes – a part which will no doubt remain 'boxed' post MOT!"
Allan sourced the mock clip-on Dunstall handlebars from Burton Bikes. Motone supplied the embossed Union Jack front brake reservoir cover and the gold anodised sprocket guard. New sprockets and the obligatory rear gold chain were supplied by Norman Hyde and a host of smaller but necessary parts and fasteners came from Triumph World. Wheels were shod with new Battlax BT45s and once the Triumph's paintwork returned from the paint-shop the build took a giant leap forward.
Fitting the wheels and replacing the newly-painted gold front forks permitted the assembly of a rolling chassis to which we temporarily added the sparkling new metallic grey petrol tank and T-Tec exhaust system. Only then could we could take a step back and admire Allan's creation in all its splendour.
"I was over the moon with the completed Triumph and became very impatient to finalise the build. I just wanted to fire her up and go for a ride," he remembers. "I can vividly remember the excitement as we finally fitted the new drive chain, bolted on the exhaust system, oversized carburettor jets, K&N filters, fuel lines, front mudguard and connected the battery before a final tweak of the spark plugs.
"In went new oil and fuel and suddenly we were poised to start her up. My honour was to press the starter and the engine immediately fired-up and ran well on full choke. But unfortunately the engine began misfiring as soon as I backed off the choke and opened the throttle. Then the carbs started spitting and choking. This was extremely disappointing, especially as the Bonnie was running perfectly before the rebuild. Undaunted, Stu suggested we should continue to warm her up and take her for a test run. So I threw on a jacket and helmet but as soon as I blipped the throttle and selected first gear, I could tell something was amiss as the Bonnie hiccupped out onto the open road. When I returned I swapped gear with Stu and he returned moments later with a thumbs down in acknowledgement that we did indeed have a problem. Needless to say I was gutted!"
Following our first test run the disappointment on Allan's face was palpable, but I knew the problem would be simple to diagnose, especially when considering that the engine would run perfectly at low revs, but only began misfiring above half throttle. So I reasoned the cause was most likely a faulty new component that we had introduced unintentionally during the rebuild. After systematic checks we ruled out the new spark plugs, coils, HT leads, the ignition timing pick-up probe on the alternator, and the action of both CV throttles and chokes. I was baffled.
However, we began to suspect that the new jets might be too small for the T-Tec open exhaust system, or that we had been supplied with a duff coil. We decided to contact T-Tec for advice on jet sizes and as a failsafe we purchased a new substitute coil from Triumph World. However, with new larger jets and another coil to play with the engine continued to misfire.
Read more in the December issue of Classic Bike Guide – on sale now!