Immediately after the Second World War, and until engineer Charles Udall relaunched a new version of the 500 MSS, the 350 MAC was the only four-stroke roadster in the Velocette range. Then for 1954 the MSS reappeared with a redesigned 'square' engine of 86mm by 86mm, and this 499cc motor would go on to power the Venoms, Clubmans and Thruxtons thereafter.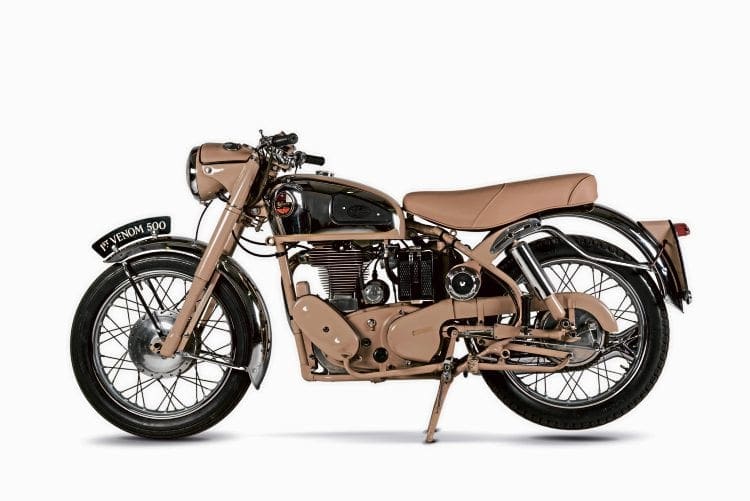 Charles Udall kept the basics of the prewar MSS, the narrow, rigid crankcase and high cam layout, and tweaked the specification to boost output significantly from 27 to 34bhp. Along with its light alloy, Wellworthy Al-fin barrel with pressed-in liner and sand-cast alloy cylinder head, the 500 engine employed a high compression (up from 6.8:1 on the MSS and then to 8:1 on the standard Venom) split-skirt piston, a 389 Monobloc instead of a 376, and hairpin valve springs. Udall had experimented with using standard coil springs but found 'they would not give us what was required… With hairpin springs the loading can give a considerably higher stress than is permissible with coil springs… and the natural frequency of vibration of the hairpin spring is higher so that the possibility of spring surge is eliminated.'
Following Velocette's normal practice, taper roller main bearings supported the built-up crankshaft, with Velocette's 'whip-free' flywheel assembly, caged roller big end bearing and a pressed-in bronze bush at the small end. The earlier air-assisted Dowty Oleomatic front end was replaced with Velocette's own conventionally sprung tele forks. In keeping with the firm's ethos of unusual innovation, fully adjustable suspension at the back was provided by a patented system with special shock absorbers from Woodhead-Monroe.
Read more in September's edition of CBG
---
Advert

Enjoy more Classic Bike Guide reading in the monthly magazine. Click here to subscribe.
---