A large capacity, air-cooled twin with shaft drive may not sound like an ideal sports bike. Moto Guzzi proved otherwise
WORDS AND PHOTOS BY Nolan Woodbury
REMEMBERED BEST as the traveller's sports bike, Moto Guzzi's Le Mans 850 was the result of great inspiration within the Mandello factory.
After resuming development of the company's performance twin in 1975, there's a good chance that owner Alejandro De Tomaso regretted not doing it sooner, when Guzzi's line consisted mainly of barn door tourers with floorboards and even automatic transmissions.
The long, aggressive 850 followed a challenging period for race-bred engineer Lino Tonti, and things got tougher when Guzzi's design chief was given the Benelli six in a last gasp effort to save production.
Not passionate about the twin, De Tomaso's multi slowed the in-house development of the V7 Sport, but as corporate emphasis moved away from the signature engine, Tonti's team of associates carried on its development behind the scenes.
Here the important names emerge; Tonti as the main architect and proponent, ex-race shop boss Bruno Scola, and a host of tuners, vendors and test riders from both inside the factory and out.
When De Tomaso gave the go-ahead, Tonti and his workforce were ready, building the new Le Mans by mixing elements of a speed-tuned 850 T3 with the sporty 750 S3.
Also readied was a high-performance racing kit that included 40mm pumpers, a hotter cam, close ratio transmission, special racing exhaust and gearing options for the rear drive.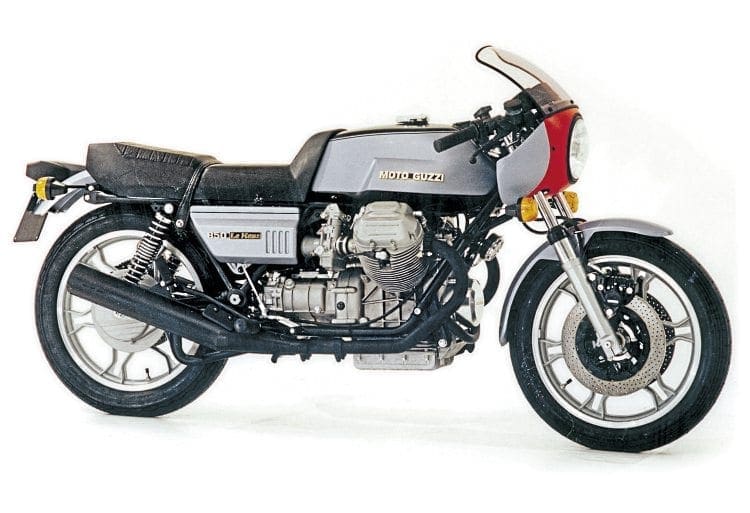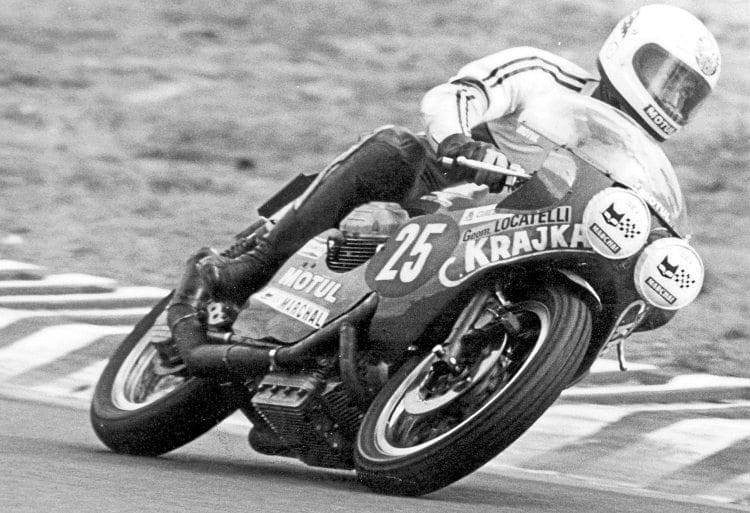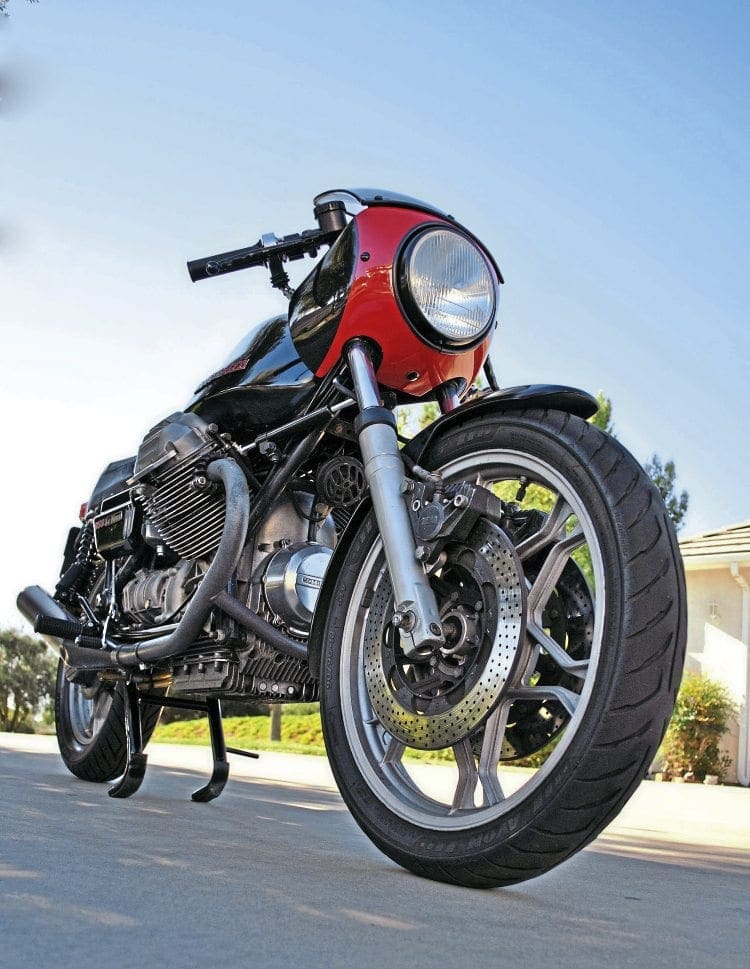 Marked numerically after the first series (1976 to 1978) the streamlined 850 Le Mans II (1978-81) set a restyle over the previous version.
The 850 III (1981-1984) was redrawn and refined, making a handy base for the litre-size Le Mans 1000 (1985-86). Three separate updates followed until production halted in 1993.
Engine / Transmission / Drive
All Le Mans models used the aluminium, 90-degree air-cooled longitudinal V-twin with dual carburettors.
The five-speed transmission's automotive-like bellhousing behind it contains clutch plates and flywheel. More production staples: dual-point ignition, electric start and shaft drive.
Hammers and force shaped Guzzi's very short, single-throw crankshaft.
Each end rides on bearings pressed in large aluminium carriers and the connecting rods are forged too, running side-by-side on plain bearings and giving the engine slightly offset cylinders.
The front timing chest contains sprockets and a chain that reach from the crank's nose to drive camshaft and oil pump.
That four-lobe cam connects to valves set at 70 degrees through pushrod tubes running inboard of the cylinder castings.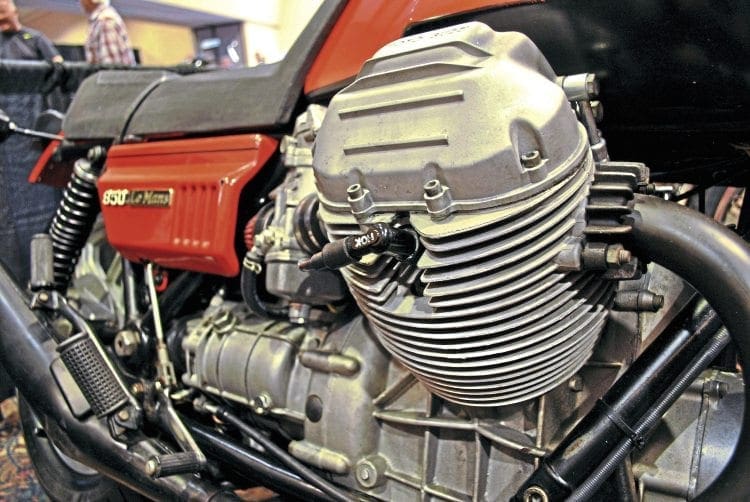 Screws and locknuts adjust valve lash and rocker-arms pivot on hardened shafts to activate one inlet and exhaust valve each.
Studs and nuts fasten the Le Mans twin headers, now more famous in rusty black then the plated gloss of following years.
Options were available, but the final drive ratio of 7/33 was standard through production on all versions.
Essentially a tuned 844cc T3 tourer with an oil filter sump, the program starts with domed 10.2:1 pistons moving in pressed-steel liners.
These replaced the 750 Sport's problematic chrome bore. Larger (44/37mm) intake and exhaust valves are controlled by the regular T3 cam, but well fed by a pair of Dell'Orto 36mm PHFs capped with plastic velocity stacks.
A new item, the carbs have bell-crank tops that moved cable attachment to the side for easier routing.
The engine spooled quicker thanks to a 4mm thinner flywheel and the Le Mans got most of the 750 Sport's performance advance distributor.
The exhausts run one crossover under the alternator and another beneath the transmission, seamed mufflers in an upswept pattern complete the system.
Down to nearly the last thread, 1978's updated Le Mans 850 II shared the first series engine specs.
Outward changes include an extension tube for the dipstick (to clear the lower fairing), a ball-socket shift linkage and a plastic alternator cover replacing the polished aluminium bowl. More inclined for the two-up tour, passenger provisions included heat shields on the mufflers.
A sub-series of the 850 II is the rare but surprisingly well known CX-100 Le Mans; a special 949cc made for the US at the behest of importers Berliner.
Requesting a litre-sized version for stateside riders, Guzzi responded by fitting the V1000 'small valve' touring engine (88mm bore, 9.2:1) into the 850 Le Mans II chassis with a sealed headlight. Only 350 were produced in two batches.
With tighter emission guidelines looming for 1980, Guzzi invested heavily in reshaping the details in and around the 844cc twin for the new Le Mans 850 III.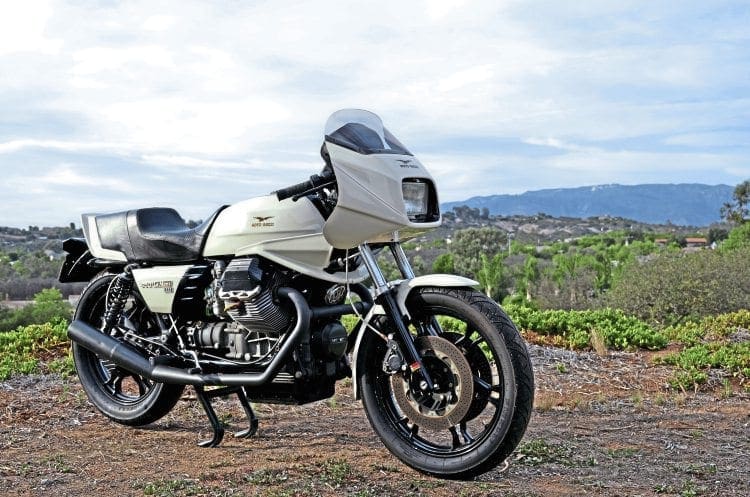 Carb type, cam timing and valve sizes were unaltered, but thicker base gaskets dropped compression to 9.8:1.
Nigusil coating applied to the 850's bores was carried over from the 1981 update.
Another race kit part, a spacer, was added between the crankcase and sump to stop crankshaft oil draft at high rpm.
More important changes included spacing out the cylinder studs for more bore clearance and cleaning up the breather system with threaded fittings to vent vapours into the frame.
Long-time Guzzi engineer Umberto Todero drew up a new airbox and exhaust, and while credit is commonly directed at De Tomaso for the engine's angular modernisation, Todero was responsible for making the 850 III a cleaner, more efficient and impressively fast Le Mans.
Many are surprised to learn that Guzzi still offered the race kit during production of the 850 III. Third time being a charm, the Le Mans 850 III was a success with more than 10,000 units assembled and sold worldwide.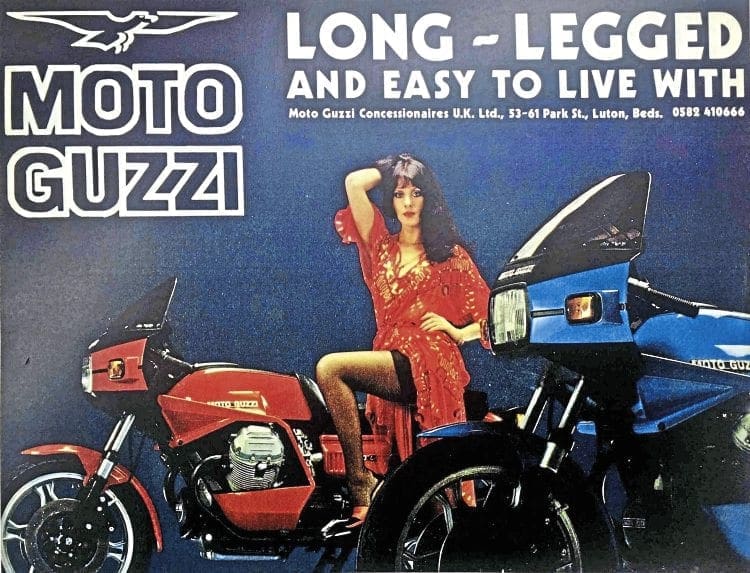 Guzzi tuner Bruno Scola has said that testing for the tuned, litre-size performance twin was completed in 1980.
Questions asking why Guzzi hesitated or how much of Scola's 1000cc made it to 1985's production 1000 Le Mans remain unanswered.
Tidbits of material leaked to the press teased buyers with prototypes and promises, but the new Le Mans used an established platform.
The respectable jump in grunt came from the new 88mm bore with domed 10.1:1 pistons in Nigusil bores.
Used cappuccino cups from some long-lost Mandello kitchen provided a pattern for the huge 47/40mm inlet and exhaust valves, now with stronger springs and a revamped combustion chamber.
The B-10 cam and 40mm PHF Dell'Ortos were race kit items, the bodies anodized grey and rocker boxes in blue.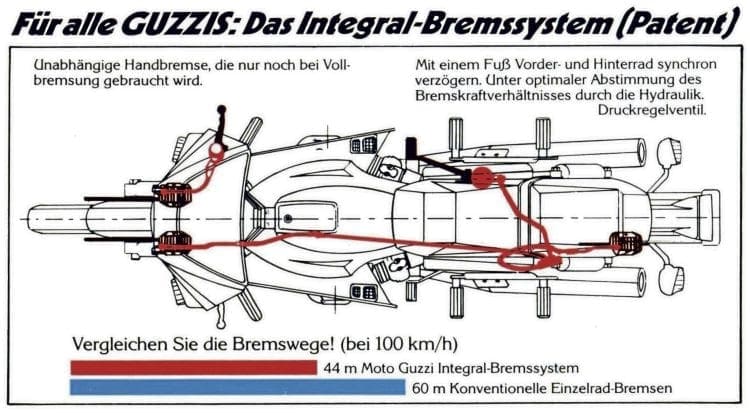 Celebrating the 20th anniversary of the twin, 1987's 1000 SE came with a close-ratio transmission and painted alloy.
Black chrome exhausts hung from the first 1000, bright chrome an option in 1989.
Later examples labelled 1000 CI used a different alternator, larger oil pump gears and a French Valeo starter, smaller and lighter than the car-sized Bosch.
Chassis and cycle parts
As developed for the V7 Sport, removing the dynamo housing from between the tourer's cylinders allow tubes to run through the splay, wrapping the engine tightly.
Removable frame rails ease servicing. Seeking a strong load path between steering head and swinging arm pivot, sections of mid-wall 'Italian water pipe' (as described by the late Phil Schilling) triangulate the steering head with a large diameter backbone on top.
The distinctive 'V' seen at profile ties the engine/transmission mounting top and bottom and locates the braced swinging arm pivot.
The engine is hung mid-calf with a rod across up front and another under the transmission. A bolted cross-brace doubles as the battery mount.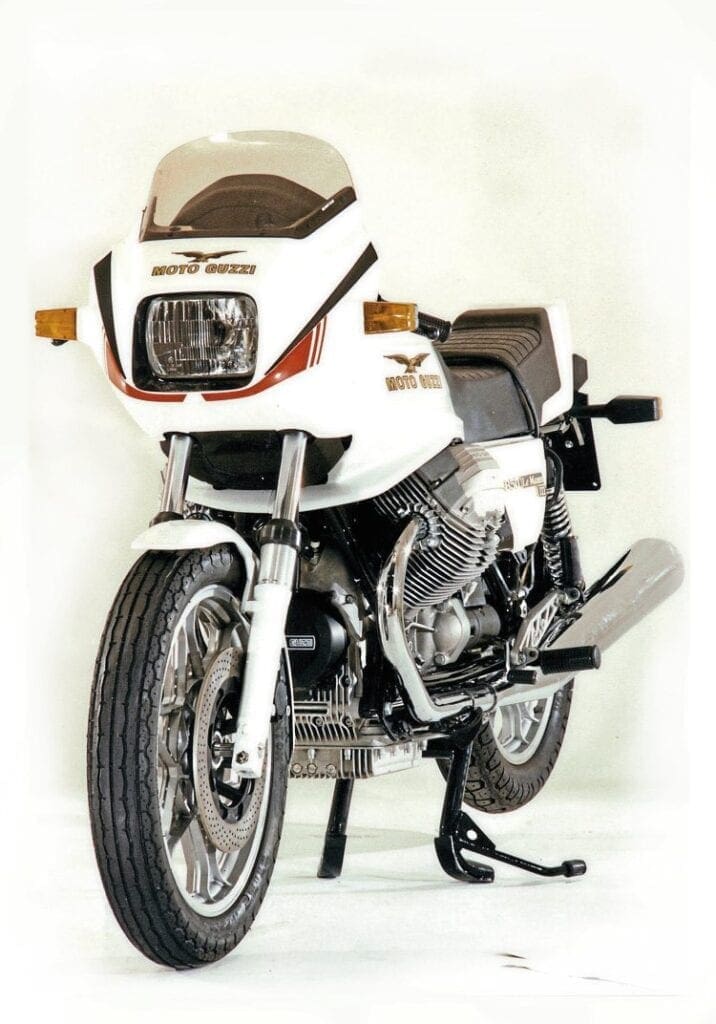 Data applying to all models includes a 28-degree steering head angle, tele forks, a steering damper and triple linked disc brakes.
Rear suspension is twin shock with driveshaft inside the right swinging arm tube. A U-joint coupling connects transmission output to the driveshaft and rear pinion.
The oft-cracked mainstand was reinforced in 1981. Suspension and brake differences vary between series.
The original 850 Le Mans is unique with its V7 Sport-spec 180mm fork spacing and smooth upper yoke. OEM shocks used chrome springs.
The 850 II reused the series-one 100/90 and 110/90 18" FPS wheels but moved the brake calipers to a trailing position behind the forks.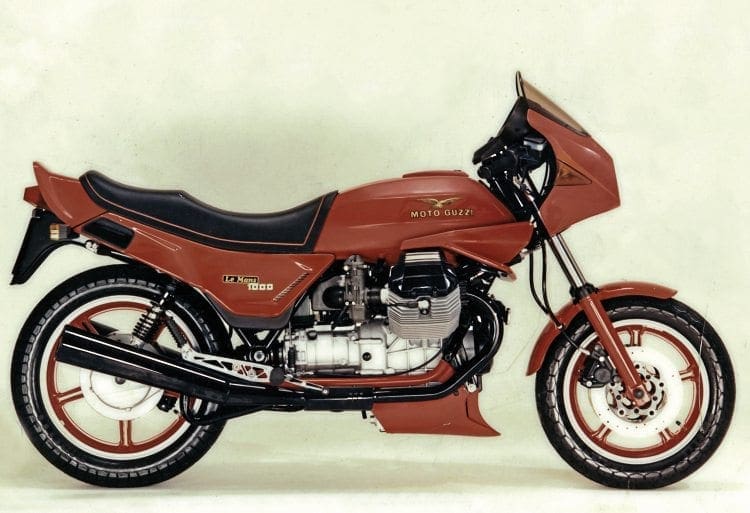 Cost-cutting uniformity widened fork spacing to 195mm, shared with the rest of big twins.
Peek under the dash of the 850 II and following versions to spot unused handlebar bosses. The first three series share a 35mm fork and two-piece Brembo rotors; twin 300mm fronts and a 242mm rear.
The 850 II introduced a longer swinging arm and shocks and noteworthy improvements in finish. All versions came standard with Guzzi's linked braking system.
The foot pedal divides fluid through a manifold to the left-front and rear discs. The hand lever commands the right front only.
Some criticism was voiced, but most Guzzi veterans appreciate the system's panic stop protection and its calming effect on the chassis.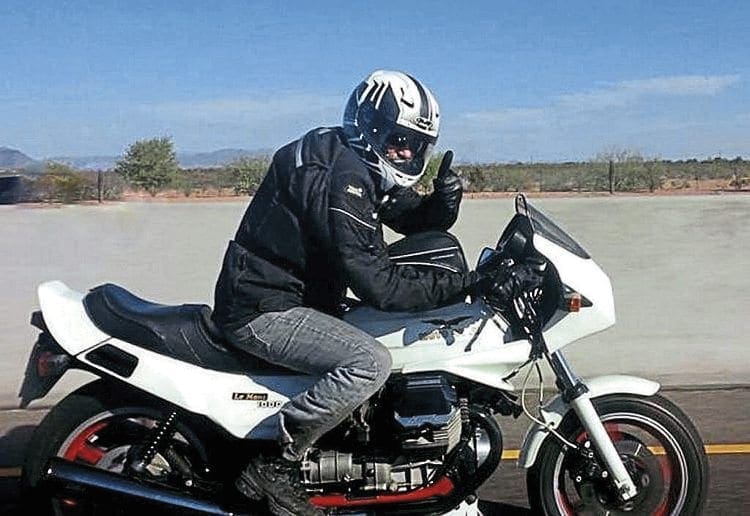 Corresponding with engine output, the Le Mans 1000 frame was revised.
A longer steering head with additional bracing held larger 40mm air-adjusted forks, and the swinging arm was opened for a wider wheel.
The two-by-five spoke wheels with polished edges are from Bezzi, the 2.50in x 16in front an unpopular feature.
Widespread complaints led to the factory releasing a revised set of fork yokes that reduced trail in an attempt to increase stability.
By 1988 the 16 was gone, replaced with a 2.50in x 18in front but retaining 1985's smaller 270mm semi-floating rotors. All 1000cc versions used Koni rear shocks.
As the 1990s approached, production of the Le Mans dropped drastically. Eyewitness reports claimed rows of late CI models sat unsold for long periods.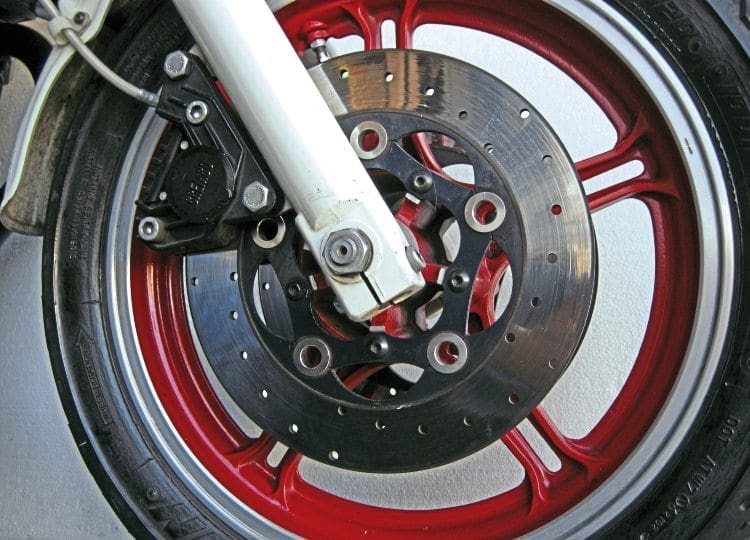 Many of these were later refinished into special models but unchanged in specification.
Body, instruments and controls
All Le Mans variations share the same basic styling direction. All are equipped at the factory with a top-yoke or frame mount fairing, distinctive side panels with model identification and a colour matched front guard.
Every version claims its own rear-cowl statement, the original 1976 being unique with its oblong CEV lamp and steel top bracket.
Clip-on handlebars and semi-rearset controls factored in a strong preference for endurance style, but there's no denying the original's café racer pinning.
Identified by era, both the Le Mans and Harley's XLCR Sportster followed the trendsetting R90.
The Guzzi was more popular in red with offsetting matt black panels and exhausts.
Most, but not all versions framed the headlight in Day-Glo orange. T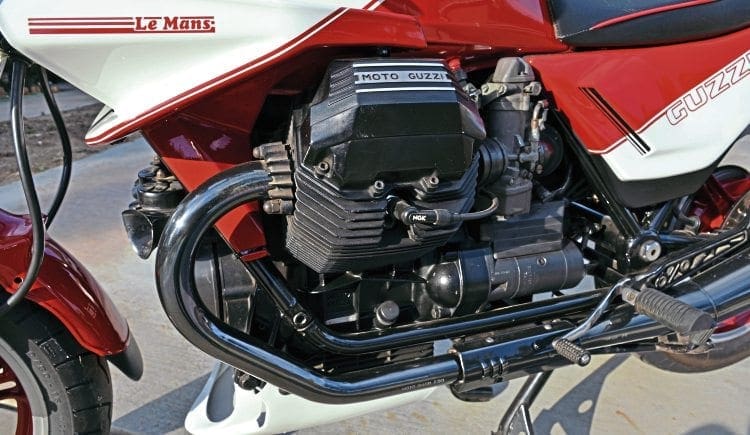 he fuel tank was in steel, first with a flip-cap then under a locking cover starting with the 850 II.
The fuel tank was redesigned for the 850 III makeover, now with plated (not painted) exhausts.
Built around its engine, throwing a leg over a first series 850 reveals its lean, compact nature.
Once seated, even shorter riders sit flat-footed, deciding for themselves when to lean into the low, chrome plated clip-ons and Tommaselli ¼-turn throttle.
Bikini is a perfect description for the 850's nose cone, surrounding the headlight and stretching over twin Veglia clocks.
The tank edge is cleared for the ignition switch, and when everything's right a little choke wakes the shuddering twin on the button.
Giving due respect, there are lots of reasons to favour the first Le Mans, but opinion is divided on those responsible for the direction of the 850 II.
Some believe De Tomaso was behind the angular makeover, while others insist the second series' larger upper fairing and leg shields were a product of Tonti's efforts in the factory wind tunnel.
Favourites will remain, but if comparing roadholding and composure at speed, the knife-like 850 II earns a win.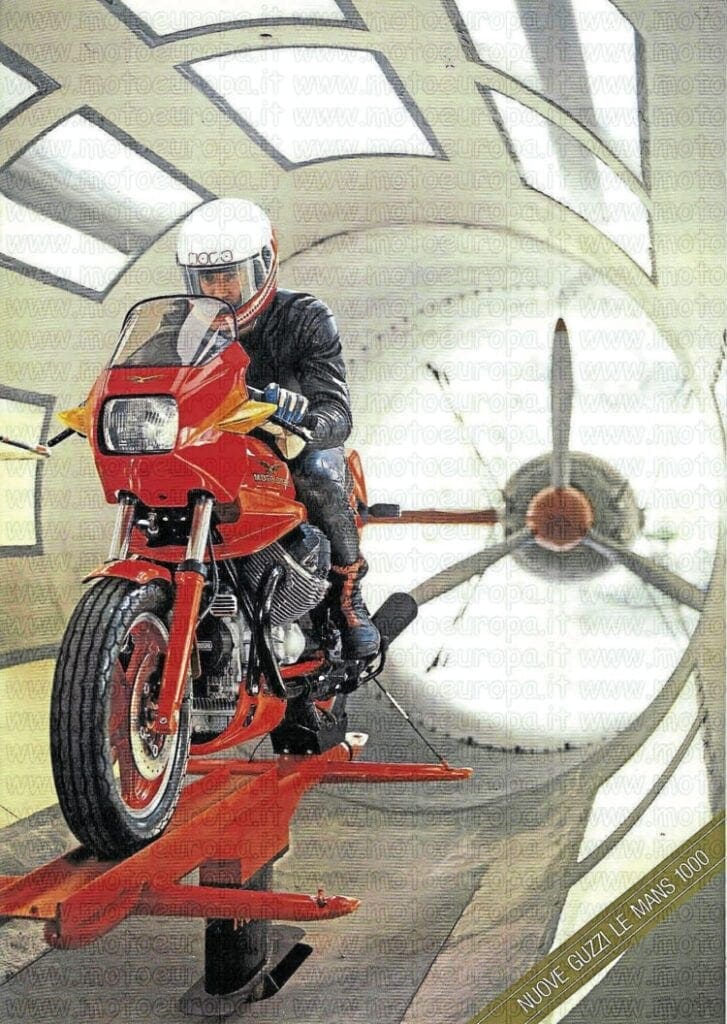 Many saw the remade 850 III as a return to form for Moto Guzzi. The upper fairing was smaller and narrower, now with a streamlined aerofoil underneath.
A new six-gallon fuel tank and side cover design were introduced, keeping the 1977 Le Mans 'Modena' taillight but covering it with an angled spoiler.
Widespread acceptance saw importer specials pop up everywhere, most with wind-cheating fairings and 1000cc pistons.
Another wind tunnel test was the factory 1000cc Le Mans. Marginally bigger but forty pounds more, the increased seat height was the result of forming parts over the chassis instead of attaching them to it.
At rest the 1000's body sections gap, but pull it down for road use and the forms come together. Magic.
The 1000's sweeping top and bottom spoilers pay tribute to the testbed racers built by Bruno Scola and Dutch tuner Jan Kampen.
Most of the 1000's extra tonnage came from the wider wheels and double-wall exhaust. Late versions with the 18in front used a frame mount fairing.
Later CI models were revised to include an upscale cockpit and a chiselled top yoke.
In 1991, the last shipment of 17 black over red 1000 Le Mans CIs were sent to the US. In 1993, a small production run added the last few to close out Le Mans production with the inscribed 1000 Le Mans Ultima Edizione.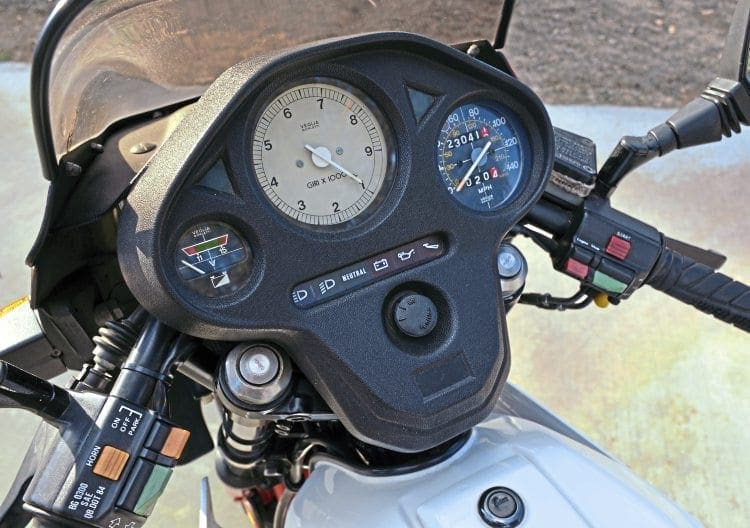 These very last machines found great favour with those still inclined to performance test. And while generally assumed to be well off the modern performance mark, the late 1000s proved that the factory had learned a few things after 25 years of tuning sporty V-twins.
Some U-E models later surfaced in the UK.
Market impact
Some well-known performers joined the Le Mans on 1976's performance stage; each legendary and distinct.
The Desmo 900 was a fast, beautiful but demanding mistress, best kept for weekend dates.
Speed junkies preferred the bare-knuckle Jota triple; a bit more durable than the Duc, but taller and heavier than the Guzzi.
The niche in-between is where the Le Mans lived, having enough speed and composure to give the Ducati heartburn, yet tough enough to run marathons with the Laverda.
Cost-per-mile comparisons were easily won. Italian flash with shaft final drive.
The 844cc Le Mans 850 backed its racy looks with an impressive record of performance and durability.
UK racer Roy Armstrong won the Avon production series on a first issue 850, riding the machine on the street between rounds.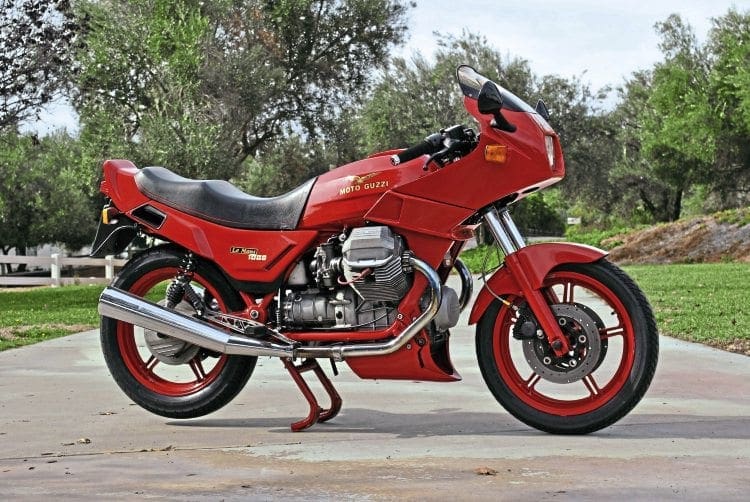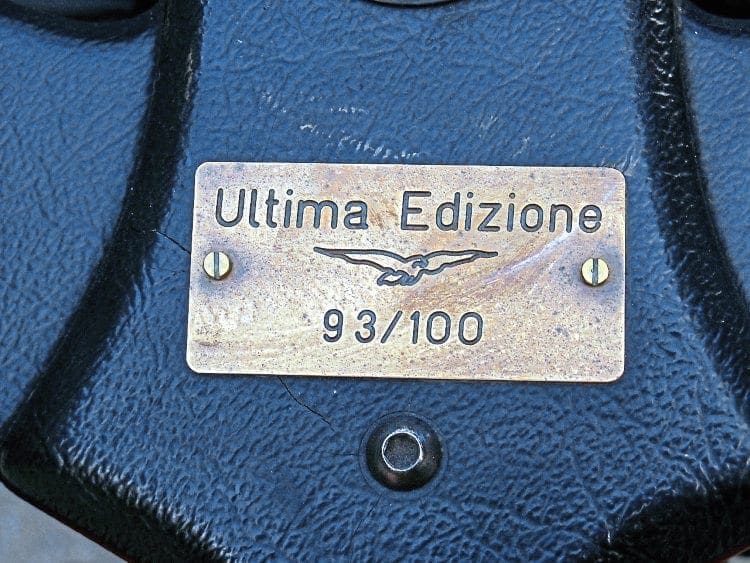 In the US, Mike Baldwin was one crash away from Moto Guzzi's first AMA championship.
In the mid-Eighties, when most press pros considered the Le Mans little more than a humorous afterthought, American dentist John Wittner turned his enthusiasm into three AMA endurance titles; 1984 using a stock 850 III, a heavily modified 1000 Le Mans with 16in front wheel in 1985, and in 1987 with a one-off 1100cc spine frame that followed Wittner to the Guzzi factory.
A rarity in the US press, Cycle editor Cook Neilson raved about the 850's 'almost Japanese completeness' in a 1977 test.
Three years later, succeeding editor Phil Schilling recommended the CX-100 to Japanese owners weary of 'talking to the sky'.
Noting in a 1983 test of the 850 III that Honda's flagship CBX had been replaced by ultra-fast Interceptors and injected Kawasakis, the existence of the Le Mans was called into question.
'Look here,' reads the bold header. 'Italy's swoopiest thunderbike is alive and better than ever.'
Acceptable modifications
The sheer nature of the Le Mans as an enthusiast machine lengthens its list of accepted mods – aftermarket additions or alterations from stock that won't lower the resale value.
To the buyer, replacement of common wear items like shock absorbers and fork dampers are usually appreciated, as are aftermarket items like steel braid for the brake hoses.
A careful Le Mans 850 owner might insist on keeping the chrome shocks or original pattern grips, all possible through a high quality, extremely diverse aftermarket.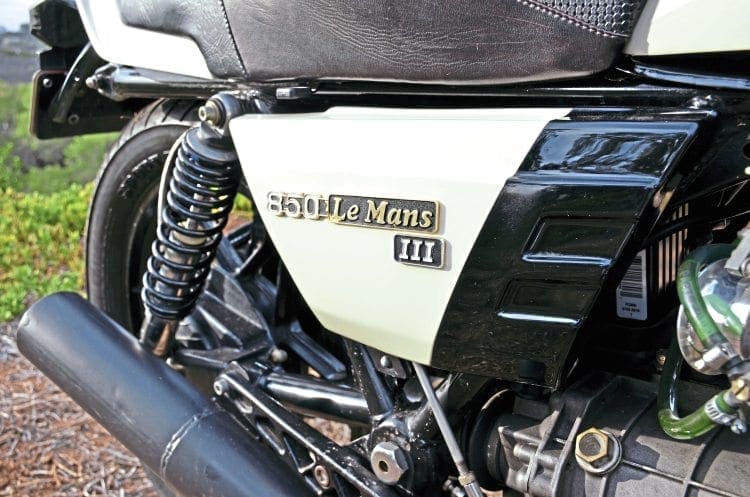 Be aware that the wholesale changing or replacing of whole suspension systems might improve it for racing, but try selling a race bike first.
Interestingly, Moto Guzzi owners are unusually receptive to certain engine modifications.
Buyers often pay more if a machine is equipped as mutually desired, as several of these period accessories are now collectible.
Most common is swapping the EPA-mandated exhaust, the fortunate finding Lafranconi's Competizione header extension and silencer set bolted up.
Agostini's, in Mandello, offers a popular alloy gearset to replace the timing chain, and while excellent, the Le Mans' distributor is allowed an electronic upgrade.
The first two 850s used a single wall performance header with a crossover under the alternator and should be retained.
Full BUB exhausts and big Dell'Ortos are common on CX-100s, as are separate pods, now fitted to most and especially the filterless 850 and 850 II. You'll score points for keeping the original bits.
Naturally, none of the above matters if you're never selling, but if money matters the respray should follow factory patterns and colours. Modern technology makes paint matching easier.
Faults and phobias
This should be brief as Guzzi's switch to cast iron cylinder liners in 1975 eliminates most worries of short engine life. It'll die a quick death if the sump-mounted oil filter screws loose. The resulting loss of oil pressure will destroy the bottom end quickly.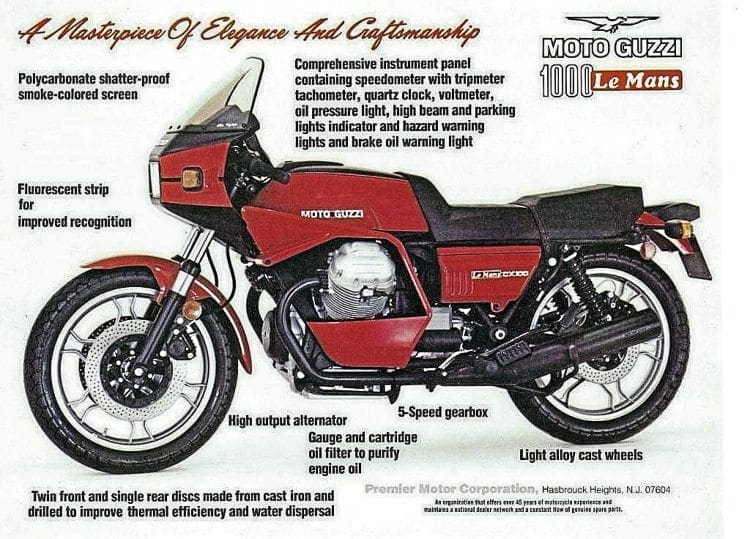 A hose clamp snugged around the filter then butted against the check valve housing is cheap insurance.
Clean oil (20W50 in most climates) and a new filter every other change works well. The factory 1000 with its high lift cam wears guides quicker, but from 1989 the output spline was deeper for longer clutch life.
That clutch fix is the big chore for most Le Mans owners, and those taking the frame apart for the first time might turn a bit queasy rolling one bike in two different directions.
The process is straightforward. Even hard-ridden examples can be purchased with a confidence backed by decades of parts overlap.
A Guzzi Le Mans operates with reliable gusto, even with heavy wear. Much like a period BMW, the Guzzi's easy DIY maintenance is a huge perk.
Read any period Le Mans test and you'll find complaints about poor finish and Italian electrics.
1985's 1000 got tidy push/pull fuses under the seat. Before that, circuit boards replaced point-to-point wiring in 1981, but there's no pattern of failure.
Be sure to check the battery earth on any machine with a refinished frame.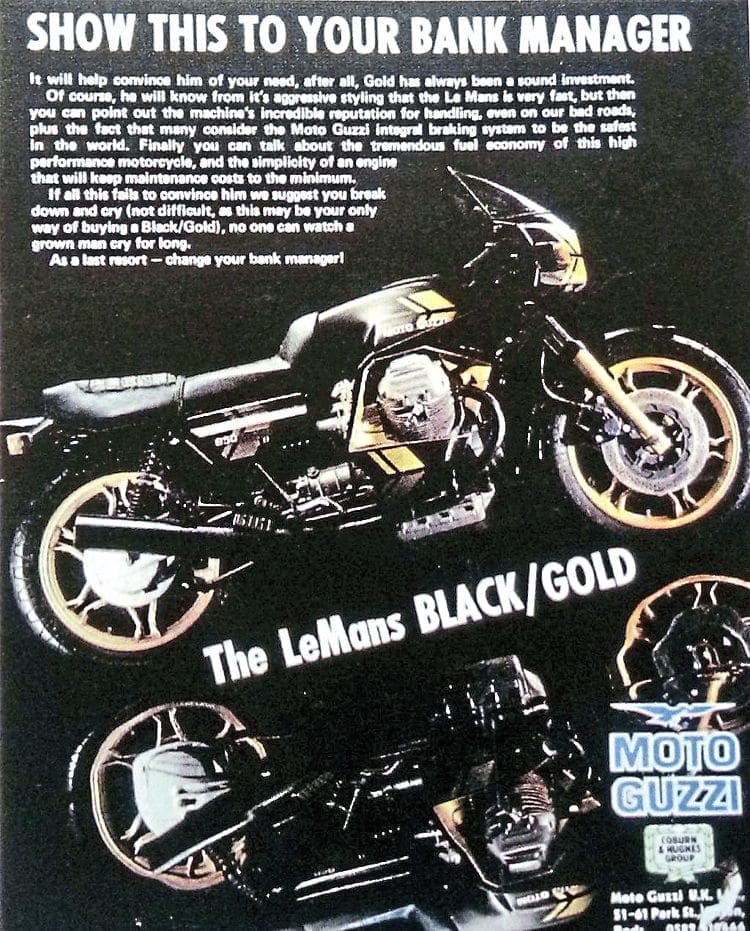 Credit Guzzi for continually updating the switchgear, and the improvements to chassis finish beginning with the 850 III tell a tale of longevity.
The thin black applied to the early 850s rusts quickly. Ditto the iron brakes, but this is more easily solved.
On the road
Tapping into 30 years of personal experience recalls wide open stretches of dark and loneliness… not the place for problems.
It's all been good news, and as the journeys continue the routine of taking things apart every year to spot a frayed cable, oxidised connector and other inconveniences can be addressed.
All Guzzis are tough on mounting pins and grommets, making it wise to keep a can of silicone for the hard rubber and carb blaster to aim at the engine's oily web of external strengthening ribs.
A fair amount of owner involvement is needed. The best ones aren't ignored.
As a period-perfect Italian racer the original 850's irresistible style makes it the Le Mans you're most likely to park and admire.
It's a gem on the road though, with a sneaky, peaky power band that tosses the whole lot forward when the tach clears 5000rpm.
The 850 II's streamlining and four-hole cockpit dash completely changes the machine's character, but not its willingness to accelerate and lean hard.
An under-rated gem that's often stripped into 'Mark I' trim, the 850 II's planted, downforce driven stability is good reason to leave it be.
Many long-time Guzzi owners consider the 850 III the best of all; combining the original's size with the best factory updates.
The 1000 is bigger, but just slightly. The engine's wallop is felt when the clutch is released, and its thrumming throb at speed is more Chevy V8 than Desmo bark.
All versions are buzzy and stiff until run in completely. The key to long-term happiness is faithful servicing.
Keep tuning and balancing to bring sharp improvements in smoothness and acceleration at 10,000-mile increments.
Conclusion
Many who have chosen to study Moto Guzzi history blindly follow the long-held belief that financial constraints (or assorted other blunderings) robbed Guzzi's most famous sports bike of the technology needed to remain relevant.
Another view suggests the factory progressed the Le Mans into what it always wanted it to be; a stylish, high-endurance sports bike powered by the firm's charismatic V-twin.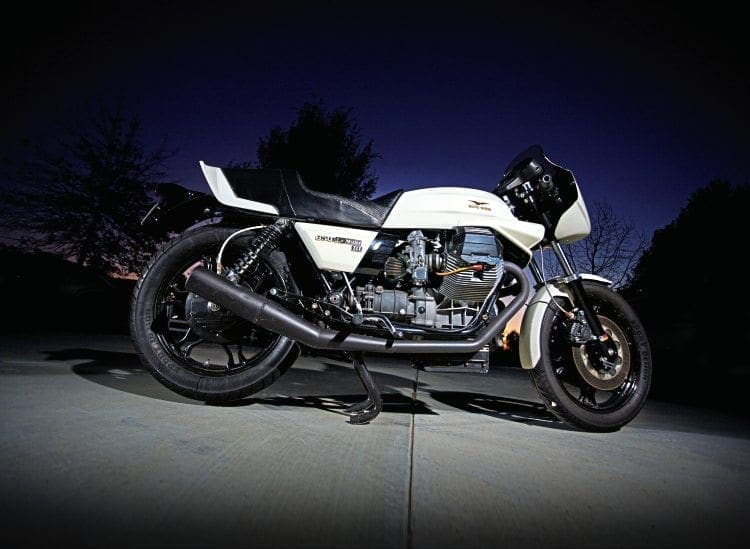 Moto Guzzi built the Le Mans for the rider who wanted a Le Mans. The brilliance of the original Le Mans 850 explains the strong vein of engineering uniformity throughout, and therein lies the appeal.
Not surprisingly most are still in use, and in demand.
Timeline
850 Le Mans
(1975-78. VE engine and frame prefix. OHV 844cc, five-speed, 435lb dry, 129mph. Red or silver-blue. White starting in 1977)
850 Le Mans II
(1978-81. VE engine and frame prefix. OHV 844cc, five-speed, 440lb dry, 129mph. Red, white, dark blue. Coburn and Hughes Le Mans 850 II black/gold UK only)
CX-100
(1979-81. VU engine and frame prefix. OHV 949cc, five-speed, 445lb dry, 124mph. Red or white)
850 Le Mans III
(1981-85. VF engine and frame prefix. OHV 844cc, five-speed, 454lb dry, 129mph. Red, white, silver)
Le Mans 1000
(1984-86. VV engine and frame prefix. OHV 949cc, five-speed, 474lb dry, 143mph. Red or white)
Le Mans 1000 SE
(1987. VV engine and frame prefix. OHV 949cc, close ratio five-speed, 474lb dry, 148-plus mph (with taller final). White with red, 100 in USA with black painted driveline)
Le Mans 1000 CI
(1988-93. VV engine and frame prefix. OHV 949cc, five-speed, 475lb dry, 143mph. Red or black with red or black frame)
Ultima Edizione Le Mans 1000
(1993-94. VV engine and frame prefix. OHV 949cc, five-speed, 475lb dry, 143mph. Red with red frame)
Read more News and Features online at www.classicbikeguide.com and in the latest issue of Classic Bike Guide – on sale now!