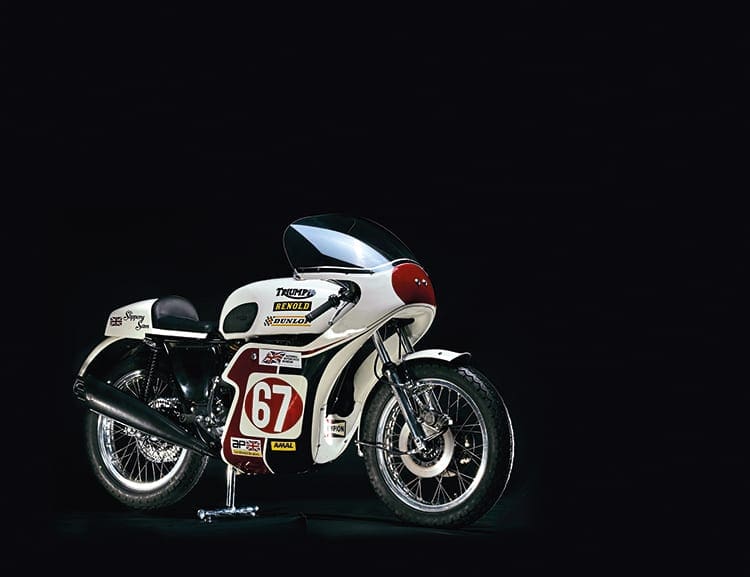 The inside story of how Triumph's experimental department built a Superbike for sixpence, and accidentally created the most famous production racer of all time
To understand the fame accrued by what, in the final analysis, is only a modified street motorcycle, it is important to remember just how important production racing was in the late 1960s and early 1970s. At the same time as enthusiasm for racing road bikes was at its peak, interest in mainstream GP racing was at an all-time low ebb, with spectators becoming weary of an endless stream of twin-cylinder Yamaha two-strokes in the smaller classes and the legendary Giacomo Agostini giving high speed demonstrations with the bigger MVs. By contrast, production racing had a plethora of factory-entered bikes of all sizes, shapes and capacities.
Production racing also offered a huge publicity return for every pound invested. The top bikes were comparatively cheap to make and the leading riders were highly affordable. For example, following Malcolm Uphill's 100mph TT win in 1969, Uphill received £50 prize money and £70 in trade bonuses – plus the bike on which he had won the TT. Malcolm was later invited to the factory for a VIP reception to celebrate the win. At this star-studded event, the TT winner was publicly thanked – and then given a £12 transistor radio. Rossi, eat your heart out!
The bikes which won were cheap too. All Triumph racing machines started life as production line rejects. Les Williams, the mechanical genius behind much of Triumph's race success, remembers how the Triumph Tridents for the 1970 TT arrived in the experimental department. "When a bike was run on the rolling road, if it wasn't up to standard we would get it instead of it being rectified. Our first bikes all had oil pump failures, so the main parts of the bikes were fine."
The 1969 Production TT had been a bonanza for Triumph in terms of publicity, with Uphill's 100mph lap becoming the stuff of legends. However, the story nearly had a very different ending. Here's Les again: "When we stripped the bikes down we saw how close we had been to a disaster. The pistons on Malcolm's bike were cracked and they wouldn't have lasted another half lap. Everyone knew then that we needed the triple if we were to carry on winning in production racing."
Not that things were straightforward, as Les explains: "The Americans were pressing the BSA board" – because Triumph were part of the BSA Group – "to go to Daytona for 1970, so a decision was made that we were going to race the triple."
Back then, Doug Hele was Triumph's development engineer and the mastermind behind their racing success. He "came down to the experimental department and explained what we had to do. To be honest it was all a bit of rush.
See the July issue of Classic Bike Guide for more news and features…