With the triple, Triumph and BSA had a tool to win at the prestigious Daytona races. Armed with Rob North's frames and Mike Hailwood, they went to the US looking for victory!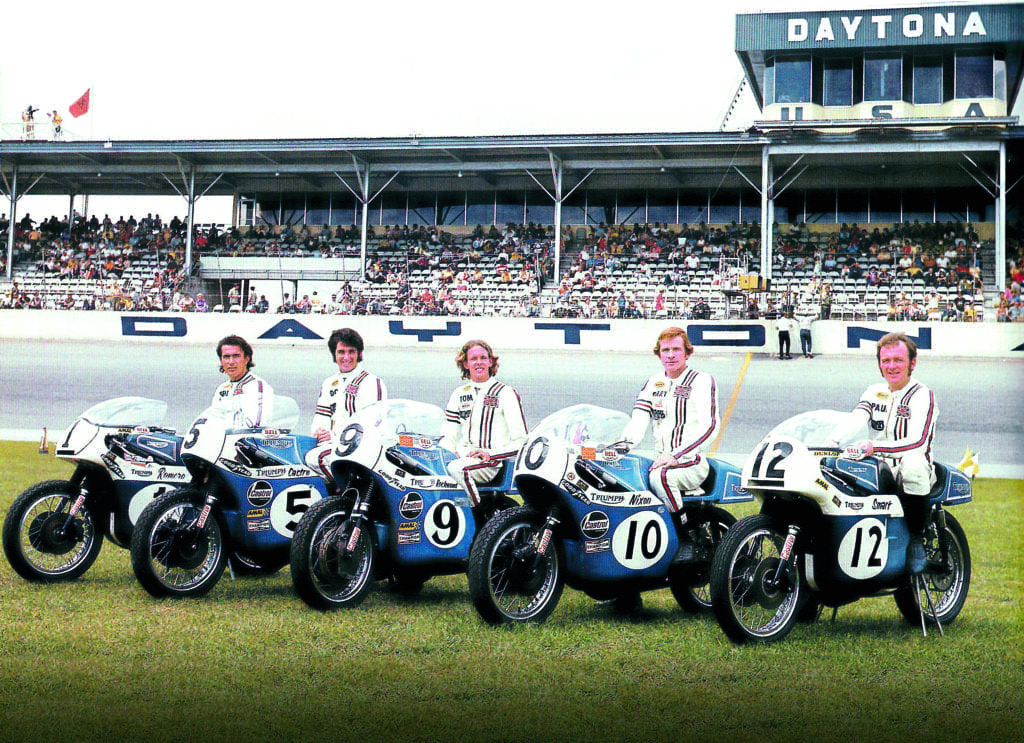 In October 1969 the Triumph factory's Head of Development, Doug Hele, was entrusted with the task of developing a racing version of the company's new T150 Trident three-cylinder Superbike, which had been launched the previous year. For someone like Hele, who relished using racing to improve the performance of his company's products, as well as demonstrating their worth in the hotbed of competition, this was an enticing challenge with just one drawback: He had to have six bikes on the grid for the Daytona 200 the following March, just four months away!
For more content, why don't you like our Facebook page here, or follow us on Instagram for a snippet of our striking pictures!
Three of these would be Triumphs, but the other three BSAs, to reflect the fiercely competitive rivalry between the two principal brands in the parent BSA Group, each of which had its own competition department. Triumph's was chosen for this venture over BSA's on the grounds that it had on-going road racing experience in winning successive Production TTs and suchlike, while BSA's was off-road oriented, focusing on motocross and enduro.
It had, in fact, been Hele himself who designed the 741cc in-line three-cylinder ohv engine powering the BSA Rocket 3 and Triumph T150 Trident over the winter of 1963/64, in his own free time and completely unaided, working on a drawing board in his home. Having then presented it to his colleagues at Triumph as a possible step up the capacity ladder – essentially, in simple terms it was a Triumph 500 twin with an extra cylinder grafted on – he then watched from the sidelines as the project became mired in BSA Group politics, with his boss Bert Hopwood, CEO of Triumph, even taking the credit for conceiving it on its introduction to the marketplace in the summer of 1968. So for Hele the chance to develop a racing version of his motor, and clad it in a full-race chassis in order to go racing at the highest level, was a particularly satisfactory outcome.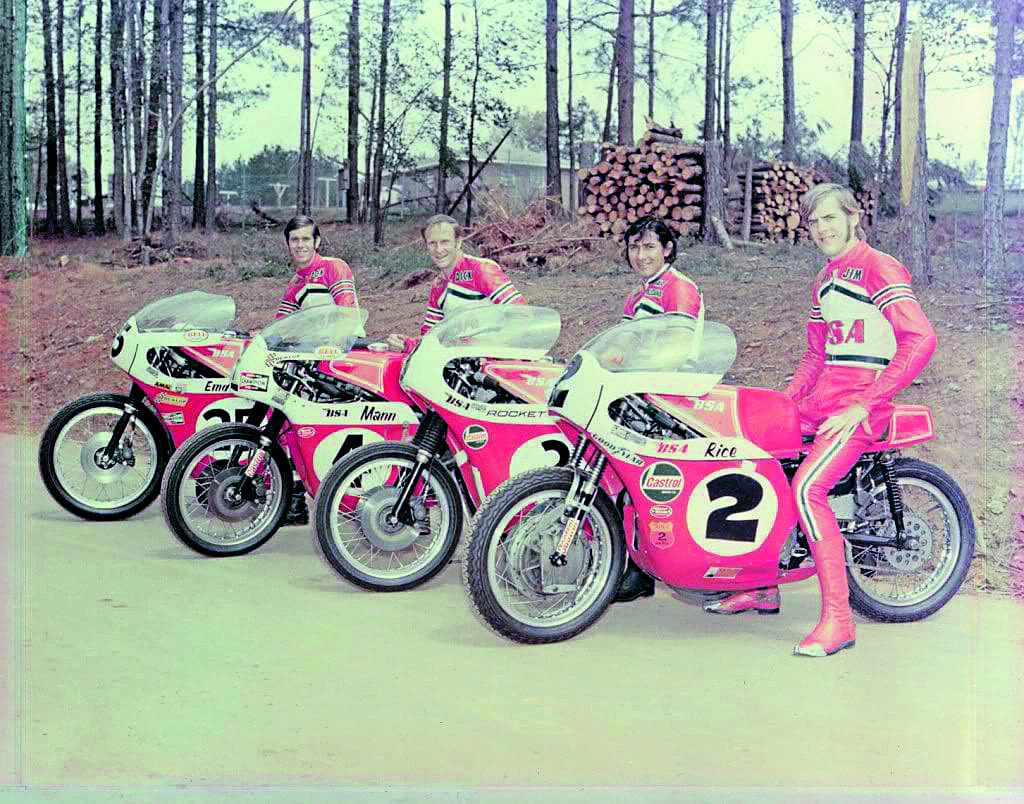 The decision of BSA Group management to fund a racing programme was the direct result of a change in the rules governing AMA Grand National championship racing in the US, the British firm's largest market. For until 1969 there had been a differential formula, with ohv and ohc engines restricted to 500cc in capacity, while side-valve bikes (i.e. Harley-Davidsons) were allowed to measure 750cc. That year the ohv/ohc limit was raised to 750cc for dirt-track races, although bizarrely the 500cc handicap was retained for road racing, But in 1970 the AMA removed this curious restriction, which had no other obvious function than to keep Harley competitive with its KR750 side-valver on which Cal Rayborn duly won the 1968 and 1969 Daytona 200 races, while it developed its ohv XR750 contender, and this meant that the British triples could now go racing in the US.
For more content, why don't you like our Facebook page here, or follow us on Instagram for a snippet of our striking pictures!
Doing so also provided the British firm with a chance to counter Honda's threat to its triples' potential sales after it upped the Superbike ante with the 1969 debut of its CB750 four-cylinder hyperbike. With just four months to get ready for the 1970 season-opening Daytona 200, the British factory concentrated on race developing the three-cylinder engines in-house, and delegated construction of purpose-built road racing frames to specialist fabricator Robin 'Rob' North, whose shop was just 10 miles from the Meriden factory. North had already built frames successfully for Triumph tester Percy Tait, including one powered by a three-cylinder motor that Tait was very pleased with. This formed the basis of the six factory F750 triples shipped to Daytona, three Triumphs all ridden by Americans Gene Romero, Don Castro and Gary Nixon – a two-time AMA champion for Triumph who had already won the Daytona 200 in 1967 on a factory-tuned 500cc twin – and three BSAs for Dave Aldana, Jim Rice and the legendary Mike Hailwood, coaxed back to bikes via a large cheque after switching to cars, for what he declared would be his last-ever bike race. He would have been the only Brit aboard one of the triples, but North managed to construct a seventh bike at the last moment for his mate Tait, when he heard he'd been ordered to relinquish his ride in favour of an American.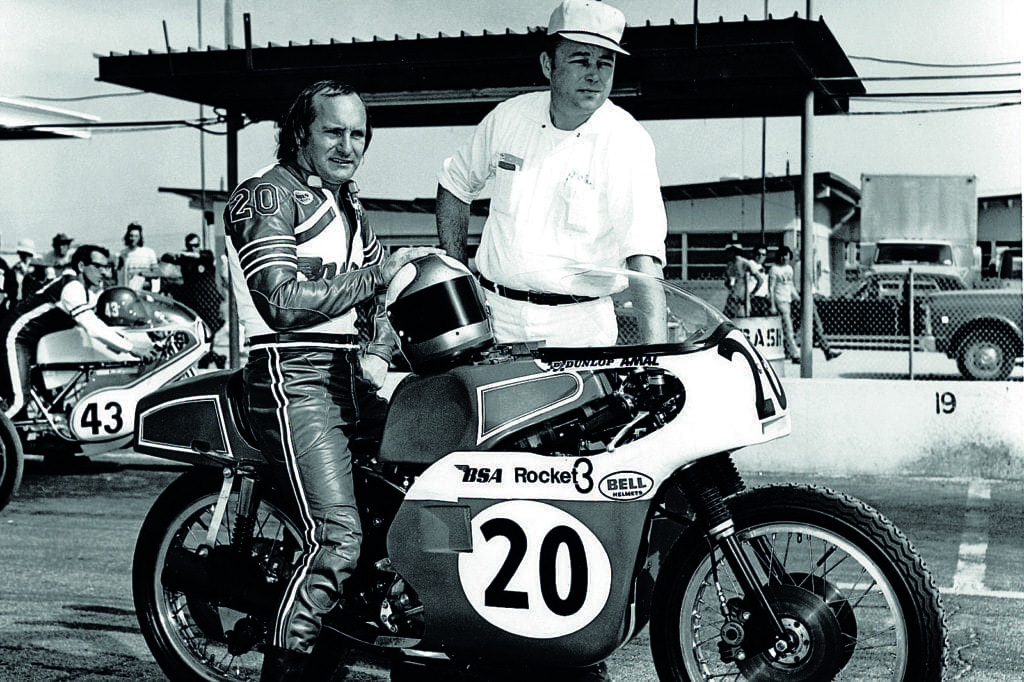 Sadly, that largesse was not repaid, for Tait suffered a practice prang that damaged the frame and was a non-starter in the race, for which Romero had qualified on pole at the record speed of 157.34mph for the flat-out flying lap on the Florida bankings. He did so running two front tyres on his bike for reduced frictional drag, making him a huge 5mph faster than next best, Hailwood (152.90mph) and Nixon. But after leading the race Hailwood retired at one-quarter distance with a broken valve stem tip in his BSA's engine, leaving Nixon to lead until his engine also failed. The race was won by veteran Dick Mann on a Honda four, with Gene Romero a close second after crashing and remounting, and team-mate Castro third. Romero won the AMA Grand National title, with BSA/Triumph riders filling the top five places. Mission accomplished!
For more content, why don't you like our Facebook page here, or follow us on Instagram for a snippet of our striking pictures!
That 1970 season had seen the debut victory for the Rob North-framed bikes at Talladega the week after Daytona, when Dave Aldana rode his BSA-3 to victory on the banked Alabama track at what was then the fastest-ever speed for a 200-mile race of 104.59mph, including pit stops. Gary Nixon had also won the AMA round at tight and twisty Loudoun on his Triumph-3 in front of a massive crowd – the sight and especially the sound of the British triples with their haunting howl an undoubted crowd-pleaser. The same was true in the UK after Triumph's Paul Smart smashed the Crystal Palace outright lap record to score the first of many British BSA/Triumph short circuit race victories. Later in the year he teamed with Tom Dickie to win the Bol d'Or 24-Hour race in France, the first time any British riders had ever won the event.
For the following season BSA/Triumph went large, upping their racing budget to a massive million dollars of 1971 money in a display of excessive spending that the motorcycle racing world had not previously seen. After a shakedown pair of races in South Africa, no less than 10 triples took to the track at Daytona, including an improved 1971 version with a lowered Rob North frame for the previous year's race-winner, Dick Mann. Hailwood had been enticed back to bikes again via the usual means, and was assigned a likewise updated BSA, with similar machines under the Triumph label for Daytona debutant Paul Smart and AMA champion Romero. 1970-spec Triumphs were provided to Gary Nixon, racing with a leg broken just days earlier, Don Castro and team newcomer Tom Rockwood, with year-old BSAs for Aldana, Rice and Don Emde. Winter development on the triples had produced a 'squish' motor with extra horsepower, as well as the altered Rob North frames with lowered steering heads that gave better handling and improved aerodynamics thanks to the distinctive 'Letterbox' fairing, with the oil cooler now mounted ahead of the steering head. These quickly became known as Lowboys, with the older frames nicknamed Highboys.
For more content, why don't you like our Facebook page here, or follow us on Instagram for a snippet of our striking pictures!