Ever pondered the purpose of life? Here's the story of one man who found great purpose in finding pleasure in creativity, dedicated work, and ultimate achievement in building his dream machine, while at the same time caring for his wife, who was diagnosed with Alzheimer's, for 14 years. Let's call it motorcycle therapy – a subject I believe we all understand. This is Ken White's story in his own words…
Words and Photography by Rob Davies and Ken White
AFTER My dear wife WAS DIAGNOSED with Alzheimer's I became her only full-time carer and I needed something that would help me to cope with the daily routine of caring, a stressbuster for me.
Then I had a thought. Way back in the 1960s, I had always wanted to build a Triton, but being a lad with low earnings that was never a possibility.
Now, in my later years, my situation was entirely different. I had the skills, the time and the finances to take a project through from start to finish.
I looked around for separate parts or a complete bike for about a year, then a complete bike came along. I bought it on January 1, 2010; it was a bit rough, hadn't run, but at least the engine turned over and it was essentially what I was looking for.
It hadn't been registered since 1995, had a standard 1961 6T pre-unit engine in a 1963 650cc Norton Featherbed frame. It also still had the Norton gearbox.
I felt like a teenager again and couldn't wait to start the strip down. I had so many ideas going through my head as to how I wanted it.
I also had a secret weapon in the friendship of a certain Pete Lovell who, as some of you may know, is a bit of a genius with bikes.
We were tool room apprentices together in the early Sixties at the GEC, Witton, Birmingham.
Pete has his own toolroom working on classic bikes, specialising in Nortons, and he also manufactures many Norton components for Norvil.
He was to give me so much help, advice and more importantly, he gave me the run of his toolroom to do whatever I needed to do or make for the Triton.
The strip down was straight forward, considering the bike had been owned and worked on at some stage by a blacksmith.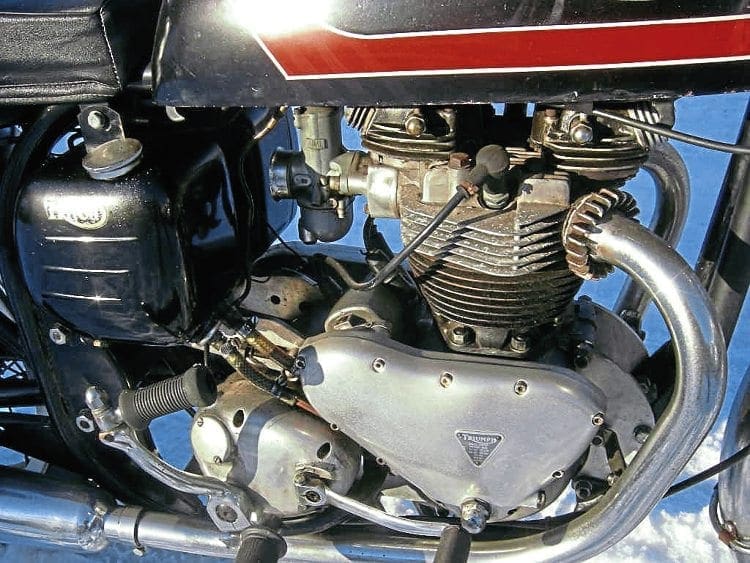 There was evidence of quite a bit of butchering and make do and mend on the engine.
For example the exhaust pipe fixing stubs in the head had been welded in and were about an 1⁄8 in off centre, so I machined them out, made some aluminium oversize inserts, tapped them back to standard on the correct centre and fitted new stainless stubs.
The rocker boxes had been painted black, and there was evidence of quite a bit of security wiring at some stage in its life, so maybe it had been raced.
However – none of these tatty parts truly mattered in the great scheme of things, because my build policy right from the start was to have everything new, or look like new.
As I was replacing every bearing, oil seal and bush, I stripped the engine down totally.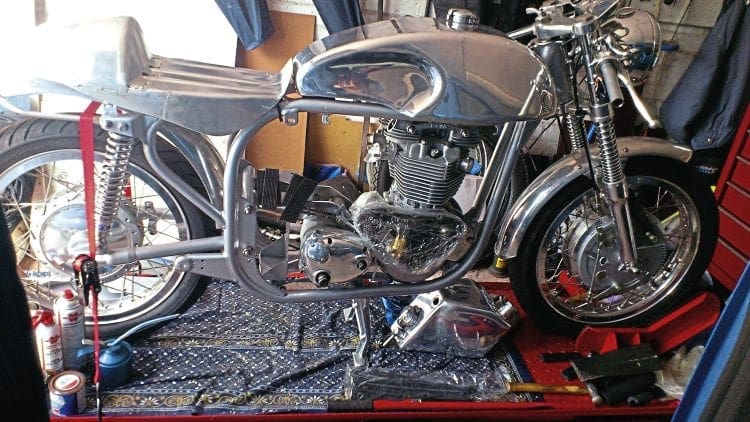 The crankcases, head, rocker covers and anything else that benefited, were bead blasted.
The crank was reground, and I wanted to replace the sludge tube in it, but you wouldn't believe the trouble I had doing that simple task.
First, I had to drill out the retaining screw, as it withstood all attempts to unscrew and then retap the thread, then the tube wouldn't budge so that had to be drilled out too. But we got there in the end.
Read more and view more images in the July 2019 issue of CBG – on sale now!