Words: Matt Photography: Chippy 'I'll just stand in that field' Wood
Ever gone to a bike event and not seeN a modern Bonneville?
Despite John Bloor's reservations of retrieving the famous name to adorn a Hinkley product, it's been a commercial hit of massive proportions.
We hadn't tried the 1200 model, so it was best to rectify that. In the glorious summer weather.
Oh, the depths we go to please you, the reader…
The model here is the limited edition 'Ace', of which there will only ever be 1400 examples.
It only comes in satin black and has Ace Café logos and the four-bar Triumph tank badge, as well as some other minor differences.
It costs £11,100 on the road. In the flesh it looks great and a Bonneville is like a Harley Davidson Sportster; it's been designed for adaption, customising or just making your own.
To you and I, the Bonneville name means 650cc, but this one is a 1200cc engine. Blame Brexit.
Or not. The parallel-twin gives 79bhp and 77lb/ft of torque; plenty for all occasions, but with it brings weight – the T120 weighs 224kg 'dry': so that's plus a couple of litres coolant, five litres of oil and 14 litres of petrol, which adds up to around 20kg, so that's 244kg or 538lb ready to rock. (Why does anyone quote dry figures? Do you really think we're stupid?).
Compare that to a Meriden Bonneville, which weighed around 180kg or 400lb, and that's a whopping 64kg or 138lb heavier – a lot. And you're amazed more people don't learn to ride?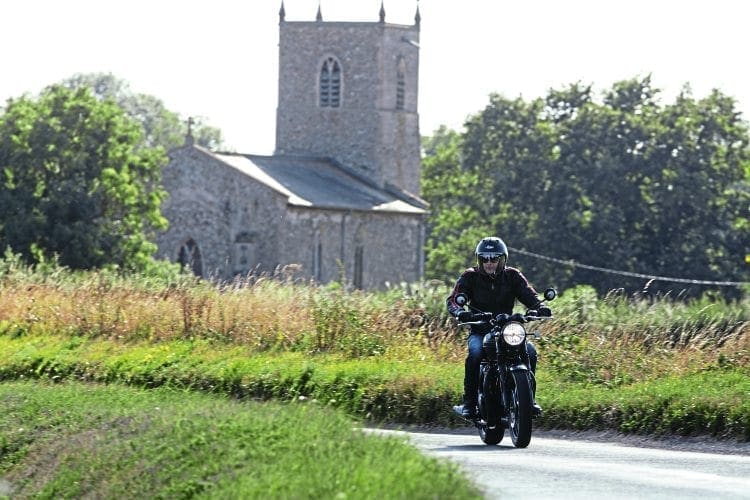 Whinging over, it's back to the ride. The T120 Bonneville is simply pleasure personified.
The engine is smooth, powerful and flexible. It's quicker than it looks and it will happily cruise at motorway speeds in comfort, for mile after mile.
This is helped by the skyscraper-tall gearing – sixth gear really is an overdrive gear, but thanks to the torque of the twin it still pulls. And pulls. But in a gentlemanly, non-threatening way.
Read more and view more images in the October 2019 issue of CBG – on sale now!