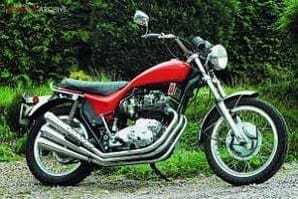 I dare bet that the X-75 could only have originated in the USA, as I doubt the bean-counters of the top-heavy home industry were in tune with the motorcycling public to recognise a chance to sell bikes.
In fact, I seem to recall in the early days of my motorcycling Edward Turner, of Triumph design fame, being reported as saying something along those lines as the BSA/Triumph group finally collapsed in the 70s. Whatever the Hurricane's background it is true that the US group executive Don Brown set the project in motion by inviting young Craig Vetter to 'do something with the triple'. The project must owe a great debt to Brown – who was to leave the company soon after the project was under way – for without his vision at the start I wouldn't be thundering away on this factory custom.
For years I'd dismissed these radically-styled machines, even turning down a ride on a relatively-new one not long after I got my full bike licence in the mid-70s. To me at that time, they were the epitome of bad taste. What I'd missed was that Vetter's styling harked back to the early days of Triumphs, when they were slim and sleek. Edward Turner had a penchant – fetish, you might say – for doing more with less, and his bikes were always light. A little bit of research about Vetter told me that he, too, followed this philosophy. Some of his influences came from Buckminster Fuller – a man not afraid of radical design ideas and fascinated by high strength-to-weight designs.
Though the Trident and Rocket 3 had been introduced to the American market in the late 60s, it sort of bombed. Not that it wasn't a good bike – it was and is – but the styling left traditionalists cold and the new buyers joining the market without any marque loyalty, and with only the idea that, as we already know, riding motorcycles is fun, went for the cheaper Honda Four in the emerging superbike sector. This was what Turner had meant when he is quoted as saying that the management were out of touch.
Custom chopper
Vetter wasn't out of touch and produced the mix of custom chopper and dirt track racer that was more for the weekend poseur than the tourer. It is possible to ride long distances on one but, with its tiny 2.5 US gallon 'gas' tank built into the glass fibre styling unit, I'd be wanting a list of petrol stations along the way. Nor would I doing it at high speed. Although the crisp triple powering me along the coast road is quite capable of revving to high speed, the styling puts the rider right in the wind. The styling also screams 'look at me' and 30 or more years on from it's debut it still has an effect on people when it's parked up. Pity that it was among the final flourishes of our industry. Though the owner of this one has geared up quite a bit from standard, the Hurricane is still on low enough a final drive ratio to crack away when the throttle is opened and I can hurry through the gears. Cog-swapping is a pleasure, thanks to a light clutch, and each change seems to snick into place, no graunching or feeling of 'ooer, missus, is it in?'
Now that traffic is building up and civilisation encroaches on the freedom of the open road, the light clutch is a boon to neutral-finding, though I don't need to slip it in the urban crawl as I filter down to the harbour in search of somewhere to eat.
Sadly I'm not on Fisherman's Wharf in San Francisco and after lunch I'm not going to head south past the Monterey Peninsula, along the Big Sur and down to Tinseltown to finish off my ride in the movie capital of the world. I'm actually heading into Nairn on the Moray Firth, though, and, just like on the Californian coast, I can expect to see whales, dolphins and seals bobbing in the sea.
As I filter my way down through town and into the harbour I can see the Hurricane's owner, Sid Leitch, and photographer Allan Stuart waiting for me. "So, what d'you think of my wee bike, then?" asks Sid. It's fine, I tell him, no problems at all. As Allan wheels the bike here and there for the best shots and statics, I quiz Sid about his bike. "I've owned it for more than 30 years," he says. "A mate of mine bought it in 1973, though it is actually a 1972 model, and he used it for a few months. Then, when we were out on a run somewhere – I just forget where, exactly – he had a disaster with it. A rod let go and came through the timing side crankcase. He kind of lost interest in the bike after that." He continues that he didn't get the bike straightaway as first off it went to someone who was going to rebuild it for his mate.
"He never did anything with it. I kept pestering him to chase it up, says Sid, "but he didn't. So, I said to him would he mind if I chased it up? And he was OK with that, so I did.
Virtually a new bike
I wrote to Triumph asking if they could do anything as it was virtually a new bike. They wrote back to say that the warranty period was only six months and this was up, though they could offer me a set of cases, barrels and a crank for £30."
Perhaps understandably, Sid's mate was a bit miffed at this, though, as he says, with the hindsight offered by history, perhaps the company couldn't afford to do anything.
"Anyway, the bike lay at my pal's place for some time and I made an offer to buy it from him and he finally agreed and the Hurricane has been mine since 1974."
He admits that it appeals to his artistic senses – Sid is a signwriter and custom painter. He also tells me that, at the time, he thought perhaps the cases could be salvaged. He smiles when recounting that bit as he soon found out that there was no chance at all.
"It's different now. With the way that welding technology has advanced they can be salvaged, and one day I'll haul them out to get them done," he says. "On the off-chance I wrote to Triumph again and asked if they still had the bits and I got a nice letter back, which I still have, saying 'yes, they're here in the office'. They added that they wondered why they'd not heard from me earlier."
Sid said that the package that arrived from Triumph contained a set of crankcases, a second hand crank and barrels that could be reground and bored as necessary.
"As soon as I got the engine up and running I raised the gearing with a smaller back sprocket, from a Rocket 3," he says "and a long way bigger front sprocket. This made an incredible difference and I reckon it's why the bike has been fairly reliable for me. It still goes, though," he grins, "as you found out."
There were a few teething troubles in the first year of Sid's ownership. "I went through two sets of standard Triumph piston rings, which was a bit of a nightmare. I took the plunge and ordered a set of Cord rings and they've been no trouble since. In fact the engine has never been apart since then."
The only other engine related work involved a new clutch in 1990. "There's no need to pull the engine apart; it was built right in the first place and it's running fine," he says. "Mind you, speedos are a different story. The one on there now is its third one. For some reason they keep breaking – maybe it's to do with the raised gearing, maybe not. It's a bit annoying at times, but hardly a major problem," he says. "Fork seals, too, were a source of trouble for quite some time. No matter whose I tried they all lasted for just one season and I got used to pulling them apart in the winter and refitting a new set for the next year."
This annual ritual only came to an end when Sid was persuaded to try leak-proof seals. "They've been in there for ages now and never a drop of oil has squeezed past them," he tells me.
"Did you know that the Hurricanes are virtually a BSA Rocket 3 with a Triumph badge on?" asks Sid. I didn't, but I can see why they would do that as the Rocket 3 has sloping cylinders which add to the styling. "In the original blow-up the cylinder head was damaged and I built it up with a Rocket 3 head. I didn't even try to find an X-75 head as the bikes were never thick on the ground anywhere so I doubted that there would be a stash of spares. Anyway, the head was perfectly acceptable. Then I saw an advert, from a student in Aberdeen, which said that he had a brand-new Hurricane cylinder head and he wanted a Rocket 3 one. I could hardly believe it," he says. "Sure enough, when I went to look it was the real thing and we did a deal. I'm still not sure how he ended up with a new Hurricane head, but I'm glad he did."
Despite the problems with the engine, Sid tells me that the bike is fairly original in general. "The chrome is factory- applied and is lasting well, and the paintwork, too. It's an interesting colour called Camaro Red and I just keep it clean and polished and it hasn't faded at all." Sid tells me that the wheel hubs should be polished but at some point they were damaged so he sprayed them silver. "There's plenty of time in the future to polish them when the wheels have to come apart. I don't believe in stripping things for no reason," he says, adding: "My philosophy is 'if the bike is running well, why stop it?'" Which isn't a bad way to look at things.