Triumph's last 650 Tiger has no reputation for being the best. But it makes a brilliant and affordable riding machine
Photos by Simon Everett
There is a reason why Triumph twins have always been popular. It's a simple reason. Have you worked it out yet? OK, here goes. The reason Triumph twins are so popular is because they're great to ride.
That's it. Mostly. There are other reasons, such as they're good to look at and sound great and no girl – or boy, depending – can resist a Triumph rider, but basically, they're great to ride.
Even the ones with a reputation that tells you otherwise are generally great.
We're talking about the Bonnie, right? Wrong. We're talking about the twins in general, and the Meriden twins in particular.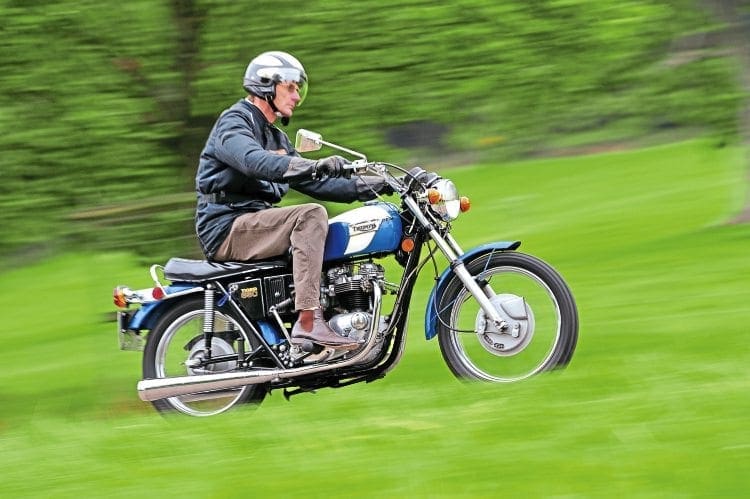 OK, so the Newton Abbott twins can be really good to ride too, but they were made in Devon, not the Midlands, which affects some folk in odd ways.
They also still make Triumph twins, apparently, but they're made in Thailand, which affects some folk in odd ways.
You can feel safe: this Triumph was made in Meriden, although its entire bicycle was designed by mostly BSA guys working at Umberslade Hall, which is a lot closer to Meriden than to BSA HQ at Small Heath, but still, it's not the same.
This is apparently an opinion shared by a lot of stalwart fans of the Triumph twin when the sparkly new range for 1971 was unveiled to a gasping public in late 1970.
Gasp, they went, en masse, which is always exciting, especially in these days of the collective social media gasp and froth, rant and rage, but even in late 1970 there appears to have been a collective gasp among Triumph fans all over the place. Gasp, they went: that is one tall motorcycle, they said.
Gasp, they went: that is mostly a BSA … and very tall. Some folk are never happy.
Whoever decided to site the ignition switch beneath the rider's right buttock was an arse.
Maybe the 1971 critics were correct. Previously, Triumph mounted their ignition switches on one of the headlamp brackets, which was far more sensible. Down below your bum? What?
It's even more entertaining if you've got a pillion, and much ungainly flapping, fidgeting and flights of the giggles can't have done a lot to improve a chap's cred back then.
Maybe that was the idea – who knows? And why am I rattling on about the position of an ignition switch? Because it's the only feature of the 1971 TR6R which is actually worthy of the opprobrium heaped upon the model by so many people when it was new.
That and the seat lock, which would be better seen on a cheap suitcase.
You turn the key. You slacken the cable to the single carb's choke, using the lever conveniently parked on the right handlebar for that exact purpose, and you kick.
The engine starts. You sit and marvel at the uncanny lack of rasp and rattle, and you adjust your clothing, fiddle with gloves, adjust goggles and superior grin, things like that, and then you pull back maybe half of the cable to the choke, so the fast idle slows – but doesn't stall, you're too smart for that – you pull in the reasonably heroic clutch, and you crunch down on the right-foot lever and feed out the clutch while opening the throttle appropriately and in a responsible manner.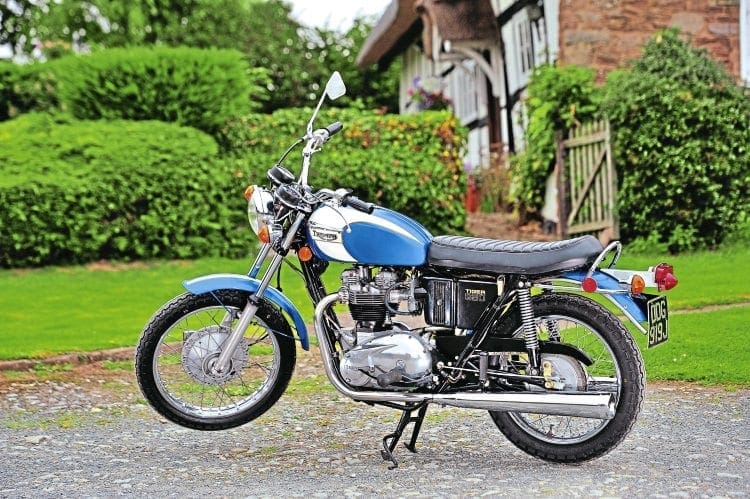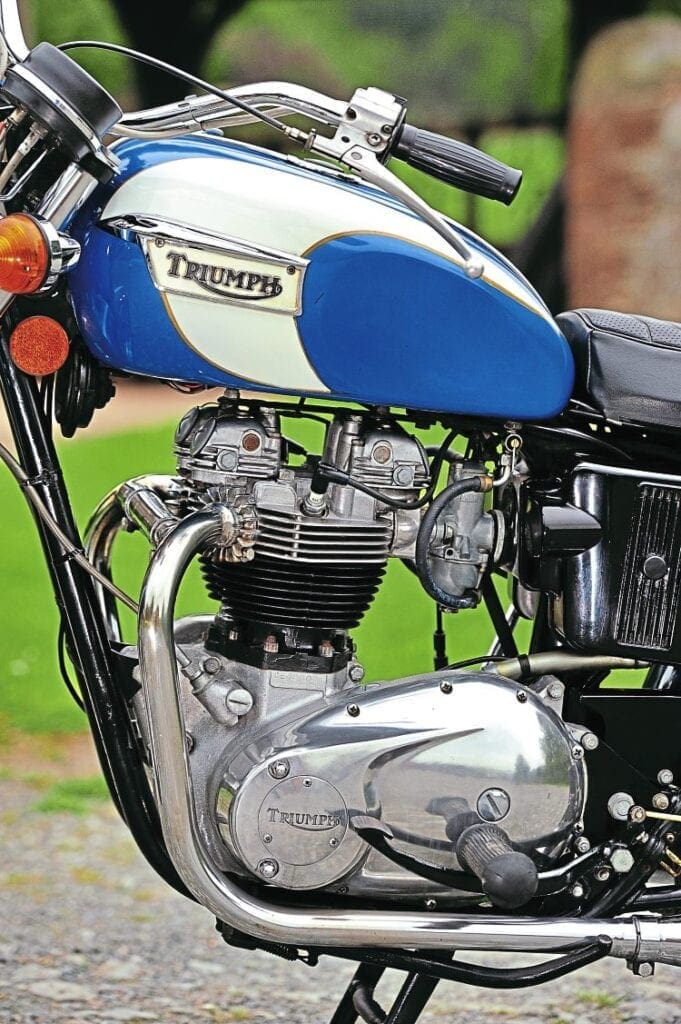 The last bit's important, because this very low mileage and startlingly original time refugee from 1971 does not belong to you. In fact, its owner is standing watching. Restraint in all things is key here. You nod appreciatively, and you sail away.
By the time you're into second you can dispense with the choke, and just get going.
Four gears. One of the criticisms of the time was that the Triumph should have five gears. It is unclear why.
The engine is rammed with torque, pulls like a 650cc train from about 1500rpm and all the way until … until you're certain that Proud Owner is well out of earsight and you can wind it on to the redline…
…which in our case we do not have. Presumably someone at BSA HQ decided to save a fraction of a penny by using exactly the same paired clocks on both BSA and Triumph ranges rather than drop a hint about how safe the very different BSA and Triumph engines are, twin and triples, and at what revs they do the hand grenade thing.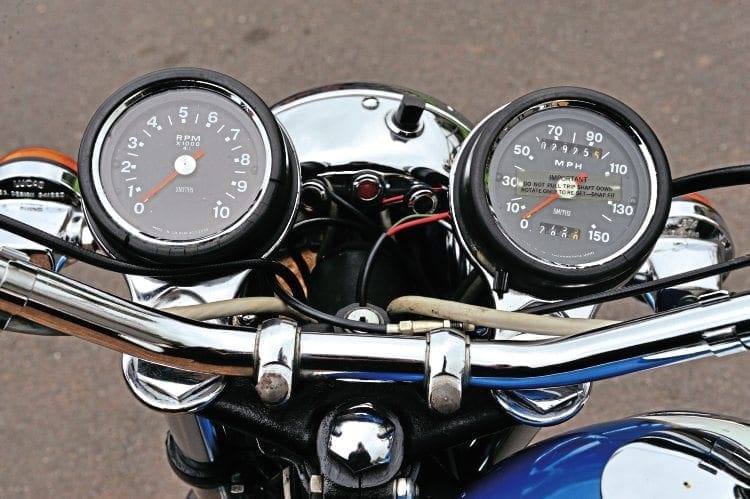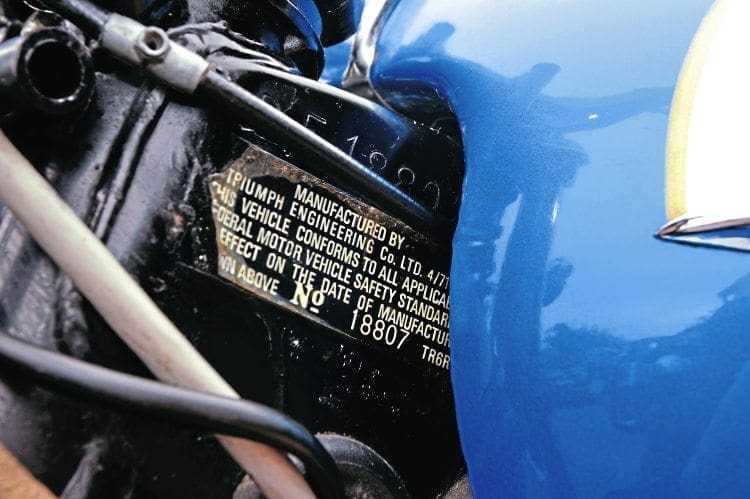 Third gear is a beautiful gear. It's too easy to forget that in those distant days of the 4-speed box, third would very often be a very long gear, all it needs is a flexible engine and that single gear can make your riding shine. This is that engine, and this is that very gear. Share the pleasure.
The open road. You steam up to 70 in third, slick completely smoothly into top – short throw to the right-foot lever, little need for the clutch – and let the revs and the pace recline down to about 55-60.
This is a great A-road rate of cruise. You get ample engine braking, even at the 3000rpm or so that the engine spins at, and decent progress piles up on the odometer and the roads swoop beneath the tall wheels.
And if you ride like this, then you can extract over 60 miles from every single imperial gallon. Aren't you kind to the planet – and to someone else's bike?
But this is a Triumph. It has two sides to its character, and at this stage in its evolution it is still sufficiently sporty to add a little fire to the proceedings.
You ease down to the 30mph which is perfectly comfortable in top gear. You may have a little doubt about this, but the single carb engine is very flexible in its old-fashioned, unstressed way. Shift down.
Do it again. You're in second (no need to count; we can do sums here), and there's a certain amount of vibration and fuss from down below. It's fine.
The tacho needle is bouncing redly around the 5000 mark, but that's OK, because max torque arrives at 5500rpm, with peak performance a full 1000 revs above that, which gives you a great opportunity to twist the grip and unleash the other side of the Tiger.
The raucous, shouty, fast-running side. You do this. Everything moves behind you satisfyingly rapidly. You change up a gear and repeat the performance.
A strange experience – at some point everything smooths out again in the engine department. The engine was designed for this.
You shift into top again and acceleration ends. The bike still gathers speed, but its race is effectively run. At the time, many writing riders felt that a fifth gear would make it faster.
That gear was delivered by Triumph a few years later. The bikes were no faster, and the long third gear was gone. Progress isn't always what journalists claim it to be.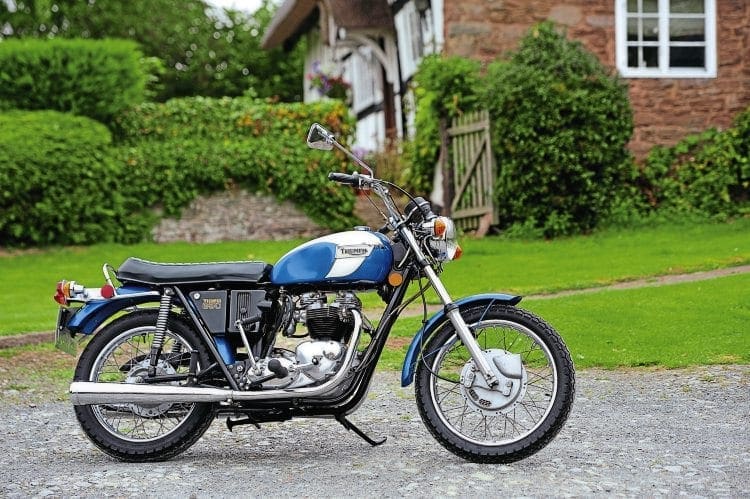 Oh, hang on. At some point soon you'll need to pull up. Junction, fuel, something like that – maybe break-taking from the awesome 40+bhp of Triumph power.
Maybe you'll then remember the other great journalistic complaint from back in 1971. As one, a chorus of complaint wafted onto the monochrome pages of the publications: 'It's too tall!' they squeaked.
As you sit there contemplating infinity with both feet flat on the deck, you'll wonder what they were on about. And yes, this is the original 'tall' frame.
And yes, it is actually taller than the 1970 model year version which preceded it, but it's also typically Triumph narrow, so your legs hang comfortably down rather than being splayed wide by the – for example – seat nose on the Fastback Commando, which mysteriously had the same 31" seat height and an awkwardly wide seat nose to boot.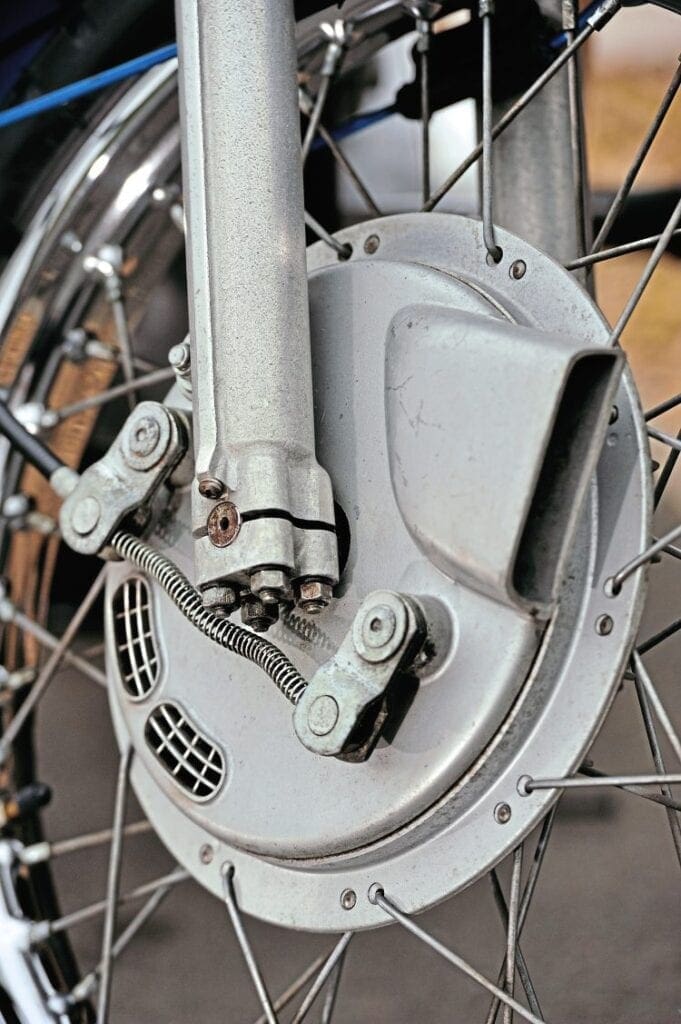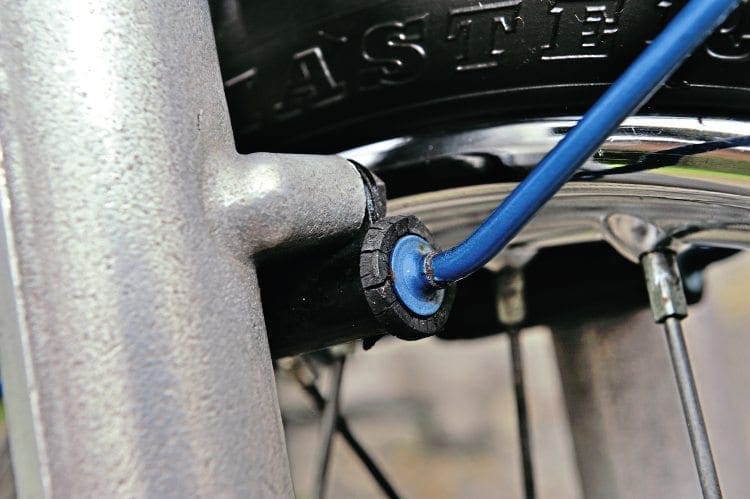 So let's move swiftly on – as swiftly as you like. Although it might be unfair to suggest that the Triumph is a great autobahn bruiser – it's not – it really is a truly excellent main road tool.
The ride is hard – harder than merely firm – and the brakes are … interesting. Commentators discussed the brakes back in 1971, and this time they were right to do so.
Firstly, it's quite a reach to the handlebar lever – same with the clutch. If you have stumpy fingers, you'd want to consider replacing the levers, big, handsome alloy items though they are. Next, the decently modern – for its day – 2ls conical hub drum anchor out front can be vary variable.
These need setting up properly by someone who understands how they work or who can read a manual, and if they've been done properly they can work very well indeed. If set up badly, they either grab or don't work – or both, in amusing combinations. These – happily – are very good.
Did we mention bends? You'll want to find some. This is one of the great British frames, a design which was to keep Triumph's increasingly outdated twin in scratching contention for another decade and a half. It's really good.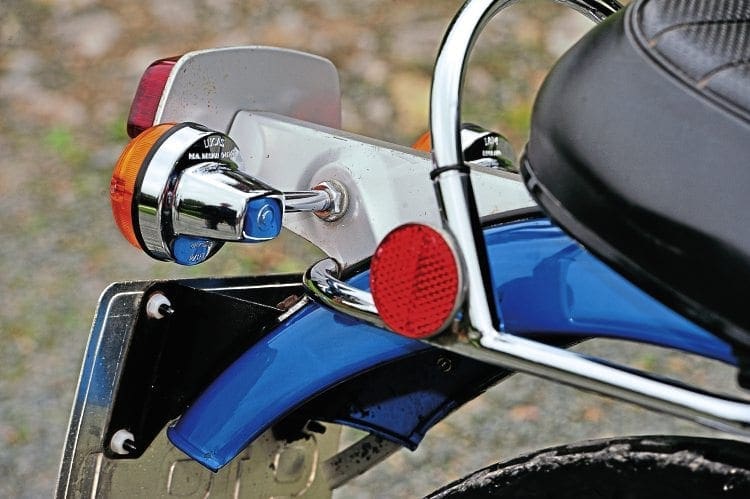 Once you've got the hang of the strangely forward footrests and the strangely wide and pulled-back bars – and familiarity comes soon enough – you learn that it's perfectly easy, and perfectly entertaining, and perfectly satisfying to throw the bike around at every opportunity and at ever increasing speeds.
It's almost as though it was designed for this. It was designed for this. This bike was designed to be a sporting motorcycle, not a classic nor a consumer durable nor an appreciating asset. It was intended to be a sporting motorcycle. And it is that.
Riding flaws? Very few. The riding position will appear bizarre to anyone only familiar with modern motorcycles – all modern motorcycles. The suspension is hard.
The brakes are fierce at the front but fine at the back. The engine is entirely outclassed by the bicycle. Triumph's twin in this state of tune puts out a dependable 40bhp, and the stiff frame would handle 50% more than that, at a guess.
Certainly it did in those distant days when riders tuned their T140 Bonnies and even raced them. But this is not a Bonneville, T140 or otherwise.
Welcome to Triumph's single carb 650 for the 1971 model year. It's doubtful that you'll cast your eyes over a lower mileage and more stock machine than this one.
Uncanny how some really fine riding machines survive like this, having been hardly ridden for over four decades, no? But they do, they sometimes do.
The engine number's 'DE' prefix dates the bike to April 1971, by which time the entire BSA Group was well on the skids, a sad and rapid demise entirely unhelped by the amateurish chaos which characterised the launch of this, the oil-in-frame range of twins, the launch of BSA / Triumph's bright new future.
This isn't the place for a re-hash of the BSA Group's dive into oblivion, but the opportunity of getting out and about on a machine as un-worn as this one reveals another common misconception – that the Triumph engine in 1971 was entirely outclassed by the Japanese opposition.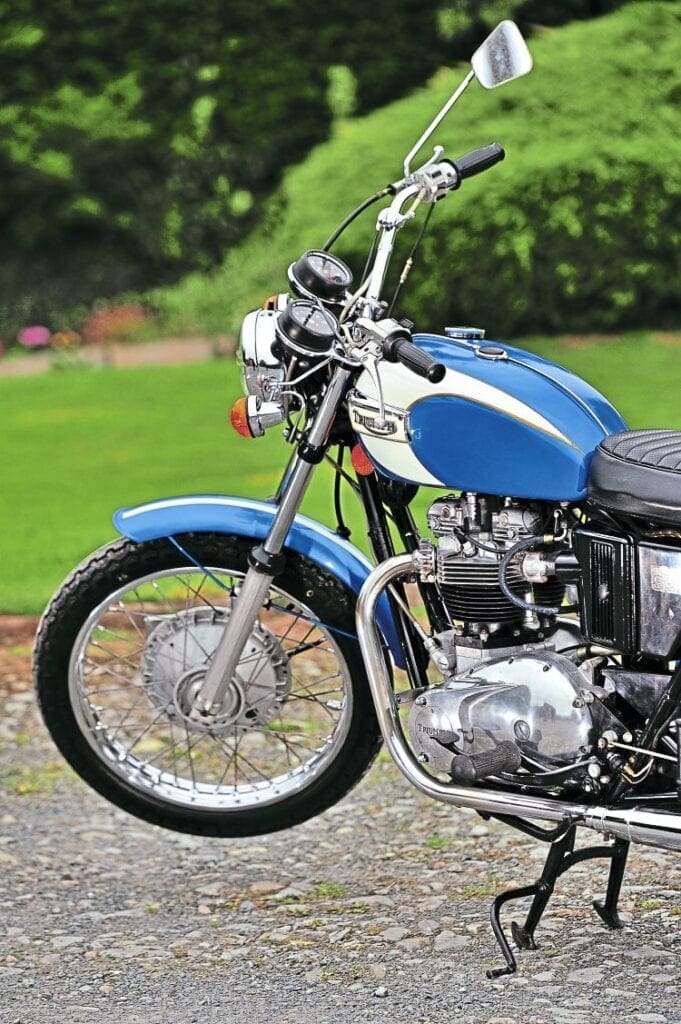 In fact, it pulls as well as any contemporary machine of similar capacity, steers as well as any, and can be thrown about with an abandon best left at home when riding most middleweight motorcycles from the far east at the time.
To be honestly considered modern at the time it needed an electric start, the fifth – and mostly cosmetic – gear, and … not much else.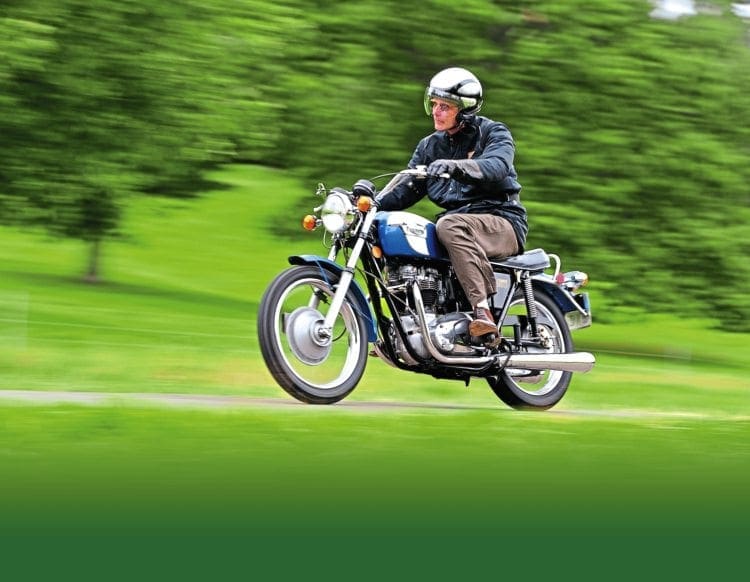 What this opportunity revealed was that this was not an engine with a future. It was obvious by then that the world had moved on from Edward Turner's 1930s engine concept, and that to remain combative and competitive in world markets BSA and Triumph needed new engines.
They needed them in their ranges by the late 1960s – by the early 1970s it was already too late. If the kickstart was outmoded, then pushrod valve operation – with the valves opened by pushrods running in separate tunnels outside each side of a cast-iron cylinder block – was positively primitive.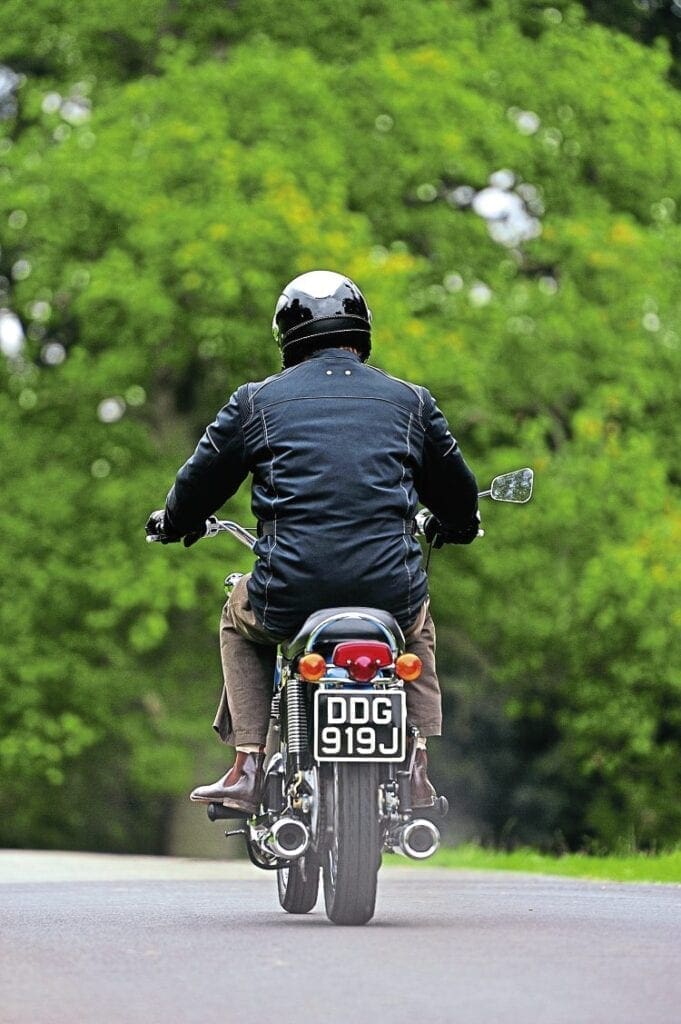 Which does not in any way criticise the engine's on-road performance, but it does reveal that its development potential was severely limited – as the remainder of Triumph twin history confirms.
But that's quite enough of that. Time for another lap before the sun goes down. The hot engine starts as easily as the cold engine, no choke required this time.
First gear engages cleanly and quietly from hot, and you're off again. Triumph built a whole lot of seriously good twins. This is one of them. Try one yourself and see..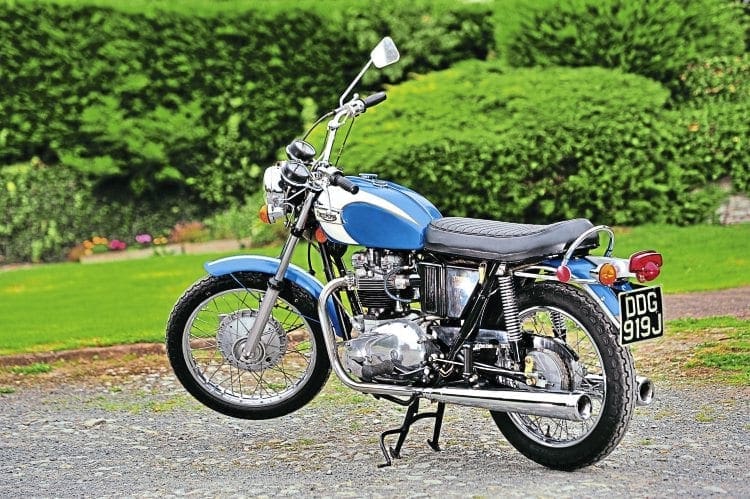 Thanks
Customary thanks to Chris Spaett of Venture Classics, for loaning us such a low mileage machine and not complaining about the extra miles, or the wintry muck we left on the bike…
Read more News and Features online at www.classicbikeguide.com and in the latest issue of Classic Bike Guide – on sale now!