Words by Oli Hulme PHOTOGRAPHY by Gary Chapman
Triumph's TRW military twin is a motorcycle that is adored by owners and respected by most experts.
It's a motorcycle you couldn't buy when it was new, with its origins in an ill-tempered spat between two rivals and stayed in production largely unchanged for 17 years.
Triumph had tried to get a side-valve 350 twin accepted by the Military in 1940 but the Coventry blitz that destroyed the factory put the project back a few years. T
hey then came up with a 500 twin, coded the 5TW, but this was designed as much as anything as a spoiler, to take the wind from the sails of BSA.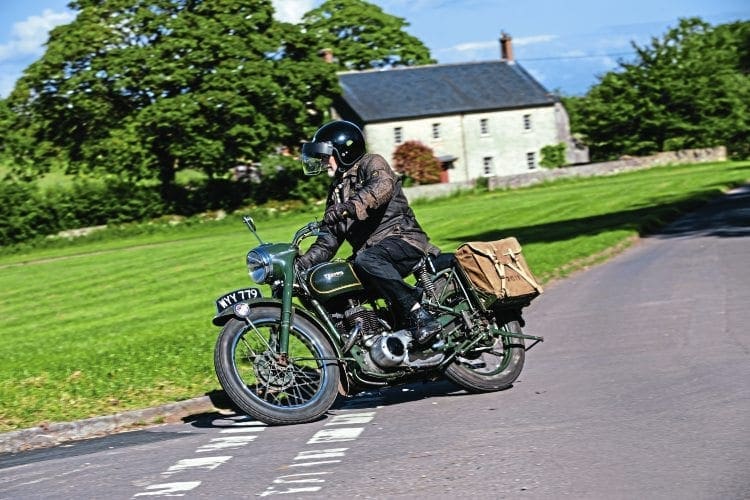 Triumph boss Jack Sangster found out in early 1942 that BSA were to develop a new side-valve twin for the Army and the machine would come from the drawing board of former Triumph designer, Edward Turner.
The new BSA was due to be unveiled in three months but Sangster was already unhappy because Turner had jumped ship and moved to BSA.
Sangster told his young designer Bert Hopwood to come up with a similar design, on condition that it would be ready in two months.
Hopwood later declared it was a "timewaster" with which he was "disgusted" but still came up with a prototype in seven weeks and Triumph released it to the press before BSA revealed their machine.
Sangster had no intention of putting the twin into production, his only motivations being to steal BSA's thunder and claim that the twin had been a Triumph idea all along.
Neither bike went into production as they were both rejected. BSA were furious. Turner buried the hatchet with Sangster and returned to Triumph in 1943.
With the armed forces awash with assorted motorcycles there was little immediate demand for a new bike after the Second World War, yet in 1946 the Ministry of Supply (MoS) issued a specification for a new military mount and Turner dusted off Hopwood's hurried design, Hopwood having left to work for BSA.
Read more and view more images in the August 2019 issue of CBG – on sale now!