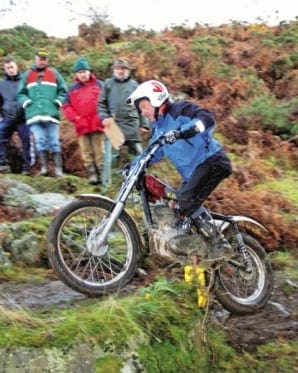 Held across the weekend of February 21-22, the Putoline Classic Dirt Bike Show will exhibit the Bultaco on which Martin Lampkin claimed his 1975 World Trials Championship, along with a series of racing Nortons in association with the National Motorcycle Museum.
Tim Britton, editor of the event's title sponsor Classic Dirt Bike magazine, said: "The event is under new ownership this year and with the knowledge and know-how Classic Bike Shows and Classic Dirt Bike have in the off-road scene, we've been able to pull together some of the most interesting bikes you'll see at any UK show.
"Having Martin Lampkin's bike is a real coup and alongside the National Motorcycle Museum's Nortons will be some stunning examples from the Sammy Miller Museum and a handful of machines to have graced the famous International Six Days Trial event."
There are some top club machines lined up too… it's going to be a superb weekend."
Not only can showgoers enjoy examining the displays, but several will be fired up in the Classic Racer Paddock – a fresh feature from the event's new organiser. Among the machines to be started will be Sammy Miller's Norton Kneeler, a rare example of an experimental Norton race bike.
Many of the famous names to ride the motorcycles on display will also be in attendance as Sammy Miller, Mick Grant, Graham Noyce and others chat on stage about their lives and careers on two wheels.
Bargain hunters will be happy too as traders and jumble sellers from across the UK come together to offer visitors all manner of parts, pieces, accessories, tools and riding kit ahead of the 2015 season.
Event planner Richard Graham said: "This Telford off-road show has been part of the event calendar for many years now, and I'm delighted with what we've got lined up this first Putoline Classic Dirt Bike Show under the Classic Bike Shows banner."
Advance discount tickets for the event are available online from classicbikeshows.com until Tuesday, February 17, or over the phone on 01507 529529 until Wednesday, February 18.