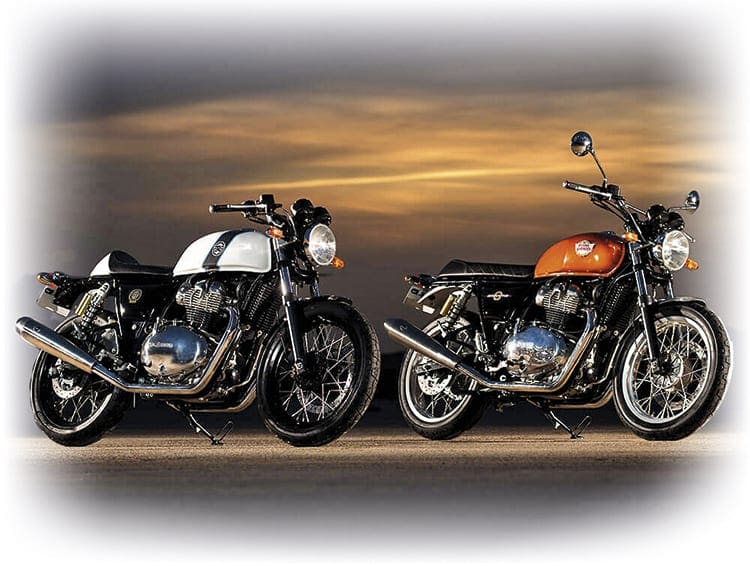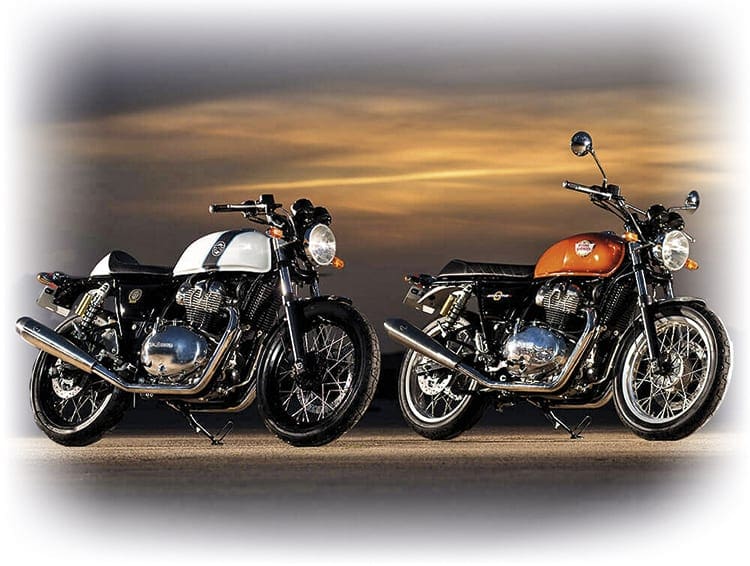 TWO NEW TWINS from Royal Enfield have broken cover as the company says it wants to promote 'pure motorcycling'. A brand new 648cc ohc twin engine developed in India and the UK will power two new machines; a café racer Continental GT and an Interceptor INT roadster.
Royal Enfield's president, Rudratej Singh, and CEO, Siddartha Lal, said Enfield wanted to be the biggest supplier of middleweight motorcycles across the world. Mr Singh added that in developing markets the company was allowing commuters to have a "little more fun" on their daily journeys. In Europe and North America the market was seen as slightly different: "In developed markets, while there is love for motorcycling there is not enough motorcycling happening, because bikes have gone too extreme for real road day-to-day utility. Royal Enfield is helping enthusiasts enjoy pure motorcycling more often."
The all-new 47bhp engine will slot under learner A2 licence regulations, thus opening up ownership to new riders using the lighter test or returning bikers who never progressed beyond L-plates acquiring their first full licence. The twin shock frame is a brand-new design by UK firm Harris and there are a single disc brakes front and rear with ABS.
The GT has similar lines to Royal Enfield's Continental GT535, while the roadster takes its design cues from the classic 1969 Mk.II Interceptor, even down to the braced trials-type handlebars. The air and oil cooled 648cc engine has been designed to look like the late 1960s Enfield twin engine, though with each case reversed, with the left-hand engine case strongly reminiscent of the right-hand case on the old 750 OHV engine and vice-versa. The one-piece rocker cover disguises the presence of a camshaft.
The engine has an over-square bore and stroke of 78mm x 67.8mm and uses four valves per cylinder with the crankshaft a 270° design. A balancer shaft takes care of primary vibrations. Power is sent to the rear wheel via a new six-speed transmission that uses a slip assist clutch. Fuel injection is used, and the compression ratio is 9.5:1 producing 47hp at 7100rpm.
The engine is Euro 4 compliant and can be scaled up to meet the stricter norms of Euro 5 when the need arises.
Top speed is estimated to be just over 100mph, with the bike designed to cruise easily on motorways at 70mph. Royal Enfield hopes the first deliveries to UK dealers will begin in April 2018. Mr Lal said they would go on sale in Europe first and be offered in markets across the world later in the year, with a price tag that Mr Lal described at the launch as something that would "positively surprise" potential buyers. Indications are that the machine will be marketed at less than £6000. Indian media has reported that the twin will sell in its home country for between £4000-£4500.
Royal Enfield also launches its Himalayan in the UK this month. The dual sport/adventure bike has a 410cc air-cooled single cylinder ohc engine equipped with fuel injection and a balance shaft producing 24.5bhp in an all new monoshock frame with ABS brakes and array of tough off-road equipment. The Himalayan is expected to cost £3999.