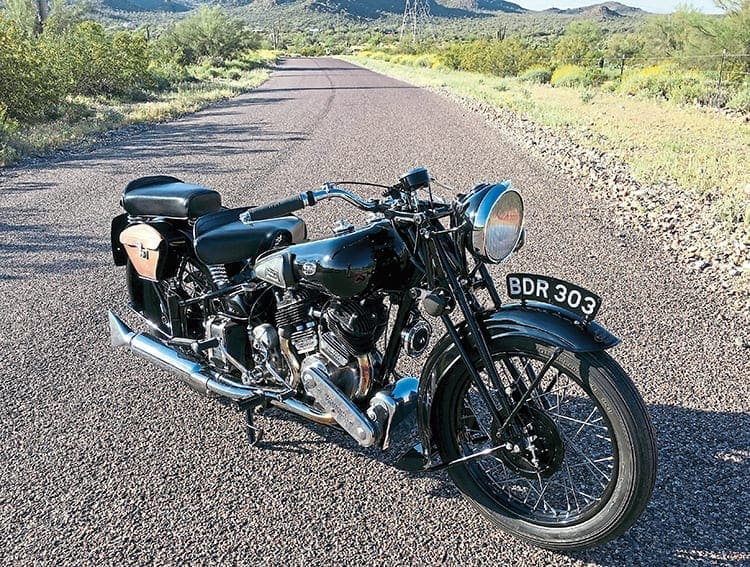 Luxury and speed for the discriminating motorist
There's a certain risk for those who reside at the top, for fame is often fleeting. Yet the 'Rolls-Royce of motorcycles' remains high on many motorcyclists' wish-list, almost a hundred years after the first Brough Superior took flight. Write a roster of supersportsters, racers and other exotica to attract the upscale client, and you'll find that on value alone the Brough Superior is included in this hierarchy… even if opinion is divided as to why. Was it some speed advantage from the Brough's tuned engine, or the unmatched lustre of its cycle parts?
Genuinely hand-built with old-world craftsmanship, the Brough was sold on the notion that it would deliver much more than a standard production machine in return for the extra time and trouble given to each component. This tended to isolate George Brough Jr's masterpiece from anything less than the dedicated rider, although many who bought the original bikes new weren't necessarily wealthy men.
"It wasn't just snobs who bought the Brough," explained one long-time owner. "The savings gained from never needing another motorcycle also appealed to the penny pincher."
Our featured SS80 was dispatched on December 7, 1938 and sent by rail to Snells Motor House in Plymouth, Devon. Factory records held by the BS Owners' Club show that BDR 303 was registered immediately, and quite possibly for municipal use. The SS80 had travelled to another continent by the time it reached 60 years of existence. That was when TJ Jackson took possession of it from a Florida auction house. The Brough arrived as a clean, unmolested example which had been previously restored but wasn't running. It used to be that TJ was known as a fast Kawasaki drag racer, but that scope expanded after opening the performance service shop he and wife Pam ran for 35 years. As the classic and vintage movement developed, so a growing number of old-timers on hand signalled their passions and the debate heated considerably when the Brough moved in.
"I paid too much, or so I thought," says the owner, who recently began an exclusive restoration service. "Now I wish they'd had two."
It's common knowledge that Brough Jr built a variety of models powered by a succession of proprietary engines, but that's possibly the smallest part of the story. Most of each machine, including the body parts, controls, electrical components and upholstery came from hand-picked vendors. V-twins loom largest in the Brough mystique, sized from 680 to nearly 1100cc and originating primarily from noted inventor and cinema technician John Alfred Prestwich, who knocked out a few sidevalve and ohv engines when he wasn't making movie cameras. In 1935, Matchless (and later, parent company AMC) took over as the main supplier. Throughout this period of production, GB Jr's reach proved remarkable, building up an impressive line of cars and experimental designs, even car engine-powered rigs like the Austin Four.
Once lost behind the scenes, historians have since identified several important players on the engineering team, most notably Bruce Alvey and Harold Karslake. In his book Brough Superior, Peter Miller recites with wonder the good fortune that followed George Brough… or which simply fell into his lap. The famous Rolls-Royce advert slogan was one such stroke of luck, for had it originated with the Brough Superior company then it certainly wouldn't have flown. Instead it was coined in press coverage and the fear of litigation was replaced by a friendly alliance.
Much more than just a clever marketeer, Brough's skill as a rider also ensured a thorough pre-delivery test, each machine cleared for sale only after passing his critical inspection. The bikes' lack of ill-temper of the type typically displayed by over-tuned sportsters seems to support claims that Brough's vision for the brand changed, shifting emphasis in the early 1930s from ultimate sportsman to swift tourer. There might be something to it, exemplified by the featured SS80 which was built à la carte with deluxe plunger suspension, Druid front fork and the rare all-weather finish. Coming late in BS production, this SS80 drops you into a sea of inky black – far more reserved and regal than the flashing, chrome-covered ohv racers. Trading dazzle for extra durability, BDR 303 is kept at the ready. It shrugs off almost eight decades and jumps to life, flowing eagerly through changes up the gearbox and holding its line in complete confidence. Parked appropriately for admirers to adore, it's plainly obvious that the Brough was styled like a classic Hollywood leading man; squared chin and cut to perfection. Holding over four gallons, the petrol tank's span is only rivalled by the saddle and one can only guess the time component supplier Cranford spent on those sweeping mudguards. Photographs fail to capture it fully.
Establishing a reputation for composed travel, the Brough Superior frame is a signature in-house component. The sections are brazed together, with iron lugs, while a single large diameter downtube and upper tube run in different directions from the steering head before splaying into a generously cross-braced double cradle. The Druid girder fork fits an aftermarket damper and polished links. Look lower to spot the Enfield hubs with both wheels (19in) and brakes (8in) being uniform in diameter. "A true anti-lock system," smiles owner Jackson, suggesting an alternative plan if the riding includes traffic. Although it was restored in the late 1980s, it is still possible to inspect some impressive finishing under the frame's thick enamel. Workers filed the lugged joins clean of excess brazing before paint was poured over, spun even, oven baked, then prepped for another coat until the desired result was obtained.
WORDS BY NOLAN WOODBURY PHOTOS BY NOLAN WOODBURY/BROUGH SUPERIOR MOTORCYCLES SAS
For the rest of this story and more, buy the August issue of CBG