SIDECAR MANUFACTURER WATSONIAN have launched new sidecars for modern classics from Triumph and Royal Enfield.
A Prescott sidecar has been created for use with the 1200cc Triumph Bobber Black.
The combo featured the popular Prescott body shell, based on a design dating back to 1946 and originally made using surplus RAF Mosquito reserve fuel tanks.
Customers can choose from a menu of components, such as wheels, mudguards and lights.
The Triumph Bobber Black, for example, has a 16in spoked wheel, with black hub and wheel rim, Triumph Bobber front guard for a mudguard, LED lighting and a genuine leather seat. Prices for the Prescott sidecar start at £4495.
For the Royal Enfield Interceptor there is a new kit to fasten a sidecar to one of the popular twins, comprising a sub-frame that bolts to existing mounting points on either side of the bike, providing sturdy and secure locations for the four arms that attach the sidecar.
Made from tubular steel, the kit is powder-coated for a long-lasting finish and sells for £475.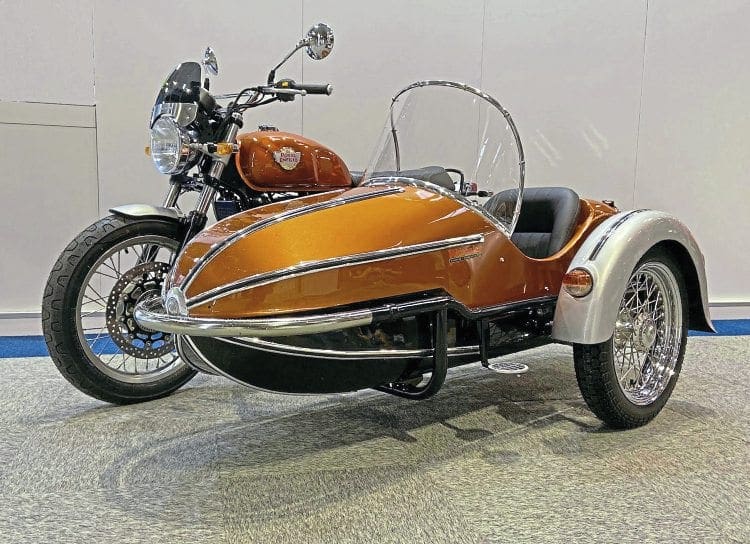 It can be used to attach any of the eight sidecars currently produced by Watsonian.
If you want the whole package off the shelf, Watsonian can supply complete outfits.
Prices for an Interceptor and Grand Prix sidecar in standard colours start at £12,500.
There is also a fitting kit to turn the Royal Enfield Bullet 500 Trials into an off-road outfit matched with the International Trials sidecar.
Trials fitting kits cost £375 and Watsonian can supply a complete outfit from £9000. For more information, call 01386 700907 or visit www.watsonian-squire.com
Read more News and Features in the January 2020 issue of Classic Bike Guide – on sale now!

Enjoy more Classic Bike Guide reading in the monthly magazine.
Click here
to subscribe.