Classic Bike Guide looks at how our trusty old bike specialists and traders are still looking after us and how we can help them, despite coronavirus
Words by Oli
WITH PRETTY MUCH everything in lockdown we thought we would look into how the classic parts trade is doing.
Are we just waiting for all this to blow over while watching Bargain Hunt and reruns of Shed and Buried, or are we busy in our own sheds, garages, back gardens and, in some cases, living rooms, making our bikes better than they were before in preparation for the start of our delayed spring?
You can still buy motorcycle parts. Indeed, the Government is actively encouraging us all to buy things over the phone or online. And with so many of the suppliers that keep our wheels turning being small operations, our business is what's going to make sure they are all still there when we can get back to what makes us happy.
Hardest hit in classic motorcycling terms are the small operations that rely on shows and autojumbles for a good part of their trade – those hardy souls who travel the country week in and week out.
Paul Goff does a lot of business at shows, selling electrical components and his justly famous LED lightbulb upgrades among other things. And his home-based business is still delivering the goods.
Paul said: "Things are a bit different, but I've always worked from home and walked with my parcels to the Post Office every day, and I'm still doing that. Trade orders have dried up a bit, because shops have closed, but the mail order has carried on.
"We've actually had a small boost in the past few weeks, but this might peter out. People are working on their bikes, but there might be a feeling soon of 'why bother working on it if I can't ride it?'
"We've got plenty of stock, but a lot of our stuff comes from abroad and it is taking a little while longer to get here. One of our Chinese suppliers is operating from her bedroom."
Paul's website norbsa02.freeuk.com lists his stock but doesn't allow online ordering. Email him at norbsa02@aol.com or call 01494 868218 9am-5.30pm with your requirements.
"Nobody was making any money, and they have to trade to survive."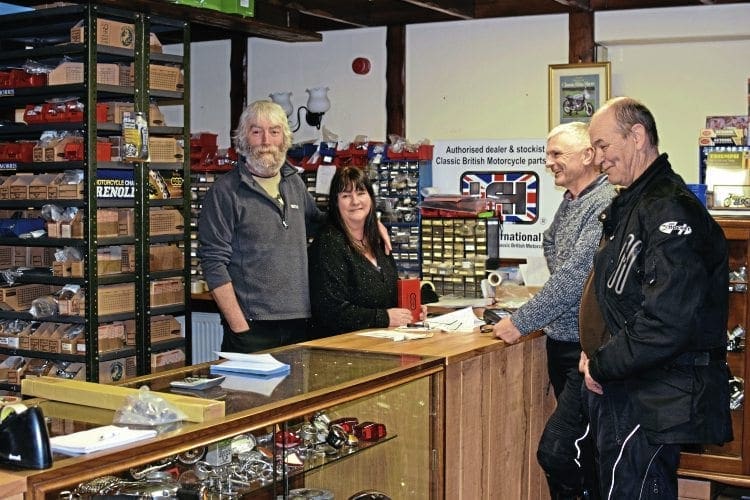 Another trader who you'll see at shows and jumbles and online is Gerard at Cornwall-based Skye Motorcycles. He's usually seen with a huge range of British spares at shows, trekking them hundreds of miles every weekend.
Right now, you can order his stock online. "We do most of our trade at shows, so this has been a big problem, but we are still selling new and second-hand parts online and over the phone."
After a brief hiatus, where several small suppliers closed down, some are starting to come back on stream, especially the smaller specialists.
"Nobody was making any money, and they have to trade to survive." Visit Skye at skye-classic-motorcycles.co.uk
Those with substantial mail order operations have their own challenges to surmount:
"If you turn up, we will wave at you through the window but not sell you anything!"
Ariel, BSA and Triumph parts wizards Draganfly have closed their counter and appear to be operating their mail order business with close to military precision. Their excellent website gives thelow-down on how the Suffolk company is keeping going.
"The Government has said that online retail is 'open and encouraged' with postal services running as normally as possible, so we will continue to take and dispatch orders as normal.
"Our shop premises are closed to the public. If you turn up, we will wave at you through the window but not sell you anything!
"Our staff are very important to us, a lot of them are actually family, and many have been with us through thick and thin, as we have been with them. Some have been advised to stay at home due to existing health issues and some are working at home because they can.
"We have a skeleton crew at the shop, and we are staggering working hours to have as few staff in the shop as possible at any one time. This means it will take longer to answer the phone or emails, it will take longer to dispatch your orders, but it does mean you can call us at 7.30am and we'll already be at work!"
Deliveries and collections are being made from outside the closed shop doors, so our staff don't have contact with couriers and vice versa, to reduce any possible exposure. Keep an eye on Draganfly's website to check the latest situation draganfly.co.uk
"We are still working and
taking orders"
Central Wheel Components have closed their shop but are still trading. Warren Harding from CWC said: "We are working on a skeleton staff of 10 instead of the normal 45, but we are still working and taking orders – our tyre division Wheelhouse Tyres is also operational, but only for mail order."
The phones at both CWC and Wheelhouse are still manned, or enquiries can be forwarded to [email protected] or [email protected]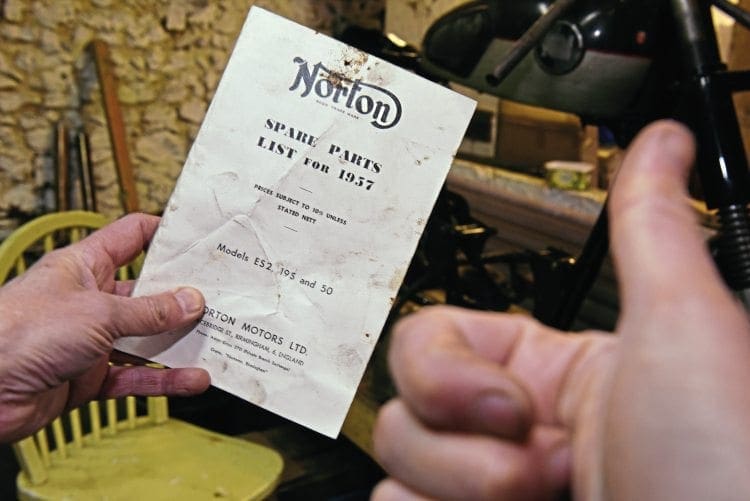 "For many of our customers, their bike is their only mode of transport"
South coast suppliers of parts and consumables for a huge range of bikes Wemoto are still operating online.
Daisy from Wemoto said: "Business has been steady. For many of our customers, their bike is their only mode of transport, so we're glad we can help keep them on the road at this time.
"There are a number of customers who are putting their bikes away, but there also seem to be a lot of customers who are now working on bike projects at home, so it seems to have evened out.
"We have a huge number of suppliers. Though some of our European ones have closed temporarily and we're seeing delays with some others, we're fortunate that we keep quite a bit of stock in our warehouses, so supply isn't an issue at the moment, and we're still getting stock in daily." Visit wemoto.com
"I think we're offering an essential public service"
Monty from Monty's Classics on the Devon and Cornwall border was, as ever, upbeat. The Triumph twin specialist says: "We're doing very well at the moment. We've been flat out for two or three weeks.
"I expect there will be supply problems later on, but most of our suppliers are small family businesses and they are keeping going. This all depends on how things go of course. We've got good stock. I think we're offering an essential public service, keeping blokes in the shed for hours, keeping them sane and stopping domestic arguments.
"I think a lot of people are taking the opportunity to do those jobs they've been putting off for a couple of years. I wish everyone in the trade well." Visit montysclassicmotorcycles.com
"There aren't the planes flying to take things overseas"
Norton specialists Norvil have closed their workshop but the mail order business is still shipping parts. Gareth from Norvil said: "Touch wood, we're doing all right.
"We make a lot of our stuff ourselves, so supply is less of a problem and our suppliers make things in small batches with many of them still trading. We've obviously got a lot less staff working.
"Deliveries are still working in the UK, but shipping abroad is taking longer simply because there aren't the planes flying to take things overseas." Norvil are at norvilmotorcycle.co.uk
"Because we are supporting the motor trade… we're allowed to stay open"
Hitchcocks, Royal Enfield parts suppliers to the world, have closed their counter but are still trading. Dave from Hitchcocks said: "Because we are supporting the motor trade and keeping people moving, we're allowed to stay open.
"We're taking telephone and web orders. A few of our staff have been ill and we are running on a skeleton staff, but things are ticking over. There's a lot of guys at home twiddling their thumbs with nothing to do, so we're still selling.
"Some suppliers have shut, but there's quite a lot of stock. The easiest way to buy from us is to do an internet order. If it's a big order and you can supply the part numbers, it would be really helpful." Visit hitchcocksmotorcycles.com
"Deliveries are operating as normal"
The BMW specialist Motorworks are happy to send you some bits for your Beemer so it's ready for the sunny riding days to come. "We are currently operating with reduced staff, but the phones are open, and we are dispatching your orders," say the Motorworks team on their Facebook page.
"If possible, please place your order on our website. We have more than sufficient stock on the shelves to fulfil orders in the coming months and deliveries are operating as normal."Visit motorworks.co.uk
"We're operating a split shift system to reduce contact"
Japanese specialists David Silver Spares are regulars at big bike shows and have a substantial mail order operation.
Their retail sales counter and the David Silver collection are closed until further notice. Mark at David Silver said: "We're operating a split shift system with half the staff in for the morning and the other half in the afternoon to reduce contact.
"Online is busy and as long as the couriers are operating, so will we. It's actually quite a busy time, with a lot of people who have been putting off jobs finding they suddenly have the time. A few things have dried up, but all our main suppliers are still good. Contact us by email, phone or via the website davidsilverspares.co.uk
Despite everything, the classic motorcycle world is still operating, albeit in tough circumstances. Keep fettling, keep polishing and get those bikes ready for the road.
Be patient with suppliers who are doing their utmost to keep things rolling. Let the phone ring a bit before hanging up, wait for those overloaded websites to load and accept that your courier might take a day or two longer to get those valve springs and oil seals to your door.
And later in the year, when you are all riding those sweet running bikes that will be all the better for the wait, you'll know the people who helped keep them running will still be there for you next time you need them.
Read more News and Features online at www.classicbikeguide.com and in the May 2020 issue of Classic Bike Guide – on sale now!