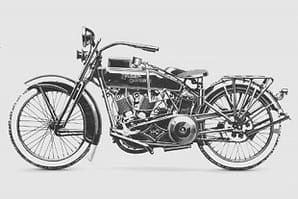 Harley-Davidson has just announced plans to water-cool an area around the exhaust valves in the cylinder heads of its all-new 2014-model Ultra Limited.
It's a 'ground-breaking' move for a company that's built its entire heritage on the air-cooled 45° V-twin (and, before you say it, yes, the V-Rod was water-cooled, but then many Harley aficionados will argue it's not a 'real' Harley).
However, back in October 1923 the Motor Co (not sure if people referred to them with such disdain back then) was extolling the virtues of another range of innovative ideas.
Its latest 'super speed' models embodied a rake of improvements for 1924 and, according to The Motor Cycle (October 4). "One important innovation is the introduction of grease gun lubrication for the front hubs, spring forks, clutch pedal, gearchange mechanism and inlet rocker bearings."
Probably more important in the two 989cc 'super speed' models (out of a range that featured five 989cc V-twin machines, a 1208cc outfit, and one 584cc flat-twin) was them gaining performance, too, thanks to aluminium four-ring pistons, floating gudgeon pins 30% larger than those previously used, drilled con rods, larger valves and a larger carburettor. The pushrods to the inlet valves also had an external adjuster on the upper end.
Other improvements included wider handlebars, an improved kick-starter and a much larger silencer.
The Motor Cycle added: "Mechanical oiling, twist-grip control, in fact all the well-known Harley-Davidson features are retained, and electric and acetylene lighting forms a standard equipment item."
The 'super speed' models came in olive green.
Contact the Mortons Archive for period images of motorcycles.