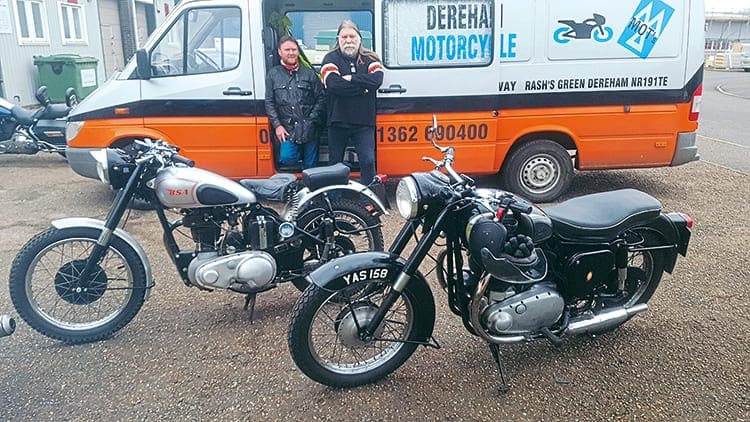 There is an amusing – well the first time you hear it – saying doing the rounds that goes something along these lines: 'X=Y+1'. If X is the perfect number of bikes, then Y is the number of bikes you currently have. According to the insurance companies, classic motorcycle enthusiasts are more likely than modern bike owners to have two or more bikes; so I suppose the theory is correct. But why?
Maybe the reason we often have several bikes is because we are hoarders? Is it something to do with historical intrigue? Greed? One-upmanship?
My excuse for several bikes is that they all have a job to do. I used to work with modern bikes, so my collection (and don't for one second let that word 'collection' give you the perception they are worth anything at all) is slowly morphing into more classic machines. I am currently without a modern everyday hack, but have a good Seventies trials bike, a CZ175 Sport (thanks Dave!), a Nineties racebike and my loveable 1954 B31 – old enough to pop and bang, good enough to keep up with smaller twins and so far, reliable. There are also a couple of projects, but they don't count as they will, to be honest, never see the light of day. And then there are the cars. And the house…
So at least I have a reason behind their being in my possession. But last week, I found another reason. I'd covered a fair few miles around the county, bouncing up and down on the saddle while the plungers did nothing but squirt grease about, when I stopped at my friend's bike shop. Amongst the plethora of folk there was Steve (owns 30 bikes) and John (owns six bikes). Steve was Harley-mounted, while John arrived on his BSA A10 Gold Flash. A 1957 swingarm model, it bore many similarities to my bike, with pre-unit engine, the same front drum and similar look at least.
'Do you wanna go?' John asked, catching me admiring the twin. His twin. Normally, I would politely refrain, but I really wanted to ride a decent twin and John's bikes are always nice. Yes, you heard right; I've never ridden a classic parallel twin – so whack me over the head with a statue of Edward Turner…
No decompressor, but the A10 was far easier to start than my thumper. The twin felt lively, obviously more willing to rev and no heavier. The gearbox was a revelation – so smooth – the B31 does show its prewar lineage. And boy did it go! My 'I'll just whizz it to the top of the road' turned into a 10-mile jaunt, filled with the many pleasing feelings I get from my single, but more. As I turned back into the shop, my head was full of 'I need a twin – but I don't want to sell my single – I need both!' X=Y+1.
This month's issue gives yet more reason to have a collection of bikes. We have several great British bikes including a wonderful story of T E Lawrence racing fighter planes on his Brough, a Manx Norton and a gorgeous Royal Enfield twin. We then hop over to Italy to try Moto Guzzi's latest V7, a bike that will hopefully initiate younger riders into our world of classics and we look at the Czechoslovakian CZ175 – another fun bike with what has to be one of the greatest logos ever. Then it's across the Atlantic to look at their best-selling offering, Harley-Davidson's Sportster – a bike that's been in continuous production since 1957 – and has changed very little in that time.
Finally, we have our free Japanese bike guide supplement. The history of the Japanese bike industry is as fascinating as that of the British, with amazing successes, catastrophic failures and bikes designed before their time. It's a really interesting read, we hope you enjoy it. Though I fear it may not help with minimising your bike collections…
Be good and enjoy the mag.
Matt Hull
editor@classicbikeguide.com

Enjoy more Classic Bike Guide reading in the monthly magazine.
Click here
to subscribe.