Words and photos by Phillip Tooth
We have a lot to thank the Yanks for. There's the Big Mac, the King Size bed, the XXL T-shirt… and the Norton Dominator 99. America is where size matters and big is better.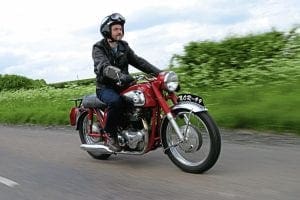 Norton jumped on the vertical twin cavalcade in 1948 with the 500cc Model 7 Dominator, a sweet running twin with a top speed approaching 100mph. When Bracebridge Street swapped plunger suspension for the swinging arm Featherbed frame in time for the 1952 season the Dominator 88 even handled like a racer on the road.
But that wasn't enough for our American cousins – they were used to 1200cc Panhead Harleys and Indian Chiefs. And as far as they were concerned, 'there ain't no substitute for cubes'. So in 1956 Norton announced the Dominator 88's Big Brother – the 99. The engine had been bored and stroked to give 596cc. It was enough to lift the top speed over the magic 100mph – but it still wasn't enough for the Yanks.
Next up was a 650 version in 1964, before the venerable twin was enlarged once again to 750cc and slotted into the Commando's vibration-damping Isolastic frame. And then came the 850…
Some people just don't know when to stop. But there's one American who knows that smaller can be better – even though he wears XXL T-shirts.
Article continues below...
Advert
Read more in February's issue of CBG – out now!
---
Advert

Enjoy more Classic Bike Guide reading in the monthly magazine. Click here to subscribe.
---