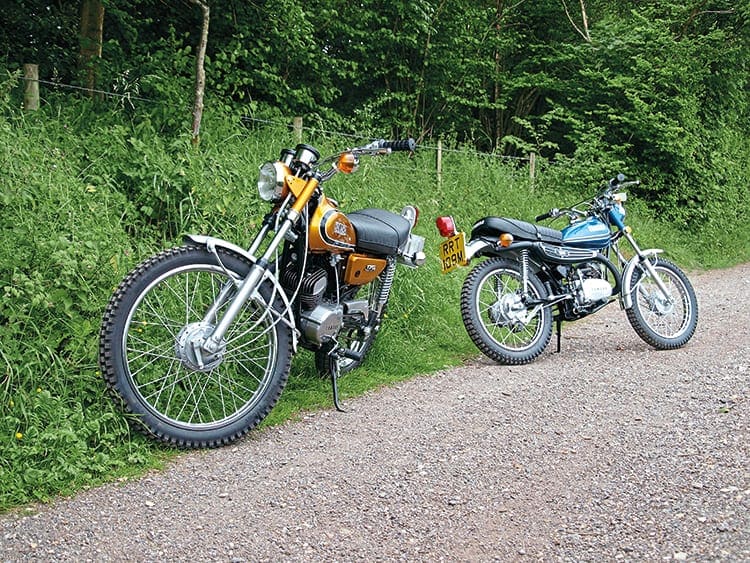 Background 
Serendipity is a truly marvellous motive force. Without it, the world of dual-purpose motorcycles might look distinctly different today. When Jack Hoel, Yamaha USA's International Head of R&D, watched Dave Holeman, then Head of Technical Publications for Yamaha USA go desert racing, a seed was sown. Up to that point off-road competition Stateside had fallen into several distinct categories – motocross (equivalent to our scrambling) where purpose built machines competed on prescribed short dirt circuits with banked corners and heavy inclines, enduro type events similar to European trials riding and desert racing, where mainly big capacity machines were blasted across almost endless, arid plains. Hoel came up with the notion of a do-everything motorcycle that could be ridden to any off-road event on public roads by amateur competition riders, used in whatever event and then ridden home. Such a machine would need to be competitive, yet friendly enough to be Tarmac affable. The closest any bike had come had been the factories of Bultaco, Montesa and Ossa, but their production levels were low and distributor support was distinctly sketchy. Here for the taking was a new market, if only Yamaha could deliver the goods. Using the Spanish bikes as starting blocks, Hoel and his team built a rolling chassis around a 250cc motor Yamaha had intended to use for motocross. This prototype was sent to Japan, where it was translated into a potential production machine. This was then shipped back to the West Coast, evaluated, revised and sent back east. At one point Yamaha USA and the Iwata factory were said to have machines literally crossing mid-Pacific. The end result was badged as the DT-1 and it stopped the 1967 Tokyo Motorshow in its tracks. Launched in early 1968, the bike was an instant hit and proved to be so popular that Yamaha quickly had to run its production lines at full capacity.
Read more in the April issue of CBG – on sale now!
---
Advert

Enjoy more Classic Bike Guide reading in the monthly magazine. Click here to subscribe.
---