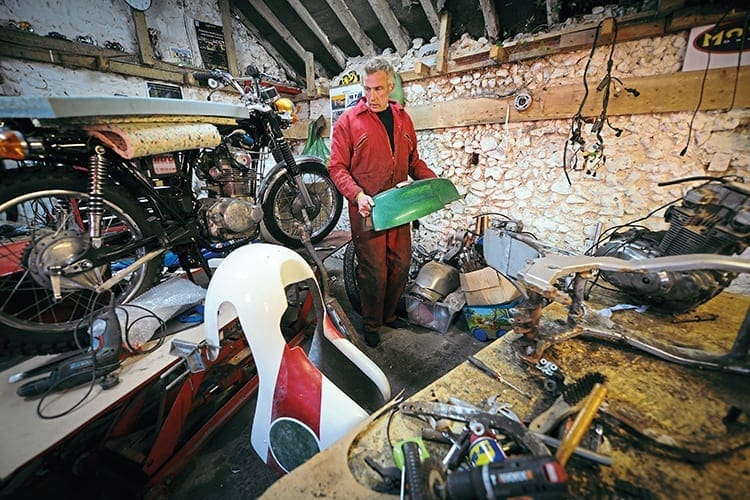 Not often, in fact extremely rarely these days, a moment of clarity hits me and the other week I was bludgeoned with said ability to see ahead. You see, I'd looked forward to the coming Saturday with sheer glee – not because of what was planned, but because there was nothing planned. 'I can spend the day in the workshop tidying, finishing jobs on my bikes and maybe even trying to get some of the cars sorted.' Strange how a mere day can, in the eyes of an idiot, fit so much work in…
This list barely got touched, despite my best intentions. Tidying took the whole time up, because you can only move 'stuff' around for so long. It was quite disappointing. But, taking a break with tea in hand and senile cat brushing against leg, I came to the assumption that something drastic had to happen. So I made a more reasonable, more achievable to-do list.
'What do I really need' and 'will I really use it' was my mantra. Not, as it had previously always been: 'Well, I've had that one for years'. It was really hard, but after some soul-searching and a huge reality check I have decided to sell lots of stuff. So my Honda Bros, for so long my dream bike, with hours and hours of work in it and hundreds more left for it to even resemble a motorcycle, will go. I have no use for it and with knackered knees, I can't even get on the diminutive machine.
The Honda CL350 that would be my trials steed is to go too, as is the K4 racer I was so looking forward to racing. I love building racebikes with all the attention to detail and thinking how to get the best from a bike, but again I'll never get my leg over it and I underestimated how much money these things cost to build…
My café racer was sold, until for some reason the potential buyer realised that money had to be handed over – which he didn't have. And now it keeps blowing a fuse, so that's on the bench just in time for winter. But it will go. My old racebike has survived the cull, because it's in the dining room and I can't be bothered to get it out. And it's useful for drying towels on.
Which leaves me with my trusty Beeza, CBG's Matchless G3L and a Suzuki GS500 that I'm building for a friend. That's more than enough. It means I can make what I have really nice and keep the workshop clear. Clear for another CBG project…
Yes! CBG needs a new project bike so what should it be? I've looked behind the sofa and blackmailed the finance director to let me spend a little money – but on what? I've never owned a Triumph, so maybe a 5T? Or a sports Beeza? It doesn't have to be British. How about a Morini 31/2? Steve is always buying Japanese two-strokes, Oli has a couple of Honda four-strokes and I have my CZ175, so hopefully next year will be a multi-cultural pot of two-wheeled classic goodness. But we want your thoughts – what should we buy for under £3000? What would you like to see us rebuild? Should it be made to concours standard, modified or on a budget? Let us know through the usual channels – we'd love to hear from you.
And we also want to see your photographic excellence! Get those cameras out and show us your bikes – there's still time before the weather draws in. Email them to us or send them in and we'll publish what we can and you could be in with a chance to have your bike displayed at our show in January.
Right, I'm off to finish making an exhaust I foolishly agreed to do. Be good.