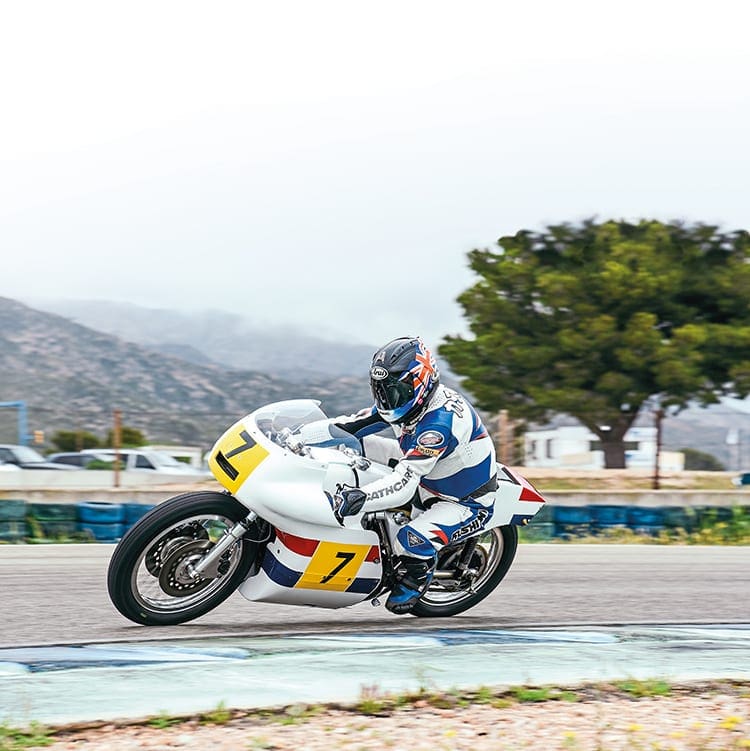 Built to a tight spec on a tiny budget, Norton's factory racers were impossibly successful
Five of the low-slung Pannier-tank John Player Nortons which made their debut in the 1972 Daytona 200 were constructed that year, all of which appear to have survived, including the one whose competition career continued longer than any other in the hands of Norton's Spanish importer, Juan Antonio Rodes. This machine now belongs to Barcelona-based Norton aficionado Joaquín Folch, one of no less than three John Player Nortons which made their way to Spain after their racing days with the factory team were over. Since 1976 and the closure of the Norton factory, all three bikes have been owned by Folch, who for many years used to commute to work in Barcelona traffic on a succession of Commando twins supplied by Rodes' company, Challenge Motors. The trio of racebikes now sit on display in his magnificent private motorcycle collection, alongside the 1973 Isle of Man TT-winning JPN Monocoque Folch acquired from Peter Williams, plus one of the liquid-cooled Cosworth-engined Challenge F750 bikes which briefly replaced them before Norton's demise. All are maintained in running condition, and are regularly brought out to be exercised on track.
I was fortunate to be invited to ride the 1972 Pannier-tank JPN at the seaside Calafat circuit south of Barcelona. Having ridden both Joaquín's TT-winning JPN Monocoque as well as the Arter-Matchless G50 with which Peter Williams so consistently punched above his weight against the Italian multis and Japanese strokers, I was prepared for the way I had to carefully feed myself into the snug, low-slung seat.
The '72 JPN requires an idiosyncratic approach to firing it up. Firstly, to prime the carbs from cold you must push the bike around with the plugs out or better still, sit on it and bump up and down in the seat a few times to work the swinging arm-operated fuel pump – just as on the Daytona BoTT-winning Ogier Laverda I used to race for its creator Maurice Ogier, which had a similar system. With a relatively low 10.3:1 compression, starting is quite easy with a good push, but then as you warm the bike up you can either ride gently round the paddock looking for bumps to keep the fuel flowing, or else sit on it and repeat the bouncing act while running the engine. I thought this was nonsense until it started spluttering on me as I sat there stationary and revved it like a normal bike to warm the engine. So – all together now: one, two, WHOOPS-a-daisy…
Although still basically a tuned-up longstroke 73 x 89mm Commando engine rather than the later short-stroke motor of 1973 onwards, the transmission in the Folch Pannier-tank JPN was updated in light of later development by the Rodes team, using parts from their two '74 spaceframe bikes, to resolve this critical problem of the first-year JPNs. It thus features the redesigned primary drive, incorporating an extra outrigger bearing as well as a dry clutch, which together with speeding up the gearbox and fitting a crankshaft located shock absorber in the transmission, removed this reliability concern. This fact was well illustrated by the bikes' reliability in the gruelling stop-and-start Spanish street circuits of the early '70s. It finished every race in its debut 1974 Spanish season, and Benjamin Grau won all four races en route to the Spanish F750 title in 1975, this time on a '74 spaceframe bike. This also makes the gearbox of the Pannier-tank JPN unusually satisfying to use, with a light, smooth clutch action which can easily be worked with a pair of fingers, two-stroke GP-style, if you prefer, and allows the engine to be kept working in its powerband just by slipping it in a controlled fashion exiting a tight corner like the Calafat hairpin at the end of the main straight.
That's an important benefit, because it means you can avoid having to use bottom gear which, though higher on the five-speed Quaife close-ratio gearbox than on a standard Commando road transmission, is low enough to mean chattering the rear wheel if you change into it at racing speeds on the overrun into such a slow bend. Moreover, there's quite a gap between first and second gears, although the rest of the ratios are pretty close together. It's best to use second gear most of the time for even the slowest of turns. This makes you appreciate the light clutch action all the more, because you will have to slip it slightly to get good drive – something that the Spanish two-stroke aces who raced the Norton in Spain would have been quite used to doing!
The right-foot one-up gearchange is slow but precise, so long as you take your time and don't try to rush the change, although with the heavy cast-iron flywheels still fitted to this the longstroke engine, it doesn't lose revs too quickly, making quick-shifting less vital. Power comes in quite low down, around 3,500rpm with twin megaphone exhausts as fitted, rather than the two into one system which was originally favoured, with the Kröber rev-counter perhaps optimistically redlined at 8,000rpm. "I never revved my engines above 7,400rpm," says Peter Williams emphatically, "and then only if I really had a fight on my hands. It was said they were safe to 8,000rpm even in long-stroke form, but I always changed up at 7,000 revs if I could, and didn't do too badly in races as a result!" Indeed not…
The engine in the Folch Pannier-tank JPN indeed seemed happiest taken to around 7,300rpm before changing up, with a noticeable surge of extra power from 5,400rpm upwards, with the close-ratio gearbox making it easy to stay within the powerband. Unusually, the ever-present vibration which is an inevitable feature of such an engine with a two-up 360º crankshaft didn't seem to get any worse the higher you revved it, though you certainly can't ever forget you're riding a British-built parallel twin with no balance shafts, which leaves your extremities tingling for a few minutes after dismounting the bike. That said, the JPN rubber Isolastic engine mounts do make a considerable difference to rider comfort, as I know from having ridden a Seeley-framed Kuhn Norton 750 racer with a rigidly-mounted engine. I'm still recovering!
WORDS BY ALAN CATHCART  PHOTOS BY KEL EDGE, KIKE MAYOR, KYOICHI NAKAMURA
For the rest of this story and more, buy the August issue of CBG