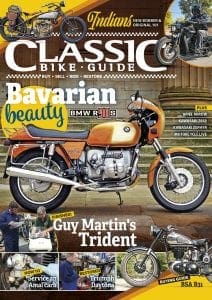 From the Archive: John Cowie on the Gus Kuhn-prepared BMW, TT, 1976
BMW R90S: A look at a beautiful, unrestored R90S
Subscribe! Get 12 issues for the price of 10 when you subscribe for a year – bargain!
Buying Guide – Ariel Super Sports Arrow: Innovative, fun, charming and great value
Buying Guide – Kawasaki Z650: Almost all the fun of a Z1 at a fraction of the price
Buying Guide – BSA B31 Plunger: Small Heath's charming 350 plunger
News: New bikes and more
What's on: Christmas pudding can take its toll – work it off with a good walk around a show
Products: Oils, jackets, wax, cleaners and even a camera – spend that Christmas money
New Indian Bobber: Traditional style, infinitely customisable
Paul Miles: Paul debates how many bikes you must have
Paul D'Orleans: Why has the motorcycle industry forgotten the ladies?
Archive: A couple of TT images that show how little the Island has changed over time
Steve Cooper: Our new columnist gives us the low down on the VJMC
Indian 101: This is gorgeous – no other words needed
Guy Martin's Triumph racer rebuild, part two: Les gets Guy's Trident ready for the new season
Motorcycle Live: Old, new and in-between
Kawasaki Zephyr: A classic waiting in the wings – Kawasaki's own homage to the Z1
Letters: What are you thinking? Let us know
Servicing your Amal: We take a look at the Mk1 concentric
Triumph Daytona rebuild: Basket case to beauty – we follow a Daytona rebuild
Reader ads: Be tempted, go on, you deserve it. Hello – is that my bank manager?
 Frank Westworth: What? Frank's sold a bike?