Words: Oliver Hulme / Photos Hesketh Motorcycles
REBORN high-end marque Hesketh Motorcycles has announced its third new model, and it's among the most powerful road-legal motorcycles in the world.
The Valiant SC roadster owes its name to the legendary Vickers V-Force nuclear bomber. It offers 210bhp from its supercharged 2.1 litre V-twin, and inevitably has a hefty price tag.
Lord Hesketh introduced the V1000 in the early 1980s with a media fanfare, but the bike suffered from reliability issues with the engine and gearbox. The Vampire touring version that followed soon after did very little to help and the company stopped making its exclusive V-twins in 1983 after 180 bikes had been produced. Attempts at a rebirth saw a handful of V1000-based machines built over the next 30 years.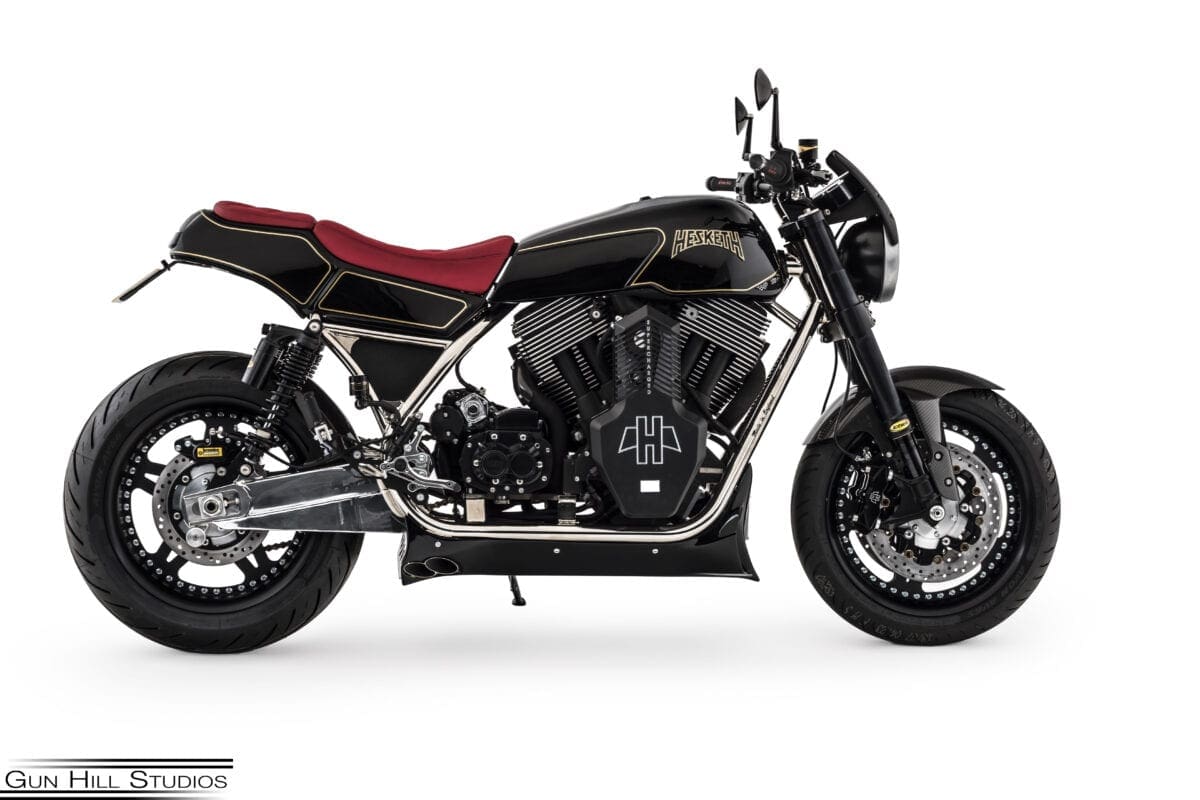 The rights to use the Hesketh name were bought a few years ago by Paul Sleeman, who moved the production facility to Surrey, and in 2014 announced a new limited-production model, the Hesketh 24.
This was presented as a tribute to future F1 world champion James Hunt's Hesketh 308 F1 car, with the production run limited to just 24 motorcycles. These were built around a US-made S&S X-Wedge V-twin engine, which is also used by Confederate Motorcycles and Morgan cars.
The Hesketh Sonnet cafe racer was also announced and is based on the 24. The first Sonnet is expected out of the factory later this year. The supercharged Valiant SC is the third model of the boutique brand. Hesketh's plans also include a basic Valiant model, which should probably be a similar motorcycle minus the supercharger.
The Valiant SC is powered by a 2097cc 56° S&S X-Wedge motor, coupled with a Rotrex supercharger. The engine produces 210bhp at 5500rpm.
A Baker six-speed gearbox, King Kong hydraulic clutch and Hesketh primary drive send all that power and torque to the rear wheel. The dry sump motor sits in an oil-bearing chromium-molybdenum steel alloy cradle frame, designed and fabricated for Hesketh by GIA Engineering.
The forks are Ohlins/K-Tech upside-down items, while the twin shocks are K-Tech Razors. Twin Hesketh-designed six-piston billet brake calipers at the front and a French-made four piston Beringer caliper will haul the 527lb bike to a halt.
The wheels pay homage to Hesketh's heritage, being replicas of the Astralite items used on the first V1000. The rearsets are made by Hesketh, handlebar controls come from Rizoma, Magura and Domino, the indicators come from Motogadget, and the large Vincent style speedometer comes from Smiths. No rev counter is fitted.
The first Valiant SC models are expected to reach customers in the summer of 2018, at a price of £50,000.
For more details see: heskethmotorcycles.co.uk
There's more detail about the new Hesketh Valiant SC in the April issue of Classic Bike Guide – on sale March 29