In the final part of Mike Hailwood's Machines, we look at one of the greatest TT races ever – Hailwood's Comeback – and how it almost didn't happen
WORDS: RachAel Clegg Photography: Mortons archive/DON MORLEY
IT'S SATURDAY, June 3, 1978 and a young man is dispatched to buy a tennis ball and a sponge. It's an unusual shopping list for a mechanic clad in racing team gear but, nonetheless, he runs to Douglas high street on the Isle of Man as if his life depended on it. And that's because it did, or at least, someone's life depended on it…
The sponge and the tennis ball were for the world's greatest motorcycle racer, Mike Hailwood who, after an 11-year hiatus from TT racing, returned to the island and raced in what is now considered to be one of the greatest sporting 'comebacks' of all time.
In fact so momentous was Hailwood's return to the Isle of Man, that it is not merely known as a comeback it is the Comeback.
But we're getting ahead of ourselves. Before we get to the tennis ball, the sponge and the greatest sporting comeback ever, let's rewind a few months and see how it all started.
It all began with a phone call in late August 1977.
Patrick Slinn, the then technical manager of the UK's Ducati and Moto Guzzi importer, Coburn and Hughes, remembers it well: "I had a confidential call from Sports Motorcycles director Steve Wynn.
Wynn explained that he'd been contacted by the Daily Mirror's sports editor Ted Macauley – who was also acting as Mike Hailwood's personnel manager – with a proposal that seemed like a bolt out of the blue.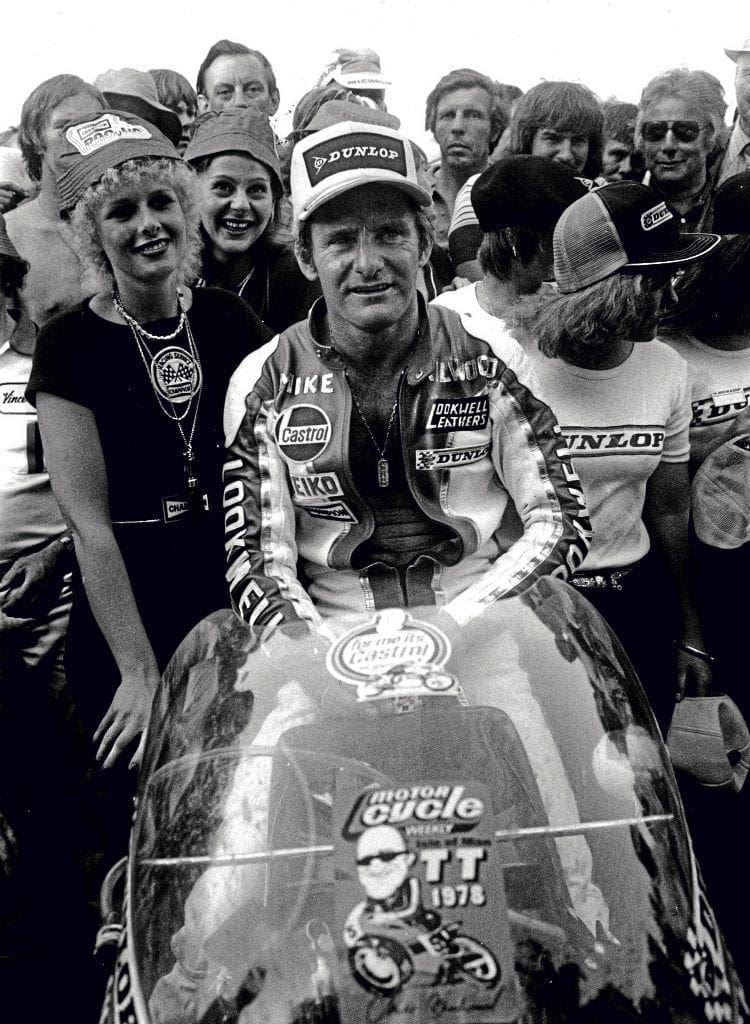 "Ted told Steve that Mike wanted to race in the 1978 TT. Mike had been living in Auckland, New Zealand and had been racing a Ducati over there with his friend and fellow racer Jim Scaysbrook, but was becoming bored and wanted another crack at the TT," said Slinn.
"Ted had asked Steve if he knew anybody at Ducati who he could speak to regarding Mike racing a Ducati at the 1978 TT. Steve called Ray Elliot, who was director of Coburn and Hughes Ducati importers, and asked if the factory could be informed immediately."
Elliot called the Ducati factory who were, according to Slinn, "cautiously optimistic", but not for long.
Within days Mike, Coburn and Elliot had flown to the Ducati factory as part of a regular scheduled importer meeting – only they tagged on another topic for this meeting's agenda: Mike Hailwood and the Formula One TT.
Of course, Ducati agreed to support Hailwood – a decision met with much enthusiasm from the marque's experimental department.
Within weeks they had developed an 864cc V twin – the engine of which was based on their 750cc. The crankcases were sand-cast with internally cast strengthening ribs.
Read more and view more images in the June 2019 issue of CBG – on sale now!

Enjoy more Classic Bike Guide reading in the monthly magazine.
Click here
to subscribe.